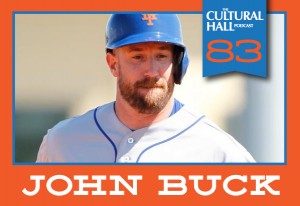 The culture and news podcast The Cultural Hall posted its interview with John Buck yesterday. The interview includes a number of gems, as Buck tells the story of his arrival in the majors and his career. However, since the interview was recorded in January, it doesn't cover his most recent experience with the Mets.
The audio file is about 1 hour long, and the interview with Buck starts about 10 minutes into the podcast. In addition to finding it on The Cultural Hall, you can also find the podcast on iTunes.
Here are some of the lines I enjoyed the most from Buck's interview:
On his first at bat in the majors after being called up suddenly from AAA:
My first at bat I crushed this ball down the line, and started kind of rounding the base… [and the third baseman threw me out at first]… and everybody in the dugout was like 'where were you goin'?' 'Well, I was rounding the bag; yesterday that was a double; in AAA that was a double!'
On wanting to have his wife and family near him during the season:
Gotta have my wife to cry on. Its a humbling game.
On keeping your head in the right place:
Its a negative game, taught by negative people wantin' positive results. Far as the game of baseball, its stacked up against you… The best failures are in the hall of fame.… and that's kind of what baseball is, learning how to fail and eliminate it; to be consistent at not failing in a failing game.
On being Mormon in the locker room:
[Do you get teased about being Mormon?] Oh, yeah. Of course. That's standard… I guess I don't really turn the cheek like you're probably supposed to… Those guys are like literally my brothers, so I give it right back… I spend more time with those guys than my family, so they know how I am, they know who I am…

Like I say it leaves it even more open, like a target on my back, to rag me that I'm Mormon.… [but] I don't think I've ever had anybody maliciously, teammate wise; they end up knowing me before they know that I'm Mormon, a lot of times… which is sometimes good to have that avenue…
On how he responds to teasing about polygamy:
[I say] I'm not even good enough apparently for the one I've got, why do I need 10…
On Dale Murphy's mentoring role for Mormons in baseball:
When I first met him, Dale Murphy had all the ball players who were playing professional ball up at his house, us and our wives if we were married, … it was kind of cool because we went there and he kind of talked about what its going to be like to be a ball player… and the challenges of sometimes you're going to go long stretches without being able to go to church… we've had some of those exact scenarios pop up… I don't even know if they've done it again since then, but it was something that left an impression on me and my wife and helped us weather the storm…
On Jeremy Guthrie:
Whenever I think of Jeremy, tennis shoes pop up, cause he's a tennis shoe freak. He has one of the best tennis shoe collections of all time.
There is a lot more. Listen to it!