Former BYU pitcher Matt Neil was promoted by the Marlins to their AAA club, the New Orleans Zephyrs, and pitched well in his first AAA start, lasting six innings while giving up just 2 hits and 1 run. The move puts Neil on the same team with vetran pitcher Mitch Talbot (also Mormon), who has returned to the U.S. after playing in Korea. Talbot is currently on the DL, and hasn't played since April 7th.
Neil's pitching performance was matched by another prospect, but in the AA Eastern League. Nik Turley, currently with the Yankees' affiliate Trenton Thunder, also lasted 6 innings and gave up just 1 run, but Turley struck out 6 and walked 2 in his outing. And with Turley on the Yankees 40-man roster, he seems more likely to make an appearance in the majors.
Also pitching well this week was the Blue Jay's Josh Johnson, who lasted 3 innings in a rehab assignment with the Dunedin Blue Jays (Florida State League, A+) and gave up just 1 run while striking out 5.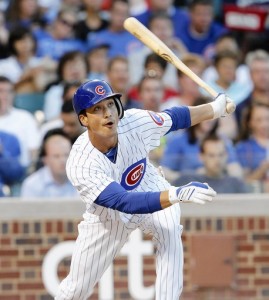 The Cubs have been patient with Darwin Barney. After spending the first two weeks of the season on the DL, he did not perform well at the plate, hitting just .154 in his first 78 at bats (23 games). But when the press asked if Barney would be demoted, Cubs GM Jed Hoyer said the team would be patient with him.
Last week that patience paid off, as Barney went 7 for 21 (.333) with 2 rbis and a home run in games against the Rockies and Mets. Since he has hit above .250 in the past two seasons, it seems reasonable to expect that Barney will continue to hit better than he has so far this season.
Barney wasn't the only one to do well at the plate last week. The A's backup infielder Eric Sogard was 5 for 11 (.455), scoring three times and earning an rbi last week. Sogard and fellow A's backup infielder Adam Rosales (also Mormon) essentially share the backup duties, and seem to be trading off who is hot at the moment.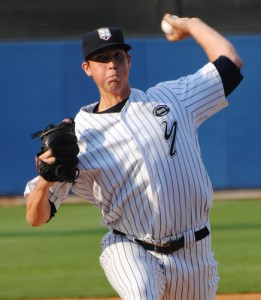 Yankees prospect Nik Turley got the call to move up a level last week, from the Trenton Thunder (AA) to the Scranton/Wilkes-Barre Railriders (AAA), and although his pitching has been somewhat mediocre this year (4.46 era), he rose to the occasion. In a 6-inning start Turley gave up just one run and two hits (1.50 era), but ended up with a no-decision. But, despite a great performance, Turley was sent back to AA this week—apparently the Yankees don't need him in AAA yet.
Turley pitched for the Yankees in spring training and is on the major league team's 40-man roster, making him one of the more likely prospects to be brought up. But overall Turley's AA performance says that he isn't quite ready yet.
He isn't the only Mormon in the minors on a major league 40-man roster. Oakland A's prospect Shane Peterson, who is currently with the AAA Sacramento River Cats, is on the major league team's 40-man roster and has already been brought up to the majors briefly, to cover an absence due to parental leave. And unlike Turley, Peterson, and outfielder, is playing very well. Not only does he have a .298 era, he is 8th in the Pacific Coast League in on base percentage and tied for 8th in runs scored.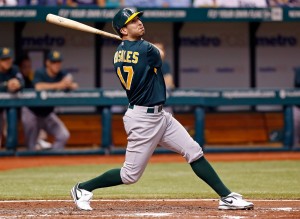 The Oakland A's Adam Rosales sat down a bit this past week, and it made a big difference. The A's put him on the bench for much of the week—he only had 12 at bats—but those at bats were profitable. Rosales got 5 hits (.417), walked three times, and would have had a game-tying home run if umpires had made a correct call. The home run was the subject of controversy last week as commentators claimed that Rosales and the A's had been robbed.
Rosales was almost the only Mormon position player to have a good week, the other exception being Kansas City backup infielder Elliot Johnson, who finally got a chance to start some games. And his batting average promptly rose to .375 for the week  as Johnson got 6 hits in 16 at bats, scored twice and stole a base. Even so, its unlikely that Johnson will get a starting spot, at least not yet.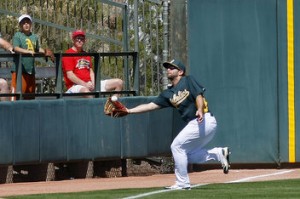 The A's outfield prospect, Shane Peterson, ended a post-majors slump last week in a big way. He went 8 for 19 for the week (.421) while hitting 2 home runs and stealing 3 bases, and in the process raised his season average past .300. He was once again the Peterson we saw in Spring Training. Peterson's slump came right after he spent two games in the majors, substituting at 1st base for Brandon Moss, who was out for paternity leave.
Peterson wasn't the only Mormon in the minor leagues whose bat woke up last week. Both Stephen Parker (AAA Nashville Sounds) and Marcus Littlewood (A Clinton Lumberkings) hit .286 last week, although Littlewood did it in just 7 at bats while Parker went 8 for 28. Parker also had a home run and 3 rbis.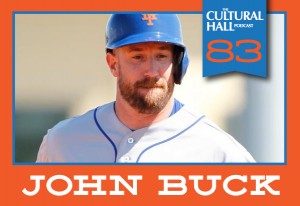 The culture and news podcast The Cultural Hall posted its interview with John Buck yesterday. The interview includes a number of gems, as Buck tells the story of his arrival in the majors and his career. However, since the interview was recorded in January, it doesn't cover his most recent experience with the Mets.
The audio file is about 1 hour long, and the interview with Buck starts about 10 minutes into the podcast. In addition to finding it on The Cultural Hall, you can also find the podcast on iTunes.
Here are some of the lines I enjoyed the most from Buck's interview: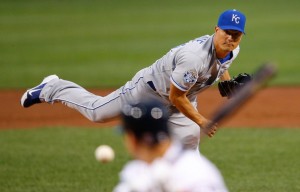 Surprisingly, the Mormon starting pitcher who is most successful this year is not Roy Halladay, the Phillies' starter who chalked up a perfect game and post-season no hitter in 2010, nor is it Josh Johnson, the Blue Jays' ace who was part of the teams off-season attempt to build a first-rate pitching staff.
No, its Jeremy Guthrie, who struggled in the first half of 2012 before joining the Royals to help them stay only 18 games below .500. This year's Guthrie is like the Guthrie of the last half of 2012, but still a bit better. And he is playing for a team that is (so far) remarkably better at 17-10, the 5th best record in the majors. Guthrie is now 4-0 with a 2.40 era in 6 starts. And on Saturday, Guthrie pitched a complete game shutout of the Chicago White Sox.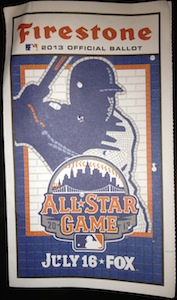 When I went to a recent ballgame, I discovered that the All Star ballots have been prepared and are available already.  So, I thought I should point out who the Mormon candidates on the ballots are.
Appearing on the ballot isn't terribly significant — each team's starters at each position(except for pitcher) appear on the ballot, backup players are ineligible. Of course who the starter is changes during the season, so those who appear on the ballot reflect what the team expects or has early in April, and apparently makes allowances for those on the DL — such as the Cubs' Mormon 2nd baseman, Darwin Barney, who spent most of April on the DL, but still appeared on the ballot.
Still, unless readers go through our listings and compare them to the All Star ballot, it might be possible to miss someone, so here is the list of the Mormons on the printed All Star ballot:
There might be more to say about the Mormons in the minors this week if so many weren't on the disabled list. A week ago Bryan Harper and Mitch Talbot were on the 7-day list, and this past week they were joined by Cale Iorg and Mitch Maier. And only Harper seems ready to return to play.
And while they are out, there isn't too much to focus on.The best performance was from Jacksonville Suns' pitcher Matt Neil, who gave up just 1 earned run in 5 innings, but failed to earn hist first win of the year when his team lost the game after he left the field. Neil has brought his era down to 4.79 and seems to have settled down to his standard pitching form, we hope.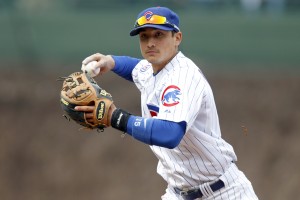 With the first month of the season drawing to a close, many ballplayers seem to be settling into their habtis, performing at a normal level instead of unexpectedly high or low. Darwin Barney, two weeks back from the DL, might be an example. His first week back, Barney hit an anemic .059, but this past week he's back closer to his career norm—.240 with a home run and just one strike out in 25 at bats.
Barney isn't the only one. After causing a stir with his great start, Mets catcher John Buck had another off week last week, which brought his stats down to normal for his career (.250, 17 ks in 80 at bats). Still, the rbis he rang up in the first two weeks of the season have left him in 5th place in MLB (and far ahead of pace for his best season ever, 2010, when he had 66 rbis) and his 8 home runs put him tied for 4th.
Buck isn't the only Mormon ballplayer among the leaders in the stats race. Jacoby Ellsbury's 11 stolen bases leads the majors. And, of course, Bryce Harper is near the top in multiple categories. His 9 homers put him tied for 2nd; he is 5th in batting average, leading the majors in ops, 4th in obp, and tied for 2nd in slugging. And in Harper's case its not hard to imagine him keeping up this level of performance.