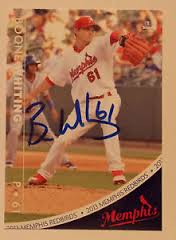 Its easy to get excited with the statistics in the initial weeks of the season, when extreme performances haven't yet been tempered by the passage of time. Still, several Mormon players, such as Memphis Redbirds' pitcher Boone Whiting, already are turning in great statistics. Whiting currently leads the AAA Pacific Coast League with 20 strike outs. He also has a 1.98 era in 13.2 innings over 3 starts.
And Whiting isn't the only outstanding Mormon pitcher in the first couple weeks of the season. Taylor Cole, of the Dunedin Blue Jays in the Florida State League (A+) is also leading his league in strike outs (with 16), and sports a 0.51 whip and 2.31 era in 11.2 innings. Both Whiting and Cole could end up advancing if they keep up this performance—to AA in Cole's case, and to the majors in Whiting's case.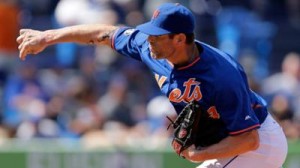 Its often hard to know what to expect from veterans near the end of their careers. In the case of Kyle Farnsworth, the Mets were ready to relegate him to the minors, given a poor performance in spring training, but the injury of closer Bobby Parnell brought him up to the majors and gave him the setup role for Parnell's replacement. And Farnsworth has blossomed, his fastball is up 10 mph to the mid 90s, and his performance has been excellent—1.59 ERA and 1.06 WHIP in 5 2/3rds innings—inline with the best years of his career. At 37, the question is whether or not he can keep up this level.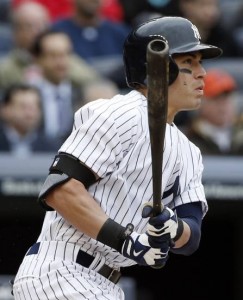 Its amazing how different the regular season can be from spring training. Last week, Elliot Johnson was on top of the Mormon players in spring training, and this week, in the regular season, he is on the bottom, while Jacoby Ellsbury, mediocre in most of spring training, has transformed into the best performer among the Mormon players.
Ellsbury started the season in 3s — hitting .333 (7 for 21), scoring 3 runs, stealing 3 bases and walking three times. All this he managed while his team (the Yankees) managed a mediocre performance.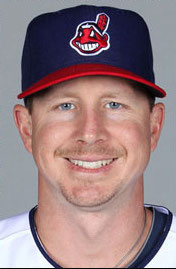 If it is possible to "win" spring training, then Elliot Johnson has pulled it off this year. Johnson, who has built a career as a utility infielder, did what he needed to. He was .345/.387/.586 during the spring—numbers that would attract the attention of any manager. But Johnson has managed similar numbers in previous years in spring training—in 2008 and 2011—but his performance during the year has fallen far short. His best year in the majors was 2012, when he hit .242/.304/.350. Still, his performance has won him a spot in the opening day roster. Without doubt, he will be trying to do still better this year.
Johnson was particularly strong during the last week of spring training, when he led all the other Mormon players except the Rangers' Adam Rosales. Rosales was 5 for 11 last week (.455) with a run scored. But Rosales hasn't done nearly as well as Johnson, recording a weak .191 spring batting average. And also unlike Johnson, Rosales has been designated for assignment to AAA.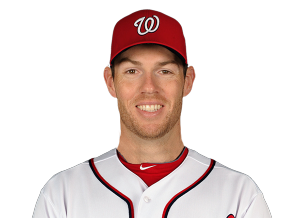 The Washington National's Doug Fister has been very strong in his few innings of work this Spring Training, despite working through elbow inflammation that delayed his work. Fister has thrown for 5.2 innings and given up just 1 earned run and 1 walk while striking out 6. This past week he worked for 3.2 scoreless innings. So far he has the best record among Mormon pitchers albeit with some of the fewest innings of work.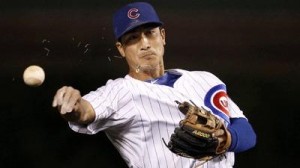 As pundits wondered whether the Cubs would keep Darwin Barney at second this year, because of his poor performance at the plate last year, Barney's bat woke up in a big way, as he was 4 for 9 last week (.444) and raised his spring training average to .308. Of course, Barney will need to keep up a high level at the plate for the final weeks of spring training to show that last year's average was an aberration. We'll keep an eye on him.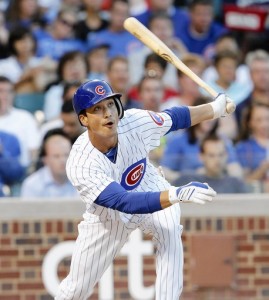 As spring training progresses, many news websites and blogs are wondering whether or not Darwin Barney will continue starting at second base for the Chicago Cubs, and even whether or not he will remain with the team. The problem focuses on Barney's poor performance at the plate last year, the worst of his major league career.
Barney's strength has been his fielding, where he won a gold glove in 2012 and committed just 2 errors at 2nd that year. And he tied the major league record for the number of consecutive errorless games at second base: 141.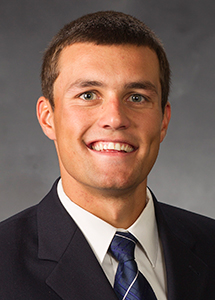 Last week BYU pitcher Kolton Mahoney, beginning his first season back after serving an LDS mission in Santa Rosa, California, threw a no-hitter against Nichols State in Thibodaux, Louisiana. The game was just the 7th no-hitter in the BYU baseball team's 58-year history.
"Everything was working," Mahoney said. "I could command my fast ball and my curve was filthy tonight, it was moving a lot, I could throw it for strikes, but my slider was my out pitch tonight. I started to feel it in the sixth or seventh inning. I knew it (the no-hitter) was definitely there going into the ninth inning and I wasn't going to go for anything less."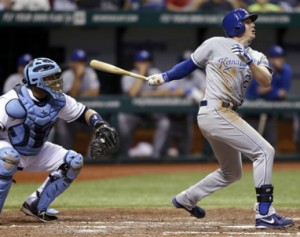 For some players, spring training has to be stressful. If your status reads "NRI" (non-roster invitee) or if you are at the bottom of your team's depth chart (or you think you are), then how well you do in spring training makes all the difference.
The Indian's Elliot Johnson, in spring training as a non-roster invitee,  must be struggling with that now. And so far he seems to be making a strong case. Johnson was 5 for 13 last week (.385) with 3 rbis, bringing his total so-far to 5 rbis in just 16 at bats. Can he keep this level of performance up for most of spring training? If he does, will it mean he makes the roster?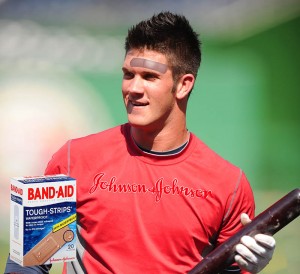 Bryce Harper (known as Bam Bam) is perhaps the last person you would expect to be a baseball historian. But Harper started Spring Training drawing a historical analogy to his injury running into a wall last year. He was, it seems, just like Babe Ruth.
On July 5, 1924, Harper recounted, Babe Ruth ran into the wall in Washington DC's Griffith Stadium, knocking himself out cold for 5 minutes. Despite that, the Bambino refused to leave the game and went 3 for 3. That is the kind of all-out play that Harper is known for, so maybe there is something to the analogy.