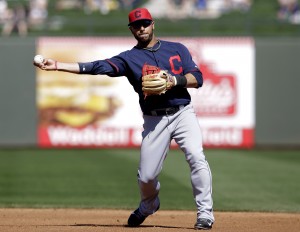 With the end of the minor league season this past week, it seems like some players let up and stopped playing as hard while others somehow excel. In the latter group this year is Elliot Johnson of the Columbus Clippers of the International League (AAA). Johson was 8 for 15 last week (.533) with a home run, 5 walks, 3 runs scored and 6 rbis. Johnson improved his minors record for the season to a .236 average over 314 at bats.
A bit behind Johnson last week was Brett Pill, who plays for the Kia Tigers of the Korean League. Pill was 10 for 22 last week (.455) with a home run (his 17th), 4 runs scored and 5 rbis. Pill's season average is up to .317. Adam Law also improved last week, hitting 7 for 22 (.318), helping him finish with a .273 average.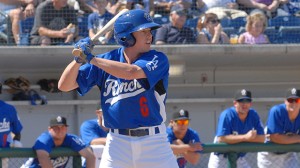 Since he joined the Dodgers last year, Adam Law has seemed to me to be headed to the majors, making his family the 6th three-generation MLB family. And when he performs like he did last week, that possibility seems all the more likely. Law was 14 for 29 (.483) last week, scoring 7 runs, stealing 3 bases and walking twice while earning 2 rbis. And that performance raised his season average to .316 (11th in the California League) and OBP to .391. Law still has a long way to go, but he does seem like he is on his way.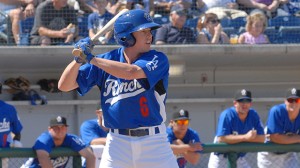 Adam Law's numbers should put him among the leaders in the A+ California League. His 11 for 29 (.379) and 6 rbi performance last week pushed his season average up to .322 over 146 at bats. But the strength of his numbers hasn't put him on the leader board yet. He is about 2 weeks short of the number of plate appearances needed to qualify—mainly because he was injured and out of the line up for several weeks earlier in the season. But Law's numbers are otherwise strong enough to place him among the top 10 batters in the California League. Watch here to see where he ends up once he qualifies.
Law wasn't the only Mormon in the minors who was hot at the plate last week. Jaycob Brugman continued to make his case in the Midwest League, where he was 9 for 23 (.391) with 4 rbis, 5 walks and a stolen base. Brugman does qualify for the leader board in his league, and appears there in OBP, SLG and OPS. And in AAA the Sacramento River Cats' Shane Peterson is also very strong, hitting .310 last week (9 for 29) with 5 rbis and a home run, bringing his season average up to .296. He is in the PCL's top ten in runs scored, hits and walks.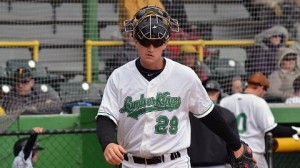 How long do you have to play well in the minors before you are promoted? You might think that after a player is clearly dominating in a league that promotion would swiftly occur. And according to that logic, right now Marcus Littlewood might be justified in such expectations. Littlewood is dominating the Midwest League (A), leading the league in batting average (.361) and sporting a strong slash line that is either 3rd or 4th in the league. This is coming after a strong season last year. So why not promote him?
A similar argument could be made for Adam Law, who was dominant in both the Arizona League (R) and Pioneer League (R) last year and has done well this year in the California League (A+), with a .309 average (tied for 18th in the league) and 5 stolen bases (tied for 20th). It might be early to promote Law again, so I expected that he would stay in California.
Nope. Law was demoted last week, back to the Ogden Raptors of the Pioneer League, whose season doesn't start until June 16th.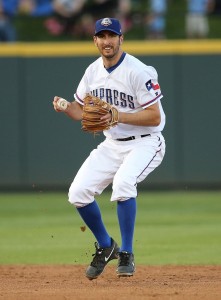 The Round Rock Express' Adam Rosales started to make the case for a return to the majors last week, going 8 for 18 (.444) at the plate with 7 walks. The walks alone are quite stunning—he nearly doubled the number of times he walked for the season, and jumped to 6th in walks in the AAA Pacific Coast League. For the season, he is batting .254 with 4 home runs, 13 runs scored and 10 rbis in 71 at bats—perhaps not enough to get him back to the majors immediately, but certainly the beginning of an argument for his return (should there be an opening).
Rosales isn't the only Mormon in the minors who excelled at the plate last week. He was followed closely by the Beloit Snappers' Jaycob Brugman, who was 9 for 23 (.391) with a home run and 4 walks, and by Rancho Cucamonga's Adam Law (California League – A+), who was 11 for 30 (.367) with 7 runs scored and 3 rbis. For the season Law's .325 average is close behind that of Marcus Littlewood, who continues to dominate the Midwest League (A) with a .395 average (1st in the league).

After starting the season slow, the Rancho Cucamonga Quakes' Adam Law stepped up his performance last week to something like what he did last year, his first after being drafted. Law was 9 for 20 (.450) in 6 games, with 7 runs scored, 5 rbis, 7 walks and 2 stolen bases. And Law raised his batting average for the season to .298, while planting a foot among the statistics leaders in batting average, on-base percentage and in stolen bases. Its the kind of performance Law was known for last year, when he tore up first the Arizona rookie league, and then the Pioneer league, leading to his promotion to the California League (A+) instead of an A-level league with those who were drafted the same time he was. Is it too much to expect him to reach AA by the end of the year?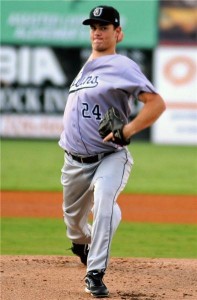 Most of the minor leagues completed their seasons this past week, and the majors expanded their rosters to 40, leading to shuffling among the minor leagues. Two Mormons in the minors were promoted as a result, one went back to the majors, and a total of 7 Mormons may play in the various minor league post-season games.
Among the best last week was Matt Neil, who was one of those promoted. Leaving the Jacksonville Suns (Southern, AA), Neil started this past week for the New Orleans Zephyrs (Pacific Coast, AAA) and turned in a strong performance, blanking the Albuquerque Isotopes over 6 innings, striking out 6 and walking just 1. Neil also pitched for the Zephyrs earlier in the season, but this was probably his strongest performance there. With luck, he will start the year next year in New Orleans.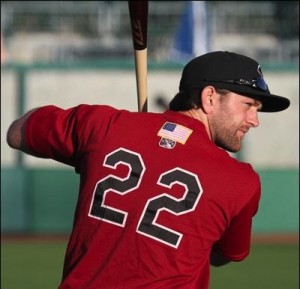 The Sacramento River Cats' Shane Peterson is hot once again. After all but taking over spring training as a personal showcase, he cooled down during the season, settling into a sub-.250 batting average. But this past week Peterson has become hot again. In games against Albuquerque and Round Rock Peterson has exploded, going 10 for 22 with a home run, 5 rbis, 4 runs scored and six walks. In the process he has raised his season average to .241. With Oakland leading the AL West and expecting to make the post-season, they will want another hot bat on the bench when the roster expands to 40 on September 1st. Will Peterson be ready?
Another 40-man roster candidate is the Yankee's Nik Turley, currently playing in the AA Eastern League for the Trenton Thunder. Turley has steadily improved over the past few weeks and could also be ready for the expanded roster on September 1st. This past week he was stellar, giving up just 1 run in 11 innings (0.82 era), striking out 9 and posting a WHIP of 1.00. For the season the lefty's era is down to 3.77 and his WHIP stands at 1.31, and given the doubts about the Yankee's pitching, he may make his first appearance in the majors this Fall.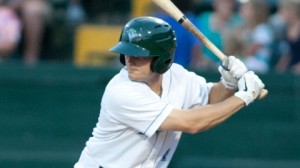 Former BYU Cougar Jaycob Brugman, who was drafted in the 17th round this past summer, is starting to make his mark in the New York-Penn League. After a slow start, Brugman's stats are improving, and this past week he was stellar, hitting 9 for 27, scoring 3 times and earning 4 rbis.
This week he also reached the top of the league stats, when his 22 rbis reached the top ten.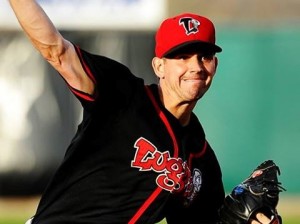 The Lansing Lugnut's Taylor Cole has struggled this season, but seems to be slowly improving, especially in July, given Cole's  2.52 era for the month. This past week he was even better, earning a 1.64 era over 11 innings, despite winning 1 and losing the other of the two games he pitched. Overall he has a sub-4.00 era and a 5-9 record with 71 strike outs. He must be showing coaches what they want to see because they keep starting him and keeping him in the games—he now is 9th in the league in innings pitched at just over 100, more than his totals in either of his previous two seasons in the Northwest (A short season) league.