Posts Tagged 'Mitch Talbot'
None of the Mormons in the minor league playoffs saw action, although 5 remain on teams in post season play. Yesterday the Las Vegas 51s were eliminated by the Salt Lake Bees, leaving Mitch Talbot out of any further playoff games–although since Talbot is on the DL, he likely wouldn't have seen action anyway.
And Bryan Harper's Hagerstown Suns won yesterday, eliminating the West Virginia Power and advancing to the South Atlantic League championship series that begins tomorrow. Harper, a reliever, wasn't put in the game; and, frankly, he wasn't needed. He last pitched Friday for 2/3rds of an inning. He may see action in tomorrow's game.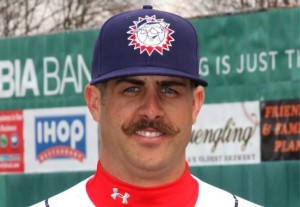 Playoff games tend to have clutch moments. In a 3-game series every game is a clutch situation. And even up a game, the Hagerstown Suns must have felt it in a clutch when the 9th inning of the second ended in a tie. And then in the 11th, after Justin Thomas put on two base runners and got just one out, they called up Bryan Harper in the clutch situation.
Unfortunately, Harper couldn't stop the West Virginia Power from scoring. He gave up a double to Josh Bell, which scored the two runners left on base by Thomas, and then a single that scored Bell, before inducing a strike out that ended the inning. But the damage done was too much for the Suns to make up, and the Power tied the series at 1 game all. The Suns and Power play the deciding game tonight.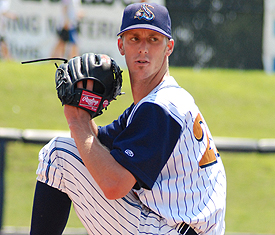 Clayton Mortensen, who pitched in the Red Sox bull pen earlier this year, started for the Omaha Storm Chasers in their second post-season game and earned the win, despite a bad 4th inning in which he gave up 4 runs and nearly lost the game. The Storm Chasers had only scored twice before the bottom of the fourth, and Mortensen then struggled, giving up a single, followed by a walk, followed by an rbi single and then a 3-run home run, all before he managed to pull it together and get grounders to finish off the side. For another inning he faced the loss, but in the top of the 6th Omaha scored another 5 runs and the bull-pen shut down the Oklahoma Red Wings to give Mortensen a win. Still, it was an ugly one, as Mortensen ended up with a 7.20 era and 1.40 WHIP. He gave up a total of 5 hits, two walks while striking out 4.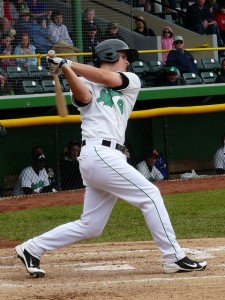 Its what every baseball fan dreams of.
Its the playoffs. Bottom of the 10th. Two out. Your team gave up 4 runs in the top of the 10th. You've already done well, 1 for 2 with 2 walks and no strike outs. If you can just get on base, maybe your team will find a way to tie, or win the game.
And then you get a perfect pitch. You swing, and watch as the ball sails out of the outfield.
For most of us that is a fantasy. We'll never even be in professional ball, let alone pull off end-of-the-game heroics.
For Marcus Littlewood that was yesterday.
With the end of the regular minor league season yesterday (except for the Pioneer League, which ends on Saturday, September 8th), the Mormons in the minors can look forward to further games in only two ways: they might get called up to the majors with the expanded 40-man roster that started September 1st, or they might play in any of the minor league championship games that have even begun for some teams.
Here's a run-down of the seven Mormons in the minors who are on teams that will play in the league championships: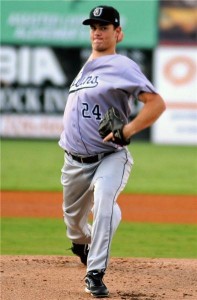 Most of the minor leagues completed their seasons this past week, and the majors expanded their rosters to 40, leading to shuffling among the minor leagues. Two Mormons in the minors were promoted as a result, one went back to the majors, and a total of 7 Mormons may play in the various minor league post-season games.
Among the best last week was Matt Neil, who was one of those promoted. Leaving the Jacksonville Suns (Southern, AA), Neil started this past week for the New Orleans Zephyrs (Pacific Coast, AAA) and turned in a strong performance, blanking the Albuquerque Isotopes over 6 innings, striking out 6 and walking just 1. Neil also pitched for the Zephyrs earlier in the season, but this was probably his strongest performance there. With luck, he will start the year next year in New Orleans.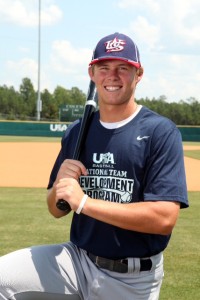 If it is hard to adjust to professional baseball from college for some players, then how hard must it be for players drafted from High School? Mason Smith, who graduated this summer from Rocky Mountain High School in Meridian, Idaho, was selected in the 4th round of this summer's draft (118th overall) by the San Diego Padres. After signing he was sent to the Padre's Arizona League affiliate (the AZL Padres), where he struggled to adjust.  While Smith initially did well at the plate, he fell into a bit of a slump in July, and his batting average dropped to a low of .154. But since then he has adjusted and started hitting. In August he hit .303, and last week he was 4 for 11 (.364) with 2 rbis and a stolen base. No doubt Mason will suffer slumps from time-to-time in the future, but the past month shows he has adjusted to the minors, and may be ready for promotion next year.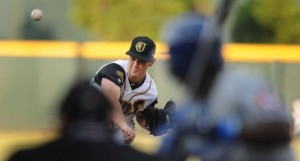 The Marlins' promising prospect in the AA Southern League, Matt Neil, pitched a gem last week, but failed to get a win when his team didn't score during his 5-inning service. Neil gave up just 3 hits and struck out 6 in the first of his two outings last week. He also pitched 2 innings of relief last night, giving up a run and two walks. Still, his season era, including 9 games in AAA, is now 3.95, while his era for AA this year is 3.05.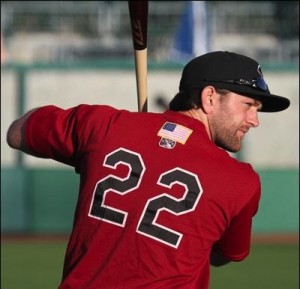 The Sacramento River Cats' Shane Peterson is hot once again. After all but taking over spring training as a personal showcase, he cooled down during the season, settling into a sub-.250 batting average. But this past week Peterson has become hot again. In games against Albuquerque and Round Rock Peterson has exploded, going 10 for 22 with a home run, 5 rbis, 4 runs scored and six walks. In the process he has raised his season average to .241. With Oakland leading the AL West and expecting to make the post-season, they will want another hot bat on the bench when the roster expands to 40 on September 1st. Will Peterson be ready?
Another 40-man roster candidate is the Yankee's Nik Turley, currently playing in the AA Eastern League for the Trenton Thunder. Turley has steadily improved over the past few weeks and could also be ready for the expanded roster on September 1st. This past week he was stellar, giving up just 1 run in 11 innings (0.82 era), striking out 9 and posting a WHIP of 1.00. For the season the lefty's era is down to 3.77 and his WHIP stands at 1.31, and given the doubts about the Yankee's pitching, he may make his first appearance in the majors this Fall.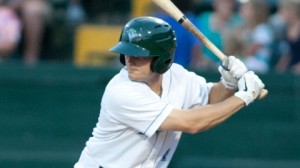 Former BYU Cougar Jaycob Brugman, who was drafted in the 17th round this past summer, is starting to make his mark in the New York-Penn League. After a slow start, Brugman's stats are improving, and this past week he was stellar, hitting 9 for 27, scoring 3 times and earning 4 rbis.
This week he also reached the top of the league stats, when his 22 rbis reached the top ten.