Archive for the 'Weekly Updates' Category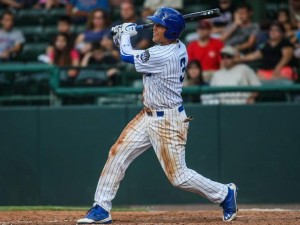 Often when minor league players are promoted from one class to another their performance falls off as they adjust to the new league. But occasionally that doesn't happen, such as happened recently with Jacob Hannemann. The Cubs' top-20 prospect arrived in the Florida State League this past week and promptly made a mark. Hitting 7 for 22 (.318), Hannemann also had 5 runs scored, 2 rbis, 2 walks and 3 stolen bases. And it is in stolen bases that Hannemann excels—an analysis at Fangraphs places him 5th in all the minor leagues, despite the fact that he is only now reaching the A+ level.
Hannemann's performance last week is slightly behind that of Brett Pill, who plays in the Korean League. Pill, who once played for the Giants, was 8 for 23 (.348) last week with 5 runs scored, 3 rbis, 2 home runs and a stolen base. And his season record remains great; he is hitting .322 over 205 at bats, with 15 home runs.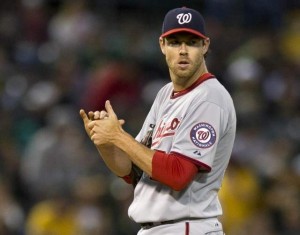 Despite his weeks on the disabled list earlier in the year, Doug Fister's record this year is fantastic. Last week he pitched twice, earning a 1.42 era over 12.2 innings, giving up just 3 walks and 12 hits in the process (1.18 WHIP). For the season his era is just 2.69 — among the best in the majors this year. His strike out to walk ratio is 5:1, and he earned his 10th win of the season this year—putting him on the leader board for the first time this year (he hasn't pitched enough innings to qualify in most other categories).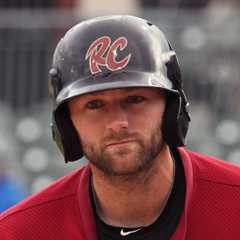 The Sacramento River Cats' Shane Peterson (Pacific Coast League – AAA) has been really good this season. He has been hitting over .300 all year, and is high on the leader board of the Pacific Coast League in multiple categories. And he played in the AAA All Star Game. And then there was last week.
Peterson's performance last week was easily the best of his season so far. He was 12 for 25 (.480) and scored 10 runs and earned 9 rbis, based on 3 home runs. If it seems like the single walk he managed last week is low, its because he got so many hits. There seems little chance that Peterson will not be in the majors by the roster expansion on September 1st.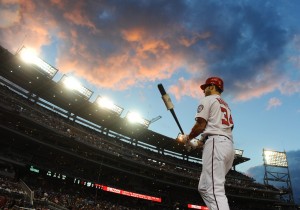 It seems impossible, but when the number of events is small enough surprising things can happen. And with the All Star break cutting down the number of games this past week to three (on Friday, Saturday and Sunday), we probably shouldn't be surprise that 4 of the 5 active Mormon batters in the majors managed to hit .500 last week. Exactly .500.
Of course, the more at bats someone has, the more surprising .500 is. And over the three games the highest number of at bats came from Jacoby Ellsbury, who was 6 for 12 over the three games this past weekend—boosted by Sunday's game in which Ellsbury was 4 for 4. He was followed by Bryce Harper (5 for 10), Darwin Barney (2 for 4) and Eric Sogard (2 for 4). The other Mormon batter, Adam Rosales, was 0 for 3.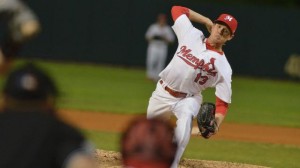 On their way back from injuries earlier in the season, both Boone Whiting of the Memphis Redbirds (SLC – Pacific Coast League – AAA) and Nik Turley of the Scranton/Wilkes-Barre Rail Riders (NYY – International League – AAA) have pitched well, and they both improved their records last week, ahead of the AAA all star game tonight. Whiting was slightly better, earning a win and shutting out his opponent in his 5 innings of work while giving up 2 hits and striking out 7. With the shutout, Whiting's season era is down to 3.92, mostly making up for the bad outings before his injury. Turley gave up just 1 run in 5 2/3rds while striking out 2 and bringing his season era down below 5.00. Turley has pitched less than 22 innings since returning from the DL.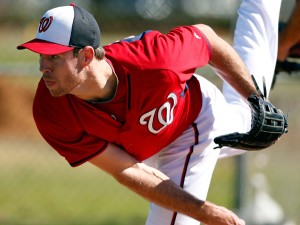 Best among Mormon pitchers last week, Doug Fister continues his exceptional performance following his stint on the disabled list earlier this season. With a 2-run 7-inning (2.57 era) start this past week, Fister has his season era down to 2.90, good enough for 18th in the majors, if he had pitched enough innings to qualify. Perhaps the only black mark on the start was that Fister gave up his 7th and 8th walks of the season.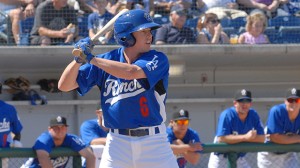 Since he joined the Dodgers last year, Adam Law has seemed to me to be headed to the majors, making his family the 6th three-generation MLB family. And when he performs like he did last week, that possibility seems all the more likely. Law was 14 for 29 (.483) last week, scoring 7 runs, stealing 3 bases and walking twice while earning 2 rbis. And that performance raised his season average to .316 (11th in the California League) and OBP to .391. Law still has a long way to go, but he does seem like he is on his way.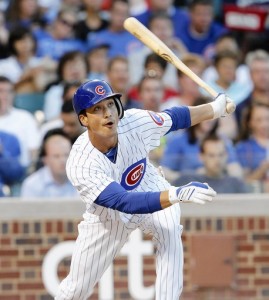 Cubs second baseman Darwin Barney was great last week — better than any other Mormon in the majors. Barney held his own fireworks show, with his bat this time, on July 2nd and was short of hitting for the cycle by a home run. Barney was 8 for 21 last week (.381) scoring 3 runs and earning an rbi, and in the process raised his average for the season by nearly 25 points to .219—closer to his career norm.
Close on Barney's heels last week was Adam Rosales, brought up from the minors as a backup infielders for the Rangers. Rosales was 3 for 10 last week with 3 rbis. But given Rosales past performance in the majors, it doesn't seem likely that he will be able to keep up that average.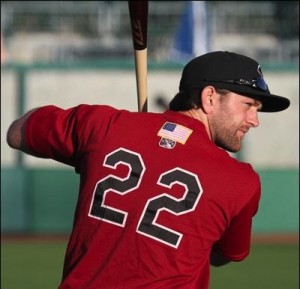 The Sacramento River Cats' Shane Peterson has been persistent in his performance at the plate this year. Peterson is among the Pacific Coast League (AAA) leaders in most of the major statistical categories, and this past week was no exception. Peterson was 10 for 26 (.385) for the week, with 7 rbis and 6 runs scored, and he leads the league in hits with 104. His numbers in AAA are strong enought that it seems unlikely that he will stay there, but both last year and earlier this year Peterson's stints in the majors haven't lasted.
Also notable last week were Jeff Gelalich and Jacob Hannemann. Gelalich was outstanding for the week, hitting 13 in 27 at bats (.481) and scoring 5 runs. He was promoted from the Midwest League (A) to the California League (A+). And Hannemann, who was 9 for 25 (.360) last week and scored 8 runs with 3 rbis, is near the top in the Midwest League in stolen bases and runs and is currently 16th on the Chicago Cubs top prospects list.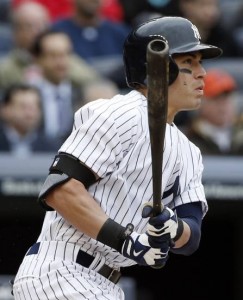 The standout Mormon in major league baseball last week was clearly Jacoby Ellsbury, who once again showed the best of what he brings to the diamond. Ellsbury was 8 for 23 at the plate (.348), scoring 2 runs and earning 3 rbis with 2 walks. He improved his average for the season to .348 and still maintained 5th place in stolen bases in the majors.
On the mound the standout last week was Jeremy Guthrie, who notched a win in two outings (totalling 14.1 innings) while giving up just 4 earned runs (2.51 era) and striking out 9. The win puts Guthrie one shy of even and gives him a 3.69 era for the season. Last week's numbers were good, but while Guthrie's season numbers maybe mediocre, his advantage is his ability to put in a lot of innings — Guthrie is tied for 10th most innings pitched in the majors. Even if the Royals could find a better pitcher to replace him (a questionable  idea), they might be worse off if they needed to use the bullpen more as a result.