Archive for the 'Weekly Updates' Category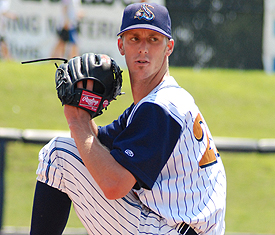 In a week the number of Mormon players in the minors post-season games has fallen from 9 to 3, as their teams have been eliminated in their playoffs. The best among them last week was Clayton Mortensen of the Omaha Stome Chasers (Pacific Coast League — AAA), who gave up just 1 unearned run in a single 5 inning relief appearance and ended up with a loss. Mortensen was otherwise strong, striking out 8 without a single walk and giving up just 1 hit. He ended up with a strikingly low 0.20 WHIP for the week.
Somewhat surprisingly the other two Mormon players remaining in post-season play, Tyler Pill and Bryan Harper, are also pitchers. Pill's first of two starts was a disaster, but he escaped without a loss, and managed to get a win his second start. Harper pitched just 1.1 innings of relief, but shut out his opponents.
Here's a run-down of the nine Mormons in the minors who were on teams that played in the minor league post season: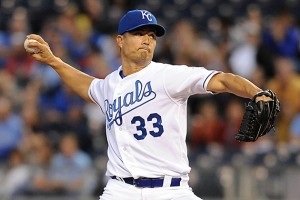 The Kansas City Royals' Jeremy Guthrie started September with another strong start as his team battles to win the AL Central. Guthrie gave up just 1 run and 8 hits over 7.0 innings against the Texas Rangers. But Royals fans are more concerned with Guthrie's start tonight against their division rivals, the Detroit Tigers. If Guthrie can bring the same level of pitching, the Royals may be able to hold onto their 2-game lead.
Also strong on the mound this past week was the White Sox' Matt Lindstrom, who pitched a total of 2 innings in relief, giving up just 2 hits and no runs. Unfortunately, the White Sox are well out of the post-season, so Lindstrom's performance will only make a difference for his own career, not the White Sox' season.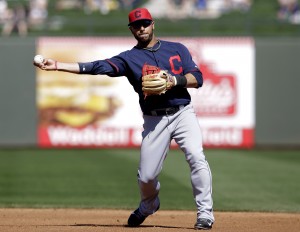 With the end of the minor league season this past week, it seems like some players let up and stopped playing as hard while others somehow excel. In the latter group this year is Elliot Johnson of the Columbus Clippers of the International League (AAA). Johson was 8 for 15 last week (.533) with a home run, 5 walks, 3 runs scored and 6 rbis. Johnson improved his minors record for the season to a .236 average over 314 at bats.
A bit behind Johnson last week was Brett Pill, who plays for the Kia Tigers of the Korean League. Pill was 10 for 22 last week (.455) with a home run (his 17th), 4 runs scored and 5 rbis. Pill's season average is up to .317. Adam Law also improved last week, hitting 7 for 22 (.318), helping him finish with a .273 average.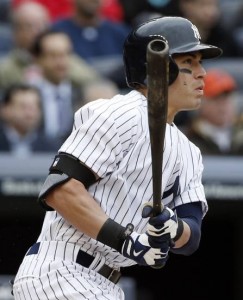 Yes, Jacoby Ellsbury is good. Even in the "off year" he has had this season, Ellsbury has been well above the average major league player. But this past week his performance was stunning — moving him substantially closer to his career average. Last week Ellsbury was 12 for 23 (.522) with 4 home runs (bringing his season total to 14), 2 stolen bases, 6 runs scored and a stunning 9 rbis. And he only struck out once last week. Ellsbury may finish the season very hot, and with the Yankees just 3 games out of the wild card, that could make a big difference.
Also strong last week was the Nationals' Bryce Harper, who was 6 for 20 (.300), built mainly on three home runs. Harper's average for the year is now up to .268 and he has finally reached double digits in home runs.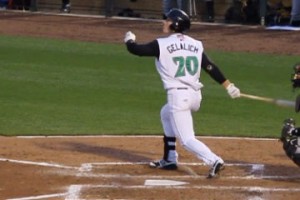 Jeff Gelalich improved his record for the season, and his performance with the California League (A+) Bakersfield Blaze last week, with a 5 for 17 performance (.294) that included 2 rbis, 3 runs scored, 3 walks and 3 stolen bases. He has now spent half of this year with the Blaze, up from the Dayton Dragons (Midwest League – A), and the A+ part of the year has clearly been better; Gelalich has hit .259 for the Blaze, and given them 8 of his 10 home runs for the year.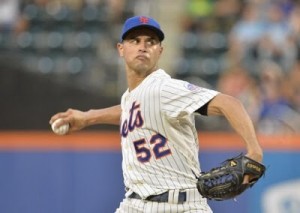 Just as we learned that Mets reliever Carlos Torres comes from a Mormon family Torres had a gem of a week, including an "emergency" start in which he lasted 5 innings, striking out 6 while shutting out the Cubs. Overall, Torres lasted 6 and 1/3rd innings without giving up a run while striking out 8.
Torres was nearly matched last week by the Royals' Jeremy Guthrie, who notched his 10th win. Guthrie gave up just 5 hits and a walk (resulting in a single run) in an 8-inning start, giving him a 0.75 WHIP for the game. But this only reduced his era to 4.32 and his WHIP to 1.31. Royals fans must wish that this past week's Guthrie showed up more often.
Read the rest of this entry »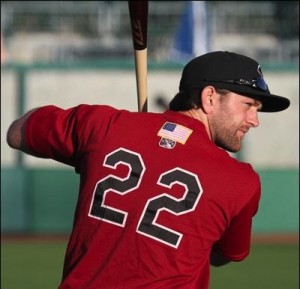 Financial advisors often disclaim their proposals with the statement "past performance is not a guarantee of future returns." That's true in baseball also. But while we hear and understand that disclaimer, we don't exactly believe it—we expect baseball players to perform the way they have in the past.
By this past week's numbers, the Sacramento River Cats' Shane Peterson looks like he will be a star in the majors. He was 10 for 22 (.455) with 2 home runs, 4 rbis and 7 runs scored. And those numbers just topped off a great season so far; Peterson's average for the season is .316 and he leads the PCL with 95 runs scored and 156 hits and is second in RBIs (82) and 4th in walks (59). While those numbers will no doubt drop off  when he reaches the majors, we all believe that he will do well.
But, "past performance is not a guarantee of future returns." We'll see.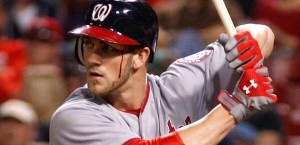 The Washington National's Bryce Harper found a groove last week, hitting 2 home runs and earning 7 rbis in 21 at bats. After an injury-diminished and less-productive season than might be expected from Harper, last week had to be very welcome; his 2 home runs last week are a third of his total for the year so far and his 7 rbis raised his season total to 23. No doubt Harper hopes that he is back to his expected form.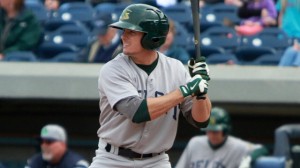 It was Jaycob Brugman's week. In the past 5 games, he has hit 6 home runs out of 9 times that he has connected in 20 at bats (.450). His home run streak (which could continue today) accounted for all of the 6 runs and 8 rbis he earned and raised his season totals to 16 home runs and a .275 batting average. Good luck keeping up that pace!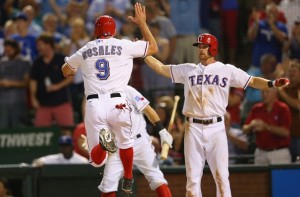 After a few weeks of getting to the plate in dribs and drabs, the Texas Rangers' backup infielder Adam Rosales finally saw some regular plate appearances, and responded with an exceptional week. Rosales was 7 for 14 (.500) last week, with 5 runs scored and 5 rbis on 2 home runs and 4 walks. And this past week's performance boosted Rosales' season average to .350, although on a mere 40 at bats.
Rosales was far from the only Mormon player who performed well last week. Jacoby Ellsbury was hot, going 10 for 24 (.417) while the backup shortstop for the As, Eric Sogard, was 7 for 16 (.438) with 4 runs scored, 3 rbis and 7 walks.