Posts Tagged 'Jeremy Guthrie'
We are a week away from the first Spring Training baseball games, and most players have already reported. And as always happens during the off-season, many players have moved from one team to another as managers search for just the right combination of players, and players look for more money or better opportunities.
Of course, the Mormons in professional are no exception. Here is a rundown of the Mormons who played at least one game in the majors last year and where they are at the moment. Tomorrow I'll give a rundown of those who only played in the minors last year.
With the end of the regular major league season yesterday, the post-season lineup has become clear, leaving 7 of the 14 Mormon players we follow on teams that have made the post-season in some form. The 7 players are:
John Buck (Pirates)
Jacoby Ellsbury (Red Sox)
Kyle Farnsworth (Pirates)
Doug Fister (Tigers)
Elliot Johnson (Braves)
Adam Rosales (Rangers)
Eric Sogard (A's)
Of these, Rosales has perhaps the most tenuous position. He hasn't seen much playing time as the Rangers have fought hard to make the post season, ending up with a tie for the second wild card spot in the American League. As a result the Rangers face a one-game playoff tonight against the Tampa Bay Rays to see who will get the wild card spot. If they win, the Rangers will then face another one-game playoff on Wednesday against the other wild card team, the Cleveland Indians, to see who will face the Red Sox in a 5-game series starting Friday.
Four Mormon players are on teams that have clinched a berth in this year's playoffs, and another 5 could still make it — and two almost certainly will. Jacoby Ellsbury (Boston Red Sox), Doug Fister (Detroit Tigers), Elliot Johnson (Atlanta Braves) and Eric Sogard (Oakland Athletics) will all experience the post-season. In addition, John Buck and Kyle Farnsworth (both with the Pittsburg Pirates) are very likely to also make the post season. And Jeremy Guthrie (Kansas City Royals), Bryce Harper (Washington Nationals) and Adam Rosales (Texas Rangers), all still have a chance of seeing the post season, if their teams win and others lose.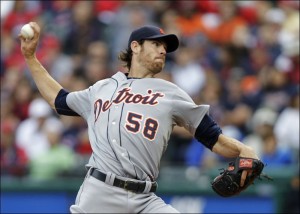 We have confirmed that Tiger's starting pitcher Doug Fister is Mormon and have added him to the list of players we track each week. Fister is in his 3rd year with Detroit, and his 5th in the majors. He was drafted in 2006 in the 7th round by the Mariners, and spent 4 years in that organization, including 2 1/2 in the majors.
However, this past week Fister struggled, giving up 7 earned runs in 5 innings for a loss. But overall this season he has been good. He is 11-7 with a 3.81 era and 1.30 WHIP.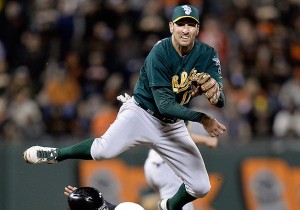 Adam Rosales hasn't had much fun during the past month. As the Oakland As have tried to improve their team and maintain a lead as the season winds down, Rosales has become more of a liability. But instead of simply going back to AAA, Rosales has ridden a roller coaster between the majors and AAA and halfway across the country as well.
To understand the roller coaster, it helps to understand MLB's rules for demoting players. As I understand it, teams must first "designate a player for assignment," which allows other major league teams an opportunity to claim the player first. If no one claims the player, on the 5th day the player can then be assigned to the minors.
Rosales' trouble started on July 8th, when the As designated him for assignment and then sent him to AAA Sacramento on the 12th to make way for Grant Green. But he was brought back to the majors just 11 days later when Green didn't work out. Then on the 31st, he was designated for assignment again when the As acquired Alberto Callaspo. But this time the Texas Rangers thought he might be useful, and claimed him on waivers August 2nd, though the As would have preferred to keep him in their AAA stable. But the Rangers didn't even give Rosales a chance to play, and designated him for assignment on August 5th. But in the mean time Alberto Callaspo was injured, and the As claimed Rosales back. He saw one at bat last week on August 9th, and the As designated him for assignment again on August 10th.
For Adam and for the As the question remains: Will he clear waviers and stay in the As system? Or will someone else claim him?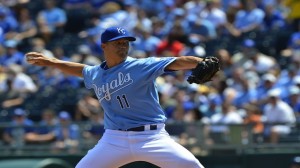 Over his past 5 starts, the Kansas City Royals' Jeremy Guthrie has a 4-1 record, improving his season totals to 11-7 and putting him tied for 11th in the majors in wins. Does this mean that Guthrie has turned around his performance? Can we expect solid pitching for the rest of the year?
The answer isn't quite clear. Guthrie's struggles have kept everyone guessing, with the best guess being that he will pitch well one game and then struggle the next. And looking behind the wins at his era and performance each game, Guthrie's performance is still not something you can count on. In the last 5 games, he first pitched well, and then twice gave up 5 earned runs, but somehow managed to win one of those games. The most recent two games were solid—he gave up first 1 earned run, and then 2 last week. His era for these 5 games was still 3.98, just a little below his season era of 4.22. So its hard to make much of the last 5 games. But give me another strong outing or two in a row? Well, the Royals will be much happier and much more confident in him.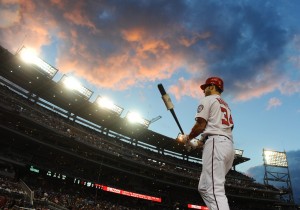 If you thought the Home Run Derby and All-Star break might leave Bryce Harper off his game for a little while, you weren't correct. If anything, the experience has sparked Harper, making him play better. In the first full week after the break Harper was 9 for 25 (.360) with 4 runs scored and 6 rbis. AND, Harper hit his 14th and 15th home runs during the week.
The week wasn't without a downside for the 20-year-old. He once again aggravated his left knee, took a day off and then by the end of the week aggravated the knee again. But while the knee has bothered Harper all year, he has still managed to play well, and often play brilliantly.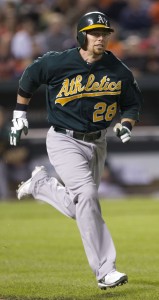 The week of the All-Star Game can be a boon to some players—those who don't play. First you get three days of rest. Then the shortened week can make you look good for the week. And among the Mormons in the Majors, the All-Star week worked best for Eric Sogard. After his three days of rest, Sogard, who is best known among the Oakland fans for his glasses, went 4 for 8 and hit his 2nd home run of the year. His batting average is back up to .264, and unlike fellow Mormon on the team Adam Rosales, Sogard has not been sent down to triple A ahead of the trade deadline.
Sogard isn't the only Mormon blasting away at the plate. Jacoby Ellsbury was still red hot after the All-Star Game, hitting .364, scoring twice and walking twice. His batting average is up to .307 and he has maintained a lead in stolen bases in the majors with 37.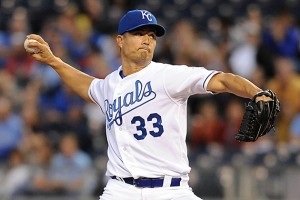 After starting the season strong, Royals' pitcher Jeremy Guthrie has struggled, loosing ground from an era of 2.28 after his May 9th game to 4.11 at the end of this week. But this past week's game was a quality start, despite a loss, so perhaps Guthrie will turn around his season and do better. Guthrie led the Mormon pitchers in the majors this past week with a 2.84 era, striking out 4 and giving up 6 hits and 2 walks over 6.1 innings. His performance was marred only when he was hit in the hand and taken from the game. But subsequent news reports indicate that Guthrie won't miss his next start.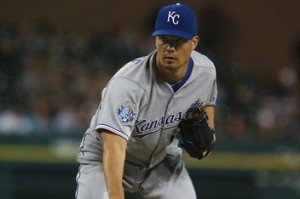 Royals' starter Jeremy Guthrie finally notched his 6th win of the season last week, after struggling through much of May and losing 3 games in a row. This game brought his season era down to a respectable 3.66, but still quite a bit above the phenomenal 2.28 era he held on May 9th after his 5th win.
Guthrie's pitching was perhaps bested among the Mormons pitching in the majors by both Matt Lindstrom and Brandon Lyon, relievers who each pitched 3 or more innings during the week without giving up a run. Lindstrom (White Sox) is perhaps slightly more impressive, with a season era of 2.96 over 27.1 innings, but Lyon (Mets) has a 19-6 strike out-to-walk ratio, much better than Lindstrom.