Posts Tagged 'Jeremy Guthrie'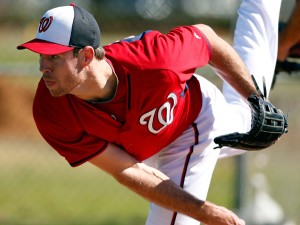 Best among Mormon pitchers last week, Doug Fister continues his exceptional performance following his stint on the disabled list earlier this season. With a 2-run 7-inning (2.57 era) start this past week, Fister has his season era down to 2.90, good enough for 18th in the majors, if he had pitched enough innings to qualify. Perhaps the only black mark on the start was that Fister gave up his 7th and 8th walks of the season.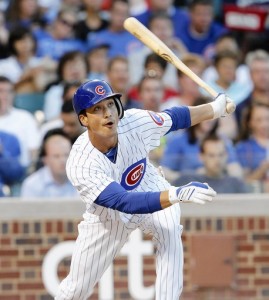 Cubs second baseman Darwin Barney was great last week — better than any other Mormon in the majors. Barney held his own fireworks show, with his bat this time, on July 2nd and was short of hitting for the cycle by a home run. Barney was 8 for 21 last week (.381) scoring 3 runs and earning an rbi, and in the process raised his average for the season by nearly 25 points to .219—closer to his career norm.
Close on Barney's heels last week was Adam Rosales, brought up from the minors as a backup infielders for the Rangers. Rosales was 3 for 10 last week with 3 rbis. But given Rosales past performance in the majors, it doesn't seem likely that he will be able to keep up that average.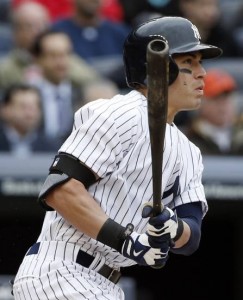 The standout Mormon in major league baseball last week was clearly Jacoby Ellsbury, who once again showed the best of what he brings to the diamond. Ellsbury was 8 for 23 at the plate (.348), scoring 2 runs and earning 3 rbis with 2 walks. He improved his average for the season to .348 and still maintained 5th place in stolen bases in the majors.
On the mound the standout last week was Jeremy Guthrie, who notched a win in two outings (totalling 14.1 innings) while giving up just 4 earned runs (2.51 era) and striking out 9. The win puts Guthrie one shy of even and gives him a 3.69 era for the season. Last week's numbers were good, but while Guthrie's season numbers maybe mediocre, his advantage is his ability to put in a lot of innings — Guthrie is tied for 10th most innings pitched in the majors. Even if the Royals could find a better pitcher to replace him (a questionable  idea), they might be worse off if they needed to use the bullpen more as a result.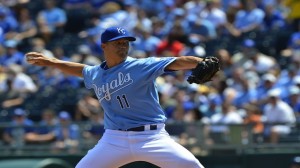 Yes, Mormon outfielders like Jacoby Ellsbury and Bryce Harper are well-known and exciting to watch, but given last week, maybe fans should give some love to the Mormon pitchers active in the majors. Kyle Farnsworth, Doug Fister and Jeremy Guthrie were all stellar in the games they pitched—Farnsworth and Fister didn't give up an runs while Guthrie gave up just one run in 6 and 2/3rds innings while striking out 9. And both Fister and Guthrie ended up with a 0.75 WHIP for the week. Fister now has a season era of 2.65.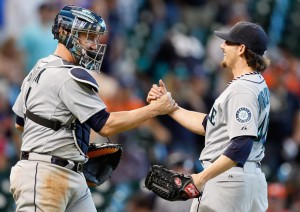 While it might not seem the case, playing well in a backup role is hard. Because the batter doesn't see as many pitches, its harder to do as well at the plate. So, when a backup player is doing well, that is noteworthy.
In that sense, John Buck's current performance is great. He was 4 for 10 last week (.400), and his season average is up to .271 (on 59 at bats). Buck has only hit better than that in one season of his 11 year career, so it seems unlikely that he will keep up that level for the rest of the year—especially as a backup catcher. But his performance so far is still great.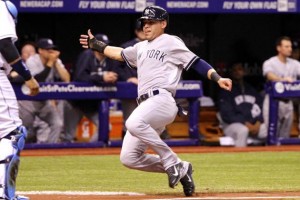 After falling into a slump that lasted most of the month of May, Jacoby Ellsbury stole his way back toward his customary performance last week, going 8 for 23 (.348) with 5 rbis and 4 stolen bases, despite an overall mediocre performance by his team, the Yankees. The stolen bases are particularly noteworthy, since they raised him from 11th in the majors last week to 6th overall. During his career Ellsbury has 3 times led the American League in stolen bases.
He isn't the only Mormon to do well at the plate last week. The As Eric Sogard also cracked .300 — going 5 for 13 (.385) with a run scored. But Sogard's part-time role means he gets fewer plate appearances, and his record reflects that. And while Sogard is popular with fans, its hard to justify his presence in the lineup when he is hitting just .207 for the season.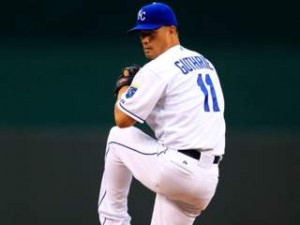 While Jeremy Guthrie isn't known as the kind of pitcher who will lead your rotation, he does usually provide the kind of solid starts that a good team can use. He fits well as a 4th or 5th starter, let's say. But occasionally even 5th starters show a little brilliance, like Guthrie managed last week. He pitched for 7 innings against the White Sox, giving up just 1 run, 3 hits and 2 walks. For the game he had a 1.29 era and a 0.71 WHIP—exactly what you want from the ace of your staff. I'm sure Guthrie wishes he could pitch like this every start.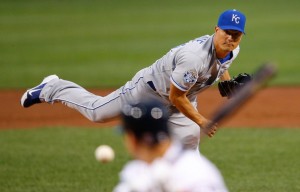 While its not unusual for an individual player to have an off week, its much more unusual for all of the Mormon players to have poor or mediocre performances at the same time. But this past week was like that.
Perhaps the strongest performance was from the Royals' pitcher Jeremy Guthrie, who improved his era in two starts last week. But Guthrie's performance can't really be called stellar: a 4.05 era for the two starts, a loss, 16 hits and a walk with 6 earned runs over 13.1 innings pitched. Meh…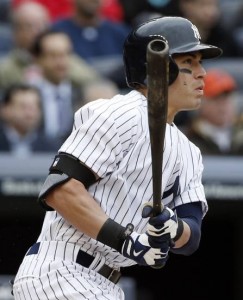 Its amazing how different the regular season can be from spring training. Last week, Elliot Johnson was on top of the Mormon players in spring training, and this week, in the regular season, he is on the bottom, while Jacoby Ellsbury, mediocre in most of spring training, has transformed into the best performer among the Mormon players.
Ellsbury started the season in 3s — hitting .333 (7 for 21), scoring 3 runs, stealing 3 bases and walking three times. All this he managed while his team (the Yankees) managed a mediocre performance.
We are a week away from the first Spring Training baseball games, and most players have already reported. And as always happens during the off-season, many players have moved from one team to another as managers search for just the right combination of players, and players look for more money or better opportunities.
Of course, the Mormons in professional are no exception. Here is a rundown of the Mormons who played at least one game in the majors last year and where they are at the moment. Tomorrow I'll give a rundown of those who only played in the minors last year.