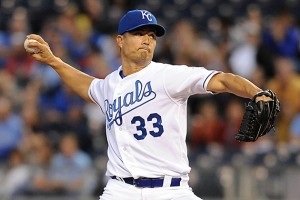 The Kansas City Royals' Jeremy Guthrie started September with another strong start as his team battles to win the AL Central. Guthrie gave up just 1 run and 8 hits over 7.0 innings against the Texas Rangers. But Royals fans are more concerned with Guthrie's start tonight against their division rivals, the Detroit Tigers. If Guthrie can bring the same level of pitching, the Royals may be able to hold onto their 2-game lead.
Also strong on the mound this past week was the White Sox' Matt Lindstrom, who pitched a total of 2 innings in relief, giving up just 2 hits and no runs. Unfortunately, the White Sox are well out of the post-season, so Lindstrom's performance will only make a difference for his own career, not the White Sox' season.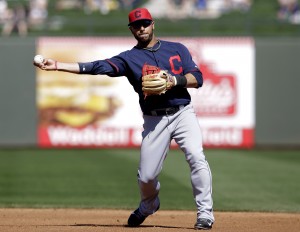 With the end of the minor league season this past week, it seems like some players let up and stopped playing as hard while others somehow excel. In the latter group this year is Elliot Johnson of the Columbus Clippers of the International League (AAA). Johson was 8 for 15 last week (.533) with a home run, 5 walks, 3 runs scored and 6 rbis. Johnson improved his minors record for the season to a .236 average over 314 at bats.
A bit behind Johnson last week was Brett Pill, who plays for the Kia Tigers of the Korean League. Pill was 10 for 22 last week (.455) with a home run (his 17th), 4 runs scored and 5 rbis. Pill's season average is up to .317. Adam Law also improved last week, hitting 7 for 22 (.318), helping him finish with a .273 average.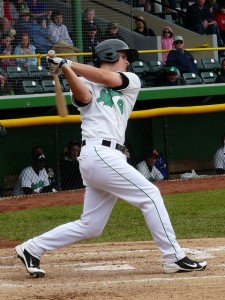 One by one the Mormon players drafted two years ago have been promoted this year from class A to A+. The lone holdout among the position players is Marcus Littlewood, who again made the case for his promotion this week. Littlewood, a catcher, was 8 for 19 (.421) last week with 7 runs scored, 5 rbis, 6 walks and 2 home runs–and in the process he pushed himself onto the Midwest League leader board with a .348 OBP (tied for 21st in the league).
His performance for the season aren't that bad either. He is hitting .251  with 41 rbis and 38 walks and a .348/.398/.745 slash line. But as a catcher Littlewood's performance must also be judged on how he called the games. Unfortunately, his progress in that area isn't available as a statistic and isn't something I can judge.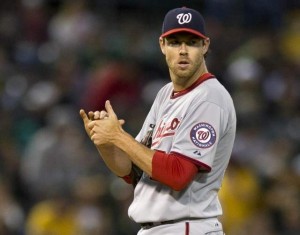 Despite his weeks on the disabled list earlier in the year, Doug Fister's record this year is fantastic. Last week he pitched twice, earning a 1.42 era over 12.2 innings, giving up just 3 walks and 12 hits in the process (1.18 WHIP). For the season his era is just 2.69 — among the best in the majors this year. His strike out to walk ratio is 5:1, and he earned his 10th win of the season this year—putting him on the leader board for the first time this year (he hasn't pitched enough innings to qualify in most other categories).
In the history of the MLB All Star Game, seventeen Mormons have been selected, including four current players who have been on a MLB roster this year.
As I watched the game this evening, I did the research and put together a list of those Mormons who have been selected in some year. I was surprised to discover that the first Mormon appeared in 1936! And this is only the 3rd year since 1997 that no Mormon player has been selected.
Can you name the four current players who have been all stars? How about the other 13 Mormons who have been selected?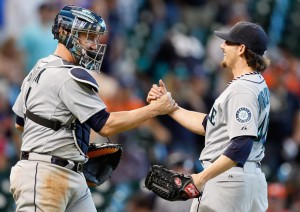 While it might not seem the case, playing well in a backup role is hard. Because the batter doesn't see as many pitches, its harder to do as well at the plate. So, when a backup player is doing well, that is noteworthy.
In that sense, John Buck's current performance is great. He was 4 for 10 last week (.400), and his season average is up to .271 (on 59 at bats). Buck has only hit better than that in one season of his 11 year career, so it seems unlikely that he will keep up that level for the rest of the year—especially as a backup catcher. But his performance so far is still great.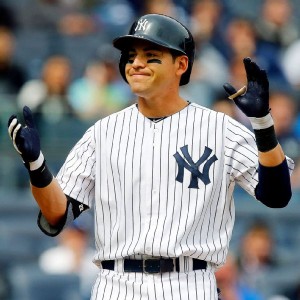 While last week the Mormons in the major leagues managed almost a bust, those who weren't injured seemed to come roaring back last week, led by the Yankee's Jacoby Ellsbury. Last week Ellsbury was 8 for 18 (.444) raising his season batting average to .333. He also hit a home run, earned 3 rbis and stole two bases and jumped back onto the stat leaders board in 3 more categories.
On paper, Ellsbury was followed by the Mariner's John Buck, who hit .750 last week and scored two runs. But Buck's performance came from one game, against the hapless Astros, in which he was 3 for 4. That game raised Buck's season average to .300 — but since Buck is a backup catcher with only 20 at bats so far, its hard to see much significance in a single game's performance.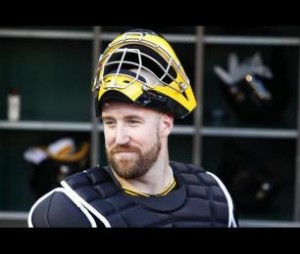 The backup role is hard. I've wondered for some time what toll the backup role takes on a player's performance. Take John Buck, for example. As a backup this year the catcher has played in just 4 games so far, while last year he had played in 16 games by April 20th. And last year at this point Buck had a .293 batting average, while this year he is hitting just .231. How much of this difference is because Buck isn't playing every day this year? And how much is because he began last year on fire?
This past week, despite his backup role, Buck was .333 at the plate with a walk and 2 strike outs, raising his batting average for this year to near his career average. Still, in a backup role its hard to have much higher expectations of Buck.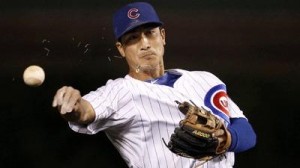 As pundits wondered whether the Cubs would keep Darwin Barney at second this year, because of his poor performance at the plate last year, Barney's bat woke up in a big way, as he was 4 for 9 last week (.444) and raised his spring training average to .308. Of course, Barney will need to keep up a high level at the plate for the final weeks of spring training to show that last year's average was an aberration. We'll keep an eye on him.
We are a week away from the first Spring Training baseball games, and most players have already reported. And as always happens during the off-season, many players have moved from one team to another as managers search for just the right combination of players, and players look for more money or better opportunities.
Of course, the Mormons in professional are no exception. Here is a rundown of the Mormons who played at least one game in the majors last year and where they are at the moment. Tomorrow I'll give a rundown of those who only played in the minors last year.