Posts Tagged 'Shane Peterson'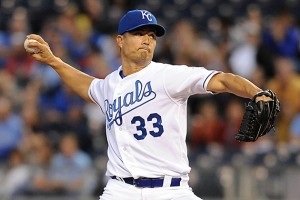 The Kansas City Royals' Jeremy Guthrie started September with another strong start as his team battles to win the AL Central. Guthrie gave up just 1 run and 8 hits over 7.0 innings against the Texas Rangers. But Royals fans are more concerned with Guthrie's start tonight against their division rivals, the Detroit Tigers. If Guthrie can bring the same level of pitching, the Royals may be able to hold onto their 2-game lead.
Also strong on the mound this past week was the White Sox' Matt Lindstrom, who pitched a total of 2 innings in relief, giving up just 2 hits and no runs. Unfortunately, the White Sox are well out of the post-season, so Lindstrom's performance will only make a difference for his own career, not the White Sox' season.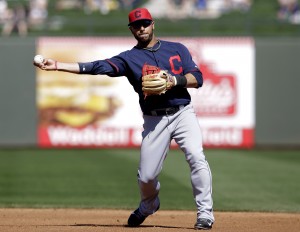 With the end of the minor league season this past week, it seems like some players let up and stopped playing as hard while others somehow excel. In the latter group this year is Elliot Johnson of the Columbus Clippers of the International League (AAA). Johson was 8 for 15 last week (.533) with a home run, 5 walks, 3 runs scored and 6 rbis. Johnson improved his minors record for the season to a .236 average over 314 at bats.
A bit behind Johnson last week was Brett Pill, who plays for the Kia Tigers of the Korean League. Pill was 10 for 22 last week (.455) with a home run (his 17th), 4 runs scored and 5 rbis. Pill's season average is up to .317. Adam Law also improved last week, hitting 7 for 22 (.318), helping him finish with a .273 average.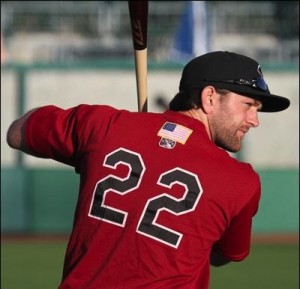 Financial advisors often disclaim their proposals with the statement "past performance is not a guarantee of future returns." That's true in baseball also. But while we hear and understand that disclaimer, we don't exactly believe it—we expect baseball players to perform the way they have in the past.
By this past week's numbers, the Sacramento River Cats' Shane Peterson looks like he will be a star in the majors. He was 10 for 22 (.455) with 2 home runs, 4 rbis and 7 runs scored. And those numbers just topped off a great season so far; Peterson's average for the season is .316 and he leads the PCL with 95 runs scored and 156 hits and is second in RBIs (82) and 4th in walks (59). While those numbers will no doubt drop off  when he reaches the majors, we all believe that he will do well.
But, "past performance is not a guarantee of future returns." We'll see.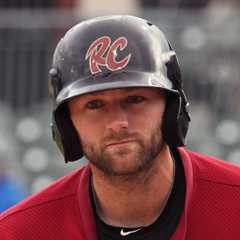 The Sacramento River Cats' Shane Peterson (Pacific Coast League – AAA) has been really good this season. He has been hitting over .300 all year, and is high on the leader board of the Pacific Coast League in multiple categories. And he played in the AAA All Star Game. And then there was last week.
Peterson's performance last week was easily the best of his season so far. He was 12 for 25 (.480) and scored 10 runs and earned 9 rbis, based on 3 home runs. If it seems like the single walk he managed last week is low, its because he got so many hits. There seems little chance that Peterson will not be in the majors by the roster expansion on September 1st.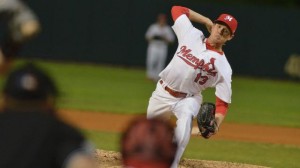 On their way back from injuries earlier in the season, both Boone Whiting of the Memphis Redbirds (SLC – Pacific Coast League – AAA) and Nik Turley of the Scranton/Wilkes-Barre Rail Riders (NYY – International League – AAA) have pitched well, and they both improved their records last week, ahead of the AAA all star game tonight. Whiting was slightly better, earning a win and shutting out his opponent in his 5 innings of work while giving up 2 hits and striking out 7. With the shutout, Whiting's season era is down to 3.92, mostly making up for the bad outings before his injury. Turley gave up just 1 run in 5 2/3rds while striking out 2 and bringing his season era down below 5.00. Turley has pitched less than 22 innings since returning from the DL.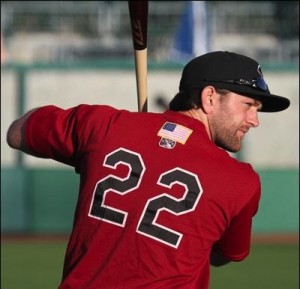 The Sacramento River Cats' Shane Peterson has been persistent in his performance at the plate this year. Peterson is among the Pacific Coast League (AAA) leaders in most of the major statistical categories, and this past week was no exception. Peterson was 10 for 26 (.385) for the week, with 7 rbis and 6 runs scored, and he leads the league in hits with 104. His numbers in AAA are strong enought that it seems unlikely that he will stay there, but both last year and earlier this year Peterson's stints in the majors haven't lasted.
Also notable last week were Jeff Gelalich and Jacob Hannemann. Gelalich was outstanding for the week, hitting 13 in 27 at bats (.481) and scoring 5 runs. He was promoted from the Midwest League (A) to the California League (A+). And Hannemann, who was 9 for 25 (.360) last week and scored 8 runs with 3 rbis, is near the top in the Midwest League in stolen bases and runs and is currently 16th on the Chicago Cubs top prospects list.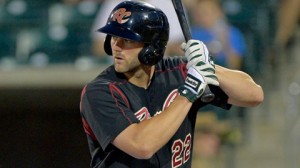 I'm sure it feels great. You've figured out the pitchers and you find your groove, and you are hitting near .500. This past week Shane Peterson and Adam Rosales were there. Peterson was 13 for 27 (.481) and Rosales was 14 for 29 (.483). For Peterson that meant 4 runs scored, 8 rbis, a home run and a stolen base. For Rosales it was 5 runs, 11 rbis, 3 walks and 2 stolen bases. It was like they could do no wrong.
Both Rosales and Peterson are in the Pacific Coast League (AAA), and a week like last week really makes a difference in their numbers — Peterson is now hitting .314 for the season and is all over the statistic leader boards and Rosales' average is up to a very respectable .290. Both have experience in the majors last year, so it wouldn't be surprising to see them back, given their current performance.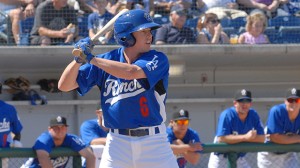 Adam Law's numbers should put him among the leaders in the A+ California League. His 11 for 29 (.379) and 6 rbi performance last week pushed his season average up to .322 over 146 at bats. But the strength of his numbers hasn't put him on the leader board yet. He is about 2 weeks short of the number of plate appearances needed to qualify—mainly because he was injured and out of the line up for several weeks earlier in the season. But Law's numbers are otherwise strong enough to place him among the top 10 batters in the California League. Watch here to see where he ends up once he qualifies.
Law wasn't the only Mormon in the minors who was hot at the plate last week. Jaycob Brugman continued to make his case in the Midwest League, where he was 9 for 23 (.391) with 4 rbis, 5 walks and a stolen base. Brugman does qualify for the leader board in his league, and appears there in OBP, SLG and OPS. And in AAA the Sacramento River Cats' Shane Peterson is also very strong, hitting .310 last week (9 for 29) with 5 rbis and a home run, bringing his season average up to .296. He is in the PCL's top ten in runs scored, hits and walks.

Last week it was Adam Miller's turn to lead the Mormon pitchers in the minor leagues. He pitched 5 innings of shut-out ball, earning his 3rd win for the season and brought his season era down to 2.67. The performance leaves Miller 12th in the Midwest League in era, with 10 earned runs over the 33.2 innings pitched (25th in the league). He has turned in a solid performance, one that may lead to promotion.
And Miller wasn't alone in shutting out opponents last week. The Binghamton Mets' Tyler Pill (Eastern League — AA) also earned a 0.00 era and a win for the week, but Pill is trying to work off some  poor outings, and his work last week only brought his era down to 5.16, while giving him a win to accompany his 5 losses this season. For Pill, last week was great, but he will need several more great weeks to bring his stats in line.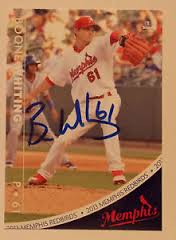 Its easy to get excited with the statistics in the initial weeks of the season, when extreme performances haven't yet been tempered by the passage of time. Still, several Mormon players, such as Memphis Redbirds' pitcher Boone Whiting, already are turning in great statistics. Whiting currently leads the AAA Pacific Coast League with 20 strike outs. He also has a 1.98 era in 13.2 innings over 3 starts.
And Whiting isn't the only outstanding Mormon pitcher in the first couple weeks of the season. Taylor Cole, of the Dunedin Blue Jays in the Florida State League (A+) is also leading his league in strike outs (with 16), and sports a 0.51 whip and 2.31 era in 11.2 innings. Both Whiting and Cole could end up advancing if they keep up this performance—to AA in Cole's case, and to the majors in Whiting's case.