Posts Tagged 'Bryan Harper'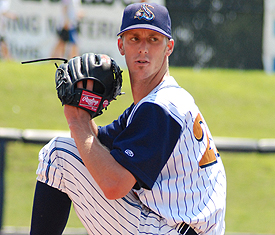 In a week the number of Mormon players in the minors post-season games has fallen from 9 to 3, as their teams have been eliminated in their playoffs. The best among them last week was Clayton Mortensen of the Omaha Stome Chasers (Pacific Coast League — AAA), who gave up just 1 unearned run in a single 5 inning relief appearance and ended up with a loss. Mortensen was otherwise strong, striking out 8 without a single walk and giving up just 1 hit. He ended up with a strikingly low 0.20 WHIP for the week.
Somewhat surprisingly the other two Mormon players remaining in post-season play, Tyler Pill and Bryan Harper, are also pitchers. Pill's first of two starts was a disaster, but he escaped without a loss, and managed to get a win his second start. Harper pitched just 1.1 innings of relief, but shut out his opponents.
Here's a run-down of the nine Mormons in the minors who were on teams that played in the minor league post season: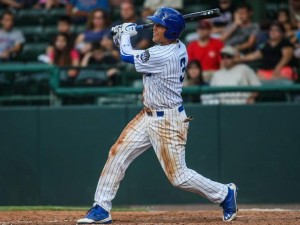 Often when minor league players are promoted from one class to another their performance falls off as they adjust to the new league. But occasionally that doesn't happen, such as happened recently with Jacob Hannemann. The Cubs' top-20 prospect arrived in the Florida State League this past week and promptly made a mark. Hitting 7 for 22 (.318), Hannemann also had 5 runs scored, 2 rbis, 2 walks and 3 stolen bases. And it is in stolen bases that Hannemann excels—an analysis at Fangraphs places him 5th in all the minor leagues, despite the fact that he is only now reaching the A+ level.
Hannemann's performance last week is slightly behind that of Brett Pill, who plays in the Korean League. Pill, who once played for the Giants, was 8 for 23 (.348) last week with 5 runs scored, 3 rbis, 2 home runs and a stolen base. And his season record remains great; he is hitting .322 over 205 at bats, with 15 home runs.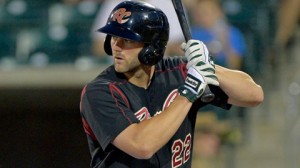 I'm sure it feels great. You've figured out the pitchers and you find your groove, and you are hitting near .500. This past week Shane Peterson and Adam Rosales were there. Peterson was 13 for 27 (.481) and Rosales was 14 for 29 (.483). For Peterson that meant 4 runs scored, 8 rbis, a home run and a stolen base. For Rosales it was 5 runs, 11 rbis, 3 walks and 2 stolen bases. It was like they could do no wrong.
Both Rosales and Peterson are in the Pacific Coast League (AAA), and a week like last week really makes a difference in their numbers — Peterson is now hitting .314 for the season and is all over the statistic leader boards and Rosales' average is up to a very respectable .290. Both have experience in the majors last year, so it wouldn't be surprising to see them back, given their current performance.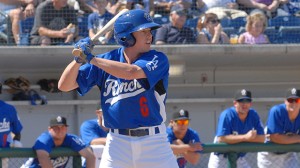 Adam Law's numbers should put him among the leaders in the A+ California League. His 11 for 29 (.379) and 6 rbi performance last week pushed his season average up to .322 over 146 at bats. But the strength of his numbers hasn't put him on the leader board yet. He is about 2 weeks short of the number of plate appearances needed to qualify—mainly because he was injured and out of the line up for several weeks earlier in the season. But Law's numbers are otherwise strong enough to place him among the top 10 batters in the California League. Watch here to see where he ends up once he qualifies.
Law wasn't the only Mormon in the minors who was hot at the plate last week. Jaycob Brugman continued to make his case in the Midwest League, where he was 9 for 23 (.391) with 4 rbis, 5 walks and a stolen base. Brugman does qualify for the leader board in his league, and appears there in OBP, SLG and OPS. And in AAA the Sacramento River Cats' Shane Peterson is also very strong, hitting .310 last week (9 for 29) with 5 rbis and a home run, bringing his season average up to .296. He is in the PCL's top ten in runs scored, hits and walks.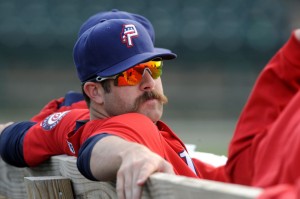 Harper has been hot so far this season. No, not Bryce Harper — he's on the DL in the majors. His older brother Bryan Harper, currently a relief pitcher for the Potomac Nationals in the Carolina League (A+). Bryan has a 1.62 era in 16.2 innings of work–which would lead the league if he had pitched the number of innings needed to qualify (32 innings so far). Although he is a reliever, he has appeared in just 10 of Potomac's 40 games this season. Read the rest of this entry »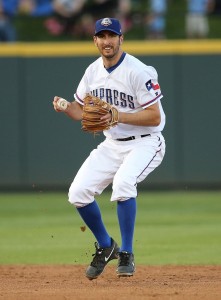 The Round Rock Express' Adam Rosales started to make the case for a return to the majors last week, going 8 for 18 (.444) at the plate with 7 walks. The walks alone are quite stunning—he nearly doubled the number of times he walked for the season, and jumped to 6th in walks in the AAA Pacific Coast League. For the season, he is batting .254 with 4 home runs, 13 runs scored and 10 rbis in 71 at bats—perhaps not enough to get him back to the majors immediately, but certainly the beginning of an argument for his return (should there be an opening).
Rosales isn't the only Mormon in the minors who excelled at the plate last week. He was followed closely by the Beloit Snappers' Jaycob Brugman, who was 9 for 23 (.391) with a home run and 4 walks, and by Rancho Cucamonga's Adam Law (California League – A+), who was 11 for 30 (.367) with 7 runs scored and 3 rbis. For the season Law's .325 average is close behind that of Marcus Littlewood, who continues to dominate the Midwest League (A) with a .395 average (1st in the league).
Although Bryan Harper didn't play, the Hagerstown Suns were defeated Friday in the Southern Atlantic League Championship by the Savannah Sand Gnats. Harper pitched two shut-out innings in Thursday's loss, and wasn't called on to pitch in the final game.
The loss leaves just two players in minor league championship series, Mitch Maier (on the DL — not expected to play) and Clayton Mortensen.
None of the Mormons in the minor league playoffs saw action, although 5 remain on teams in post season play. Yesterday the Las Vegas 51s were eliminated by the Salt Lake Bees, leaving Mitch Talbot out of any further playoff games–although since Talbot is on the DL, he likely wouldn't have seen action anyway.
And Bryan Harper's Hagerstown Suns won yesterday, eliminating the West Virginia Power and advancing to the South Atlantic League championship series that begins tomorrow. Harper, a reliever, wasn't put in the game; and, frankly, he wasn't needed. He last pitched Friday for 2/3rds of an inning. He may see action in tomorrow's game.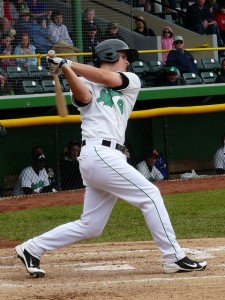 Its what every baseball fan dreams of.
Its the playoffs. Bottom of the 10th. Two out. Your team gave up 4 runs in the top of the 10th. You've already done well, 1 for 2 with 2 walks and no strike outs. If you can just get on base, maybe your team will find a way to tie, or win the game.
And then you get a perfect pitch. You swing, and watch as the ball sails out of the outfield.
For most of us that is a fantasy. We'll never even be in professional ball, let alone pull off end-of-the-game heroics.
For Marcus Littlewood that was yesterday.
With the end of the regular minor league season yesterday (except for the Pioneer League, which ends on Saturday, September 8th), the Mormons in the minors can look forward to further games in only two ways: they might get called up to the majors with the expanded 40-man roster that started September 1st, or they might play in any of the minor league championship games that have even begun for some teams.
Here's a run-down of the seven Mormons in the minors who are on teams that will play in the league championships: