Posts Tagged 'Marcus Littlewood'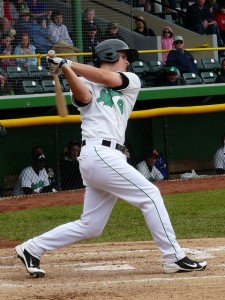 One by one the Mormon players drafted two years ago have been promoted this year from class A to A+. The lone holdout among the position players is Marcus Littlewood, who again made the case for his promotion this week. Littlewood, a catcher, was 8 for 19 (.421) last week with 7 runs scored, 5 rbis, 6 walks and 2 home runs–and in the process he pushed himself onto the Midwest League leader board with a .348 OBP (tied for 21st in the league).
His performance for the season aren't that bad either. He is hitting .251  with 41 rbis and 38 walks and a .348/.398/.745 slash line. But as a catcher Littlewood's performance must also be judged on how he called the games. Unfortunately, his progress in that area isn't available as a statistic and isn't something I can judge.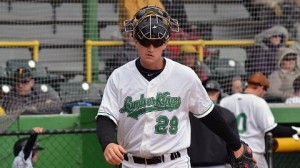 How long do you have to play well in the minors before you are promoted? You might think that after a player is clearly dominating in a league that promotion would swiftly occur. And according to that logic, right now Marcus Littlewood might be justified in such expectations. Littlewood is dominating the Midwest League (A), leading the league in batting average (.361) and sporting a strong slash line that is either 3rd or 4th in the league. This is coming after a strong season last year. So why not promote him?
A similar argument could be made for Adam Law, who was dominant in both the Arizona League (R) and Pioneer League (R) last year and has done well this year in the California League (A+), with a .309 average (tied for 18th in the league) and 5 stolen bases (tied for 20th). It might be early to promote Law again, so I expected that he would stay in California.
Nope. Law was demoted last week, back to the Ogden Raptors of the Pioneer League, whose season doesn't start until June 16th.

After starting the season slow, the Rancho Cucamonga Quakes' Adam Law stepped up his performance last week to something like what he did last year, his first after being drafted. Law was 9 for 20 (.450) in 6 games, with 7 runs scored, 5 rbis, 7 walks and 2 stolen bases. And Law raised his batting average for the season to .298, while planting a foot among the statistics leaders in batting average, on-base percentage and in stolen bases. Its the kind of performance Law was known for last year, when he tore up first the Arizona rookie league, and then the Pioneer league, leading to his promotion to the California League (A+) instead of an A-level league with those who were drafted the same time he was. Is it too much to expect him to reach AA by the end of the year?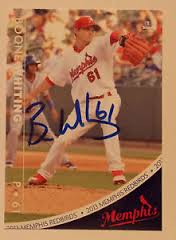 Its easy to get excited with the statistics in the initial weeks of the season, when extreme performances haven't yet been tempered by the passage of time. Still, several Mormon players, such as Memphis Redbirds' pitcher Boone Whiting, already are turning in great statistics. Whiting currently leads the AAA Pacific Coast League with 20 strike outs. He also has a 1.98 era in 13.2 innings over 3 starts.
And Whiting isn't the only outstanding Mormon pitcher in the first couple weeks of the season. Taylor Cole, of the Dunedin Blue Jays in the Florida State League (A+) is also leading his league in strike outs (with 16), and sports a 0.51 whip and 2.31 era in 11.2 innings. Both Whiting and Cole could end up advancing if they keep up this performance—to AA in Cole's case, and to the majors in Whiting's case.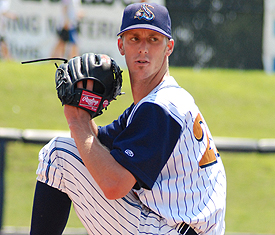 Clayton Mortensen, who pitched in the Red Sox bull pen earlier this year, started for the Omaha Storm Chasers in their second post-season game and earned the win, despite a bad 4th inning in which he gave up 4 runs and nearly lost the game. The Storm Chasers had only scored twice before the bottom of the fourth, and Mortensen then struggled, giving up a single, followed by a walk, followed by an rbi single and then a 3-run home run, all before he managed to pull it together and get grounders to finish off the side. For another inning he faced the loss, but in the top of the 6th Omaha scored another 5 runs and the bull-pen shut down the Oklahoma Red Wings to give Mortensen a win. Still, it was an ugly one, as Mortensen ended up with a 7.20 era and 1.40 WHIP. He gave up a total of 5 hits, two walks while striking out 4.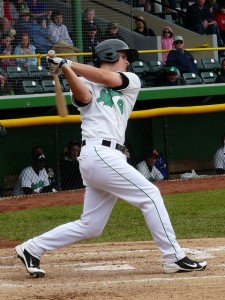 Its what every baseball fan dreams of.
Its the playoffs. Bottom of the 10th. Two out. Your team gave up 4 runs in the top of the 10th. You've already done well, 1 for 2 with 2 walks and no strike outs. If you can just get on base, maybe your team will find a way to tie, or win the game.
And then you get a perfect pitch. You swing, and watch as the ball sails out of the outfield.
For most of us that is a fantasy. We'll never even be in professional ball, let alone pull off end-of-the-game heroics.
For Marcus Littlewood that was yesterday.
With the end of the regular minor league season yesterday (except for the Pioneer League, which ends on Saturday, September 8th), the Mormons in the minors can look forward to further games in only two ways: they might get called up to the majors with the expanded 40-man roster that started September 1st, or they might play in any of the minor league championship games that have even begun for some teams.
Here's a run-down of the seven Mormons in the minors who are on teams that will play in the league championships: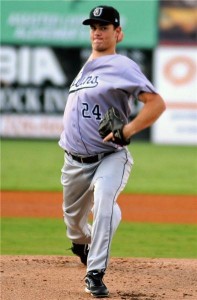 Most of the minor leagues completed their seasons this past week, and the majors expanded their rosters to 40, leading to shuffling among the minor leagues. Two Mormons in the minors were promoted as a result, one went back to the majors, and a total of 7 Mormons may play in the various minor league post-season games.
Among the best last week was Matt Neil, who was one of those promoted. Leaving the Jacksonville Suns (Southern, AA), Neil started this past week for the New Orleans Zephyrs (Pacific Coast, AAA) and turned in a strong performance, blanking the Albuquerque Isotopes over 6 innings, striking out 6 and walking just 1. Neil also pitched for the Zephyrs earlier in the season, but this was probably his strongest performance there. With luck, he will start the year next year in New Orleans.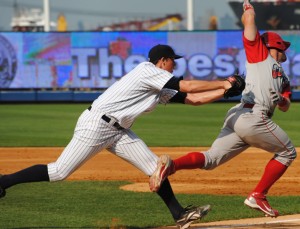 Yankees prospect Nik Turley, who planned to attend BYU before he was drafted, seems to be improving at the AA level, but his progress seems to come in fits and starts, a strong start followed by a weaker start. This past week Turley lasted 7 innings, while not giving up a single run. He gave up 5 hits, walked 2 (a 1.00 WHIP for the game) and struck out 4. But Turley's previous start was a 5-inning loss with a 10.80 era. Still, overall he seems to be making progress, and it doesn't seem unreasonable to suggest that he may start in AAA next year.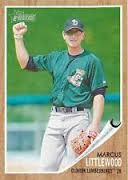 If summer hasn't arrived yet, can we be in the "doldrums of summer?" I don't think so, but if you look at the Mormons playing in baseball's minor leagues, you might think that we're in some kind of doldrums. It doesn't seem like anyone is playing very well, with some few exceptions.
One of them is Marcus Littlewood, the catcher for the Clinton Lumber Kings (Midwest League – A). Littlewood was 5 for 16 (.313) during the week, scored 4 times, earned 3 rbis and hit his 2nd homer while striking out just 3 times. The performance brings his season average up to a respectable .253 over 75 at bats.