Posts Tagged 'Bryce Harper'
Four Mormon players are on teams that have clinched a berth in this year's playoffs, and another 5 could still make it — and two almost certainly will. Jacoby Ellsbury (Boston Red Sox), Doug Fister (Detroit Tigers), Elliot Johnson (Atlanta Braves) and Eric Sogard (Oakland Athletics) will all experience the post-season. In addition, John Buck and Kyle Farnsworth (both with the Pittsburg Pirates) are very likely to also make the post season. And Jeremy Guthrie (Kansas City Royals), Bryce Harper (Washington Nationals) and Adam Rosales (Texas Rangers), all still have a chance of seeing the post season, if their teams win and others lose.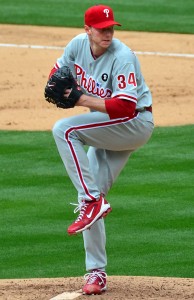 Phillies ace Roy Halladay was srong in his start last week against the Nationals, lasting 6 innings and giving up just 1 earned run while striking out 5. But Halladay didn't have the control he has had in the past, as he walked 5 and hit two batters. But the outcome was good enough that we wonder if perhaps Halladay is back, or on his way back to his form of previous years. Commentors claim that his velocity is down, so Halladay may need to make the adjustment that aging (Halladay is 36) pitchers often have to make, trading velocity for placement and surprise. He has perhaps 4 starts left in the season; in those starts we may see what kind of pitcher Halladay will be for the remaining years of his career.
Also strong on the mound last week were relievers Kyle Farnsworth and Matt Lindstrom, both of whom held opponents scoreless in their relief appearances. Farnsworth struck out three over a total of 2 innings while giving up just one hit. Lindstrom struck out four over 1 2/3rds innings while giving up 3 hits and bringing down his era to 2.89. Neither pitcher walked a man.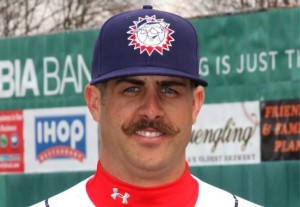 Playoff games tend to have clutch moments. In a 3-game series every game is a clutch situation. And even up a game, the Hagerstown Suns must have felt it in a clutch when the 9th inning of the second ended in a tie. And then in the 11th, after Justin Thomas put on two base runners and got just one out, they called up Bryan Harper in the clutch situation.
Unfortunately, Harper couldn't stop the West Virginia Power from scoring. He gave up a double to Josh Bell, which scored the two runners left on base by Thomas, and then a single that scored Bell, before inducing a strike out that ended the inning. But the damage done was too much for the Suns to make up, and the Power tied the series at 1 game all. The Suns and Power play the deciding game tonight.
Ok, that is not really the question at hand. A panel at Post Sports Live from The Washington Post took at look at whether Bryce Harper with the Washington Nationals was getting hit by pitches because he is hated. Take a look at the video here.
At the Henrichsen home, we really like Bryce Harper. He is one Shem's heroes. The fact that Harper is from Las Vegas is the first thing Shem (11) mentioned when Lyndee got the offer to come and teach here in Las Vegas.
Are players like Harper being targeted by pitchers? Maybe this is just part of the game of baseball.
Bryce Harper is young superstar. I can easily see how he might be viewed as cocky. Heck, he deserves to be cocky!
Oh, and asking if Bryce is hated because he is a Mormon is clearly a clown question. I know. I know.
Author's Note: I originally posted this at my blog Approaching Justice. For other sports posts (mostly baseball) follow this link.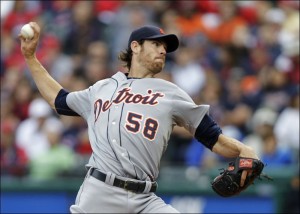 We have confirmed that Tiger's starting pitcher Doug Fister is Mormon and have added him to the list of players we track each week. Fister is in his 3rd year with Detroit, and his 5th in the majors. He was drafted in 2006 in the 7th round by the Mariners, and spent 4 years in that organization, including 2 1/2 in the majors.
However, this past week Fister struggled, giving up 7 earned runs in 5 innings for a loss. But overall this season he has been good. He is 11-7 with a 3.81 era and 1.30 WHIP.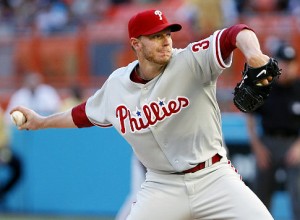 In a bit of a bind when forced to use Sunday's starter on Saturday, the Phillies activated Roy Halladay from the DL rather than have him pitch another rehab game in the minors. And Halladay pitched fairly well, giving up just 2 earned runs in 6 innings while striking out 2 and earning a win. Since the Phils have still 32 games to play, Halladay could still start 5 or 6 games, bring his win-loss record into positive territory and perhaps even bring his era down below 5.00. Of course, all that assumes that he is back in his best form—a big assumption.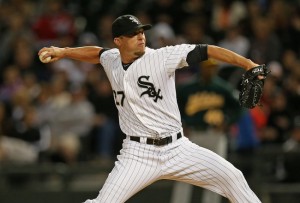 Despite his team's poor performance, Matt Lindstrom is still managing to perform well. This past week he gave up just 3 hits and one walk while striking out 5 over 4 2/3rds innings. And despite struggling a bit earlier this month, Lindstrom's season era is just 3.26.
But all this doesn't mean that Lindstrom will be able to stay with the White Sox, as he would like. The team is second from the bottom in the American League, and third from last overall, which has led it to make many of its players available for trade, including Lindstrom, who cleared waivers this week. But his relatively low salary should have let him be claimed off waivers if there was any interest, so perhaps he will stay with the White Sox.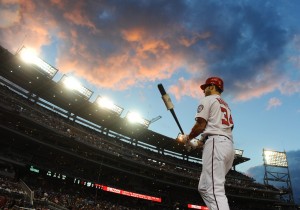 If you thought the Home Run Derby and All-Star break might leave Bryce Harper off his game for a little while, you weren't correct. If anything, the experience has sparked Harper, making him play better. In the first full week after the break Harper was 9 for 25 (.360) with 4 runs scored and 6 rbis. AND, Harper hit his 14th and 15th home runs during the week.
The week wasn't without a downside for the 20-year-old. He once again aggravated his left knee, took a day off and then by the end of the week aggravated the knee again. But while the knee has bothered Harper all year, he has still managed to play well, and often play brilliantly.
Its an old story in baseball. The pitcher performs extremely well, but the team behind him doesn't, and the pitcher ends up with a loss. That was the story for the Toronto Blue Jay's Josh Johnson last week.
Over 5 innings Johnson pitched fairly well. He gave up 1 earned run and 7 hits while striking out 5 and walking just 2. While that perhaps isn't a great performance, it should be sufficient to win the game. What's missing is that the the team gave up a total of 6 runs, 5 of which were unearned, due to errors made by Johnson's teammates.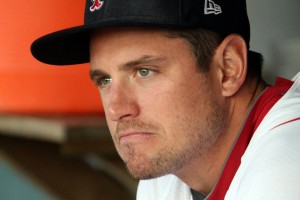 Sometimes just when things are going well, that's when something goes wrong. Mitch Maier was very hot last week, hitting .571 with 2 runs, 3 rbis and 2 walks. And for the season he has also done well—he sports a .315 average with 3 home runs in 108 at bats. But halfway through the week he injured his oblique and ended up back on the DL—Maier already spent much of the season on the DL and only has half the at bats of most other players. As a result he doesn't qualify for the stats leaders boards, but if he did he would be among the top ten in batting average, on base percentage and OPS in the International league.