Posts Tagged 'Bryce Harper'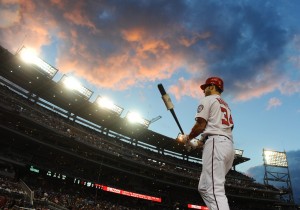 It seems impossible, but when the number of events is small enough surprising things can happen. And with the All Star break cutting down the number of games this past week to three (on Friday, Saturday and Sunday), we probably shouldn't be surprise that 4 of the 5 active Mormon batters in the majors managed to hit .500 last week. Exactly .500.
Of course, the more at bats someone has, the more surprising .500 is. And over the three games the highest number of at bats came from Jacoby Ellsbury, who was 6 for 12 over the three games this past weekend—boosted by Sunday's game in which Ellsbury was 4 for 4. He was followed by Bryce Harper (5 for 10), Darwin Barney (2 for 4) and Eric Sogard (2 for 4). The other Mormon batter, Adam Rosales, was 0 for 3.
In the history of the MLB All Star Game, seventeen Mormons have been selected, including four current players who have been on a MLB roster this year.
As I watched the game this evening, I did the research and put together a list of those Mormons who have been selected in some year. I was surprised to discover that the first Mormon appeared in 1936! And this is only the 3rd year since 1997 that no Mormon player has been selected.
Can you name the four current players who have been all stars? How about the other 13 Mormons who have been selected?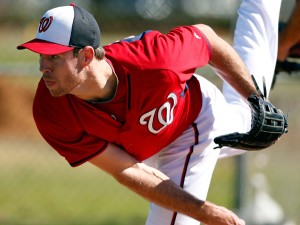 Finally back after suffering a lat strain late in spring training, Doug Fister struggled through a bad start week before last, and then was back in form, giving up just 1 earned run in a 7-inning no-decision start against the Diamondbacks. Fister gave up 5 hits and no walks in the start (0.71 WHIP) and struck out 6. His performance must be making the National's brass happy about signing Fister during the off season. Read the rest of this entry »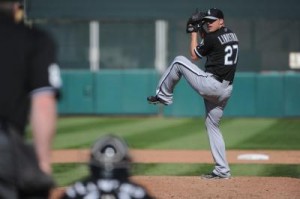 Earning his 5th save of the season last week, the White Sox's Matt Lindstrom is looking like a solid closer at the moment. In his two one-inning appearances last week he gave up just 1 hit and 1 walk — for a 1.00 WHIP and 0.00 era. For the season his era is down to 2.81 in 16 innings of relief and 8 save opportunities. But Lindstrom isn't expected to keep up this level of performance for the whole year.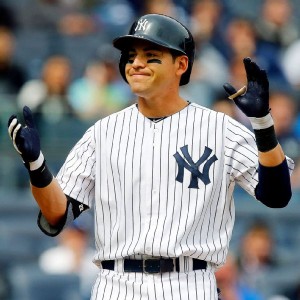 While last week the Mormons in the major leagues managed almost a bust, those who weren't injured seemed to come roaring back last week, led by the Yankee's Jacoby Ellsbury. Last week Ellsbury was 8 for 18 (.444) raising his season batting average to .333. He also hit a home run, earned 3 rbis and stole two bases and jumped back onto the stat leaders board in 3 more categories.
On paper, Ellsbury was followed by the Mariner's John Buck, who hit .750 last week and scored two runs. But Buck's performance came from one game, against the hapless Astros, in which he was 3 for 4. That game raised Buck's season average to .300 — but since Buck is a backup catcher with only 20 at bats so far, its hard to see much significance in a single game's performance.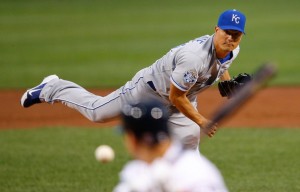 While its not unusual for an individual player to have an off week, its much more unusual for all of the Mormon players to have poor or mediocre performances at the same time. But this past week was like that.
Perhaps the strongest performance was from the Royals' pitcher Jeremy Guthrie, who improved his era in two starts last week. But Guthrie's performance can't really be called stellar: a 4.05 era for the two starts, a loss, 16 hits and a walk with 6 earned runs over 13.1 innings pitched. Meh…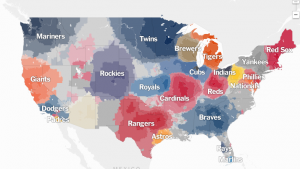 The New York Times recently published an interactive map, A Map of Baseball Nation, which shows what team is most liked in each zip code across the U.S., based on what team they have "liked" on Facebook. Its kind of fun to see the geographic spread of the fans.
I was particularly intrigued to see how Utah appeared — looking at the county by county data no team gets the majority, and, I was surprised to find out, the Yankees and Red Sox were the most popular teams, depending on the area. Why would that be so? Do Mormons prefer the Yankees and Red Sox?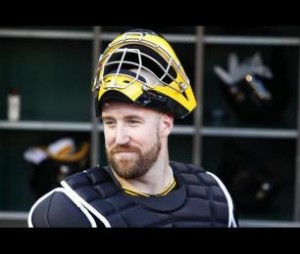 The backup role is hard. I've wondered for some time what toll the backup role takes on a player's performance. Take John Buck, for example. As a backup this year the catcher has played in just 4 games so far, while last year he had played in 16 games by April 20th. And last year at this point Buck had a .293 batting average, while this year he is hitting just .231. How much of this difference is because Buck isn't playing every day this year? And how much is because he began last year on fire?
This past week, despite his backup role, Buck was .333 at the plate with a walk and 2 strike outs, raising his batting average for this year to near his career average. Still, in a backup role its hard to have much higher expectations of Buck.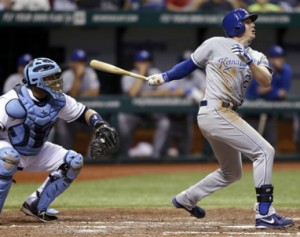 For some players, spring training has to be stressful. If your status reads "NRI" (non-roster invitee) or if you are at the bottom of your team's depth chart (or you think you are), then how well you do in spring training makes all the difference.
The Indian's Elliot Johnson, in spring training as a non-roster invitee,  must be struggling with that now. And so far he seems to be making a strong case. Johnson was 5 for 13 last week (.385) with 3 rbis, bringing his total so-far to 5 rbis in just 16 at bats. Can he keep this level of performance up for most of spring training? If he does, will it mean he makes the roster?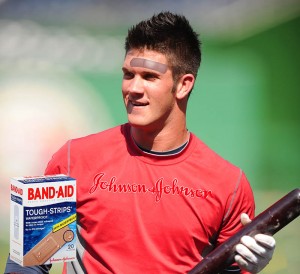 Bryce Harper (known as Bam Bam) is perhaps the last person you would expect to be a baseball historian. But Harper started Spring Training drawing a historical analogy to his injury running into a wall last year. He was, it seems, just like Babe Ruth.
On July 5, 1924, Harper recounted, Babe Ruth ran into the wall in Washington DC's Griffith Stadium, knocking himself out cold for 5 minutes. Despite that, the Bambino refused to leave the game and went 3 for 3. That is the kind of all-out play that Harper is known for, so maybe there is something to the analogy.