Posts Tagged 'Bryce Harper'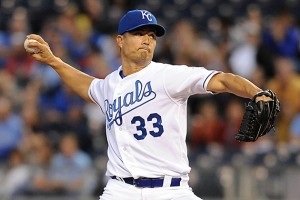 The Kansas City Royals' Jeremy Guthrie started September with another strong start as his team battles to win the AL Central. Guthrie gave up just 1 run and 8 hits over 7.0 innings against the Texas Rangers. But Royals fans are more concerned with Guthrie's start tonight against their division rivals, the Detroit Tigers. If Guthrie can bring the same level of pitching, the Royals may be able to hold onto their 2-game lead.
Also strong on the mound this past week was the White Sox' Matt Lindstrom, who pitched a total of 2 innings in relief, giving up just 2 hits and no runs. Unfortunately, the White Sox are well out of the post-season, so Lindstrom's performance will only make a difference for his own career, not the White Sox' season.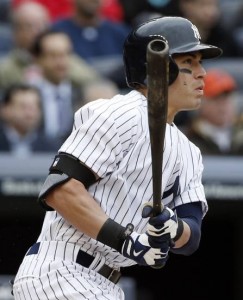 Yes, Jacoby Ellsbury is good. Even in the "off year" he has had this season, Ellsbury has been well above the average major league player. But this past week his performance was stunning — moving him substantially closer to his career average. Last week Ellsbury was 12 for 23 (.522) with 4 home runs (bringing his season total to 14), 2 stolen bases, 6 runs scored and a stunning 9 rbis. And he only struck out once last week. Ellsbury may finish the season very hot, and with the Yankees just 3 games out of the wild card, that could make a big difference.
Also strong last week was the Nationals' Bryce Harper, who was 6 for 20 (.300), built mainly on three home runs. Harper's average for the year is now up to .268 and he has finally reached double digits in home runs.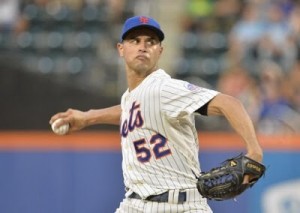 Just as we learned that Mets reliever Carlos Torres comes from a Mormon family Torres had a gem of a week, including an "emergency" start in which he lasted 5 innings, striking out 6 while shutting out the Cubs. Overall, Torres lasted 6 and 1/3rd innings without giving up a run while striking out 8.
Torres was nearly matched last week by the Royals' Jeremy Guthrie, who notched his 10th win. Guthrie gave up just 5 hits and a walk (resulting in a single run) in an 8-inning start, giving him a 0.75 WHIP for the game. But this only reduced his era to 4.32 and his WHIP to 1.31. Royals fans must wish that this past week's Guthrie showed up more often.
Read the rest of this entry »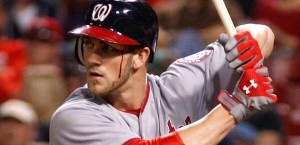 The Washington National's Bryce Harper found a groove last week, hitting 2 home runs and earning 7 rbis in 21 at bats. After an injury-diminished and less-productive season than might be expected from Harper, last week had to be very welcome; his 2 home runs last week are a third of his total for the year so far and his 7 rbis raised his season total to 23. No doubt Harper hopes that he is back to his expected form.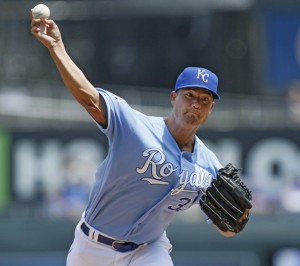 It was the best game of his year. Jeremy Guthrie blanked the Oakland As over 6 innings, striking out 6 and giving up just 3 hits and two walks. This performance marked the first time this season he shut out his opponents.
Unfortunately, Guthrie has otherwise not been that good. His season era is now 4.50—which represents on average a run every other inning pitched. His strength remains in his durability; Guthrie has started 22 games for the Royals this year and has accumulated a total of 138 innings.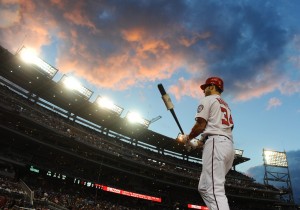 It seems impossible, but when the number of events is small enough surprising things can happen. And with the All Star break cutting down the number of games this past week to three (on Friday, Saturday and Sunday), we probably shouldn't be surprise that 4 of the 5 active Mormon batters in the majors managed to hit .500 last week. Exactly .500.
Of course, the more at bats someone has, the more surprising .500 is. And over the three games the highest number of at bats came from Jacoby Ellsbury, who was 6 for 12 over the three games this past weekend—boosted by Sunday's game in which Ellsbury was 4 for 4. He was followed by Bryce Harper (5 for 10), Darwin Barney (2 for 4) and Eric Sogard (2 for 4). The other Mormon batter, Adam Rosales, was 0 for 3.
In the history of the MLB All Star Game, seventeen Mormons have been selected, including four current players who have been on a MLB roster this year.
As I watched the game this evening, I did the research and put together a list of those Mormons who have been selected in some year. I was surprised to discover that the first Mormon appeared in 1936! And this is only the 3rd year since 1997 that no Mormon player has been selected.
Can you name the four current players who have been all stars? How about the other 13 Mormons who have been selected?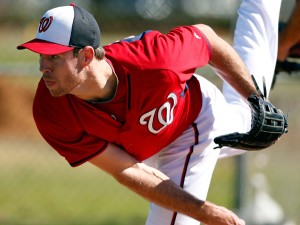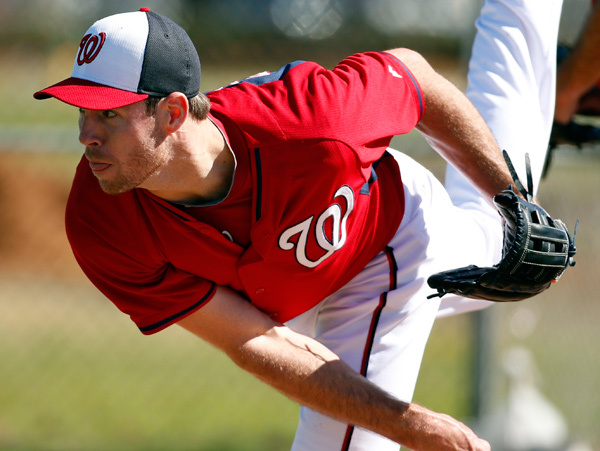 Finally back after suffering a lat strain late in spring training, Doug Fister struggled through a bad start week before last, and then was back in form, giving up just 1 earned run in a 7-inning no-decision start against the Diamondbacks. Fister gave up 5 hits and no walks in the start (0.71 WHIP) and struck out 6. His performance must be making the National's brass happy about signing Fister during the off season. Read the rest of this entry »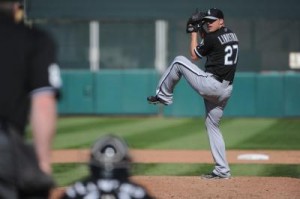 Earning his 5th save of the season last week, the White Sox's Matt Lindstrom is looking like a solid closer at the moment. In his two one-inning appearances last week he gave up just 1 hit and 1 walk — for a 1.00 WHIP and 0.00 era. For the season his era is down to 2.81 in 16 innings of relief and 8 save opportunities. But Lindstrom isn't expected to keep up this level of performance for the whole year.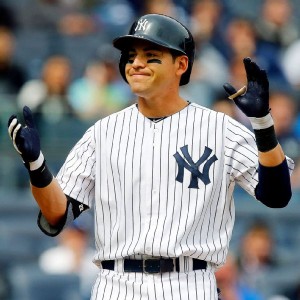 While last week the Mormons in the major leagues managed almost a bust, those who weren't injured seemed to come roaring back last week, led by the Yankee's Jacoby Ellsbury. Last week Ellsbury was 8 for 18 (.444) raising his season batting average to .333. He also hit a home run, earned 3 rbis and stole two bases and jumped back onto the stat leaders board in 3 more categories.
On paper, Ellsbury was followed by the Mariner's John Buck, who hit .750 last week and scored two runs. But Buck's performance came from one game, against the hapless Astros, in which he was 3 for 4. That game raised Buck's season average to .300 — but since Buck is a backup catcher with only 20 at bats so far, its hard to see much significance in a single game's performance.