Posts Tagged 'DarwinBarney'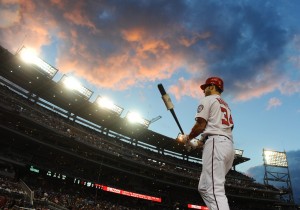 It seems impossible, but when the number of events is small enough surprising things can happen. And with the All Star break cutting down the number of games this past week to three (on Friday, Saturday and Sunday), we probably shouldn't be surprise that 4 of the 5 active Mormon batters in the majors managed to hit .500 last week. Exactly .500.
Of course, the more at bats someone has, the more surprising .500 is. And over the three games the highest number of at bats came from Jacoby Ellsbury, who was 6 for 12 over the three games this past weekend—boosted by Sunday's game in which Ellsbury was 4 for 4. He was followed by Bryce Harper (5 for 10), Darwin Barney (2 for 4) and Eric Sogard (2 for 4). The other Mormon batter, Adam Rosales, was 0 for 3.