Archive for the 'History' Category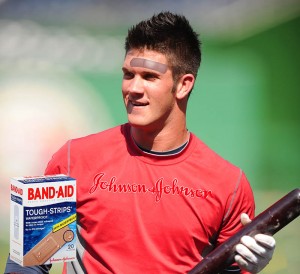 Bryce Harper (known as Bam Bam) is perhaps the last person you would expect to be a baseball historian. But Harper started Spring Training drawing a historical analogy to his injury running into a wall last year. He was, it seems, just like Babe Ruth.
On July 5, 1924, Harper recounted, Babe Ruth ran into the wall in Washington DC's Griffith Stadium, knocking himself out cold for 5 minutes. Despite that, the Bambino refused to leave the game and went 3 for 3. That is the kind of all-out play that Harper is known for, so maybe there is something to the analogy.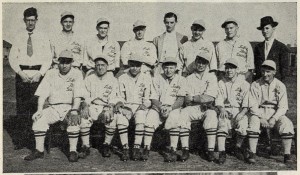 As I've explored the history of Mormons in baseball and baseball among Mormons, I've been somewhat surprised at the number of times that Mormon missionaries have been involved in playing baseball in different countries around the world, often as the sport is just starting there. I've found information that shows this involvement in Japan, Australia, South Africa and in Britain.
In this latter case, baseball was first introduced in 1890, when a small league was formed in Derby. But that attempt failed, and a later, much more successful attempt, came in 1933 with the founding of the National Baseball Association. And according to the following excerpts of an article from the Improvement Era, LDS missionaries were at the meeting that founded the organization, and a year later provided a league-winning team in the West London League.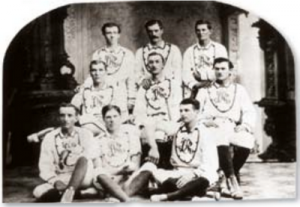 Mormon sports fans are likely tired of the all to frequent arguments over who should play baseball on Sunday and under what circumstances. Anyone who is an active member of the Church and who pays attention to lessons on how to keep the sabbath day already knows all the arguments. This post isn't about those arguments. Instead, it is about history: specifically rumors about Sunday baseball and members' reactions to that rumor.
Apparently, in 1913 at least, there was just such a rumor going around, claiming that Heber J. Grant, then an apostle, had told a group of church members that they could play baseball on Sunday.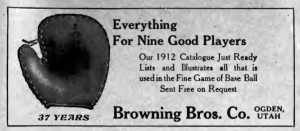 Most of us today, when we think of the baseball equipment of years ago (and even today), think of Spalding, the manufacturer founded by Albert Spalding Jr. in 1876. But he wasn't the only manufacturer, and the Mormon population in Utah apparently had their own local company: Browning. Read the rest of this entry »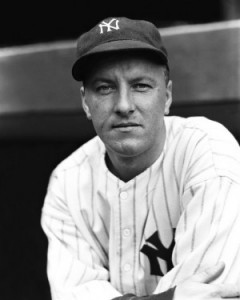 Last week I covered the recent Hall of Fame balloting, which for the second time denied a Mormon player entrance after that player had been on the ballot for a full 15 years. And I included in that post a trivia question: "Who was the first Mormon to appear on a Hall of Fame ballot?"
As I mentioned last week, Jeff Kent this year became the 10th Mormon to appear on a Hall of Fame ballot. Since he is a stronger candidate than either Jack Morris or Dale Murphy (the Mormons who appeared on 15 ballots without making the Hall), we may see him elected in the next few years. Or, he may become the third Mormon to last 15 ballots without being selected. Time will tell.
So then, who was the first Mormon on the Hall of Fame ballot? And for that matter who were the others who have appeared on the ballots over the years?
[Originally posted on Juvenile Instructor. Reposted here with permission.]
I make it out to the US most summers, but when I don't, there is one thing I miss more than absolutely anything: a baseball game. I have many fond memories of exciting baseball games in the heat of summer, cheering on my beloved Oakland A's or San Francisco Giants (we're equal opportunity Bay Area supporters at my house). And since April is the month of Opening Day, I thought I'd round up something about Mormons and baseball.
I don't have a very definitive answer to this question yet, but thought I'd raise it in case readers have information I don't. To me, it seems likely that the first groups of pioneers included those who knew how to play baseball. If, as I've already demonstrated, baseball was played in Nauvoo, then those who played baseball there were likely those who brought it to Utah.
But while I haven't yet found evidence of early games, I did come across some early mentions of baseball in Utah that I thought I would share.
[crossposted from Keepapitchinin at the suggestion of Ardis Parshall. Comments should be made on the original post.]
The time for preparation was drawing to a close. It was mid-July, 1917, and on August 5, the young men – most of them Mormons – who would be members of the 145 Field Artillery – were due to leave their homes and formally enter the U.S. Army. They would train at Fort Kearney, near Linda Vista, California, then months later they would sail to France, prepared for war. With them would be B.H. Roberts, their chaplain.
"A chaplain in the army," Roberts wrote, "as I understand it, is the fellow who, in addition to the praying and preaching and helping every fellow who gets into trouble and shares everybody's troubles, may also look after their amusements and guide their sports." One of the best activities, Roberts decided, would be baseball – not only would the men enjoy the friendly competition and the exercise the game provided, directing their play would increase his opportunities to mingle with them and minister to them. "Providing this means of wholesome amusement for the men of the Utah batteries will make one of many approaches for me to their hearts."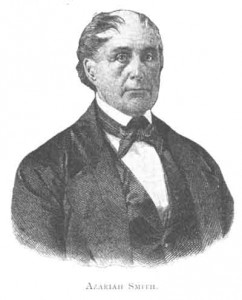 It is a simple journal entry by Mormon Battalion member Azariah Smith. After spending most of 1846 struggling along the long, 1,900 mile road from Council Bluffs, near what is now Omaha, Nebraska, through the territory we know as Kansas, New Mexico, and Arizona, and after arriving in southern California, near San Diego, Smith recorded in his diary early in 1847 how he and some fellow soldiers chose to entertain themselves:
.
Sunday March the 6th. We drilled as before and through the day we play ball and amuse ourselves the best way we can. It is very cool weather and clothing scarce.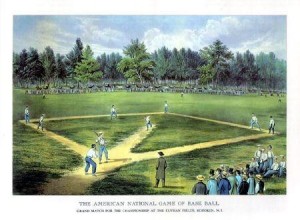 "In the 1830s, on the western frontier of Missouri, ball was the favorite sport of Joseph Smith, founder of a new religious sect called the Mormons1."
A couple of years ago I received as a Christmas present the Baseball documentary by Ken Burns, the PBS series that as much as anything has driven my current fascination with the game and led to this blog. Early in the first of the documentary's 10 parts, the narrator makes the above claim, something that even today I don't hear from Mormon historians. Could it be that Joseph Smith played and loved baseball?
Burns, Ken, and Lynn Novick. Baseball: A Film by Ken Burns. PBS, 2010. ↩