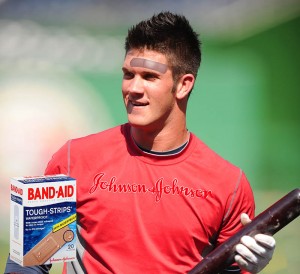 Bryce Harper (known as Bam Bam) is perhaps the last person you would expect to be a baseball historian. But Harper started Spring Training drawing a historical analogy to his injury running into a wall last year. He was, it seems, just like Babe Ruth.
On July 5, 1924, Harper recounted, Babe Ruth ran into the wall in Washington DC's Griffith Stadium, knocking himself out cold for 5 minutes. Despite that, the Bambino refused to leave the game and went 3 for 3. That is the kind of all-out play that Harper is known for, so maybe there is something to the analogy.
But, of course, Harper has realized, as he begins the third year of his major league career, that the reckless play needs to be tempered. "I'm going to get better at that," he said, grinning, "try to do some things the right way, realize I don't have to try to fricking rob a homer and be the hero when we're up 7-0. . . . I had no clue where I was. I just crushed the wall," he told the Washington Post.
But what the Post didn't ask is where Harper came up with the baseball story from 1924. To be honest, I don't expect that kind of anecdote from most players today—players aren't historians. Still, I think the story coming from a player is refreshing. It sounds like he loves the game for more than just playing it.