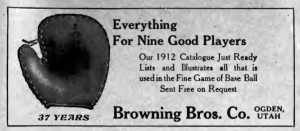 Most of us today, when we think of the baseball equipment of years ago (and even today), think of Spalding, the manufacturer founded by Albert Spalding Jr. in 1876. But he wasn't the only manufacturer, and the Mormon population in Utah apparently had their own local company: Browning. The advertisement above comes from the 1912 Improvement Era, an official publication of the LDS Church that is roughly the equivalent of the Ensign today. At the time advertisements were in every LDS publication—they were eliminated with the reorganization of LDS publications in 1972.
I find two things about this ad fascinating. First is the name of the company. Browning is best known today as the name of a line of fire arms. The Browning Arms Company was founded by LDS Church member Val Browning in 1927 in Ogden, Utah to carry on the gun design and manufacturing business founded by his father, John Moses Browning, and built on the training of his grandfather, Mormon pioneer Jonathan Browning, who owned a gun shop in Nauvoo.
So is this Browning Bros. Co. another venture of John Moses Browning? Or was it founded by some of his brothers? I don't know yet. But given that it was located in Ogden, it seems likely that it is related somehow. And given that Jonathan Browning was a polygamist and settler in Ogden, there were probably a few Browning brothers there to establish the company.
The second thing that interests me is the age listed below the glove in the ad. It claims 37 years—presumably the age of the company. If so, then Browning Bros. Co. was established in 1875, a year before Spalding and relatively soon after the beginning of organized baseball in Utah in the 1860s. It seems likely that, because of its location, Browning Bros. Co. was the manufacturer of the balls and gloves used in baseball in Utah for many years. [Unless, of course, there was another manufacturer in Utah.]
That's a lot to surmise from a single ad. But it gives me a place to start—somewhere to look for more information about the history of baseball among Mormons. If you know something that might help fill out this story, or anything else about Mormons in baseball or baseball among Mormons, I'm interested.
4 Responses to "Spalding? No, Browning!"