Posts Tagged 'Bryce Harper'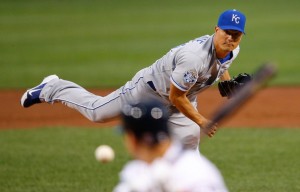 While its not unusual for an individual player to have an off week, its much more unusual for all of the Mormon players to have poor or mediocre performances at the same time. But this past week was like that.
Perhaps the strongest performance was from the Royals' pitcher Jeremy Guthrie, who improved his era in two starts last week. But Guthrie's performance can't really be called stellar: a 4.05 era for the two starts, a loss, 16 hits and a walk with 6 earned runs over 13.1 innings pitched. Meh…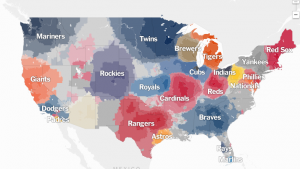 The New York Times recently published an interactive map, A Map of Baseball Nation, which shows what team is most liked in each zip code across the U.S., based on what team they have "liked" on Facebook. Its kind of fun to see the geographic spread of the fans.
I was particularly intrigued to see how Utah appeared — looking at the county by county data no team gets the majority, and, I was surprised to find out, the Yankees and Red Sox were the most popular teams, depending on the area. Why would that be so? Do Mormons prefer the Yankees and Red Sox?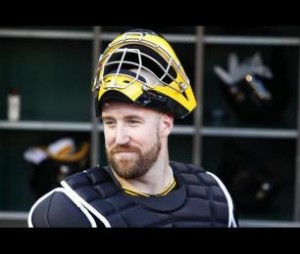 The backup role is hard. I've wondered for some time what toll the backup role takes on a player's performance. Take John Buck, for example. As a backup this year the catcher has played in just 4 games so far, while last year he had played in 16 games by April 20th. And last year at this point Buck had a .293 batting average, while this year he is hitting just .231. How much of this difference is because Buck isn't playing every day this year? And how much is because he began last year on fire?
This past week, despite his backup role, Buck was .333 at the plate with a walk and 2 strike outs, raising his batting average for this year to near his career average. Still, in a backup role its hard to have much higher expectations of Buck.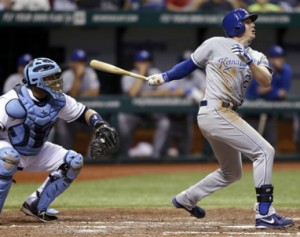 For some players, spring training has to be stressful. If your status reads "NRI" (non-roster invitee) or if you are at the bottom of your team's depth chart (or you think you are), then how well you do in spring training makes all the difference.
The Indian's Elliot Johnson, in spring training as a non-roster invitee,  must be struggling with that now. And so far he seems to be making a strong case. Johnson was 5 for 13 last week (.385) with 3 rbis, bringing his total so-far to 5 rbis in just 16 at bats. Can he keep this level of performance up for most of spring training? If he does, will it mean he makes the roster?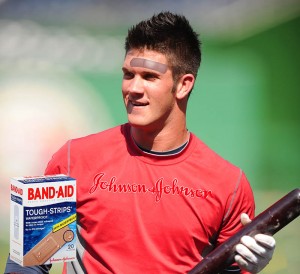 Bryce Harper (known as Bam Bam) is perhaps the last person you would expect to be a baseball historian. But Harper started Spring Training drawing a historical analogy to his injury running into a wall last year. He was, it seems, just like Babe Ruth.
On July 5, 1924, Harper recounted, Babe Ruth ran into the wall in Washington DC's Griffith Stadium, knocking himself out cold for 5 minutes. Despite that, the Bambino refused to leave the game and went 3 for 3. That is the kind of all-out play that Harper is known for, so maybe there is something to the analogy.
We are a week away from the first Spring Training baseball games, and most players have already reported. And as always happens during the off-season, many players have moved from one team to another as managers search for just the right combination of players, and players look for more money or better opportunities.
Of course, the Mormons in professional are no exception. Here is a rundown of the Mormons who played at least one game in the majors last year and where they are at the moment. Tomorrow I'll give a rundown of those who only played in the minors last year.
Four Mormon players are on teams that have clinched a berth in this year's playoffs, and another 5 could still make it — and two almost certainly will. Jacoby Ellsbury (Boston Red Sox), Doug Fister (Detroit Tigers), Elliot Johnson (Atlanta Braves) and Eric Sogard (Oakland Athletics) will all experience the post-season. In addition, John Buck and Kyle Farnsworth (both with the Pittsburg Pirates) are very likely to also make the post season. And Jeremy Guthrie (Kansas City Royals), Bryce Harper (Washington Nationals) and Adam Rosales (Texas Rangers), all still have a chance of seeing the post season, if their teams win and others lose.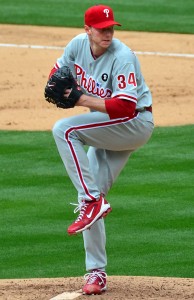 Phillies ace Roy Halladay was srong in his start last week against the Nationals, lasting 6 innings and giving up just 1 earned run while striking out 5. But Halladay didn't have the control he has had in the past, as he walked 5 and hit two batters. But the outcome was good enough that we wonder if perhaps Halladay is back, or on his way back to his form of previous years. Commentors claim that his velocity is down, so Halladay may need to make the adjustment that aging (Halladay is 36) pitchers often have to make, trading velocity for placement and surprise. He has perhaps 4 starts left in the season; in those starts we may see what kind of pitcher Halladay will be for the remaining years of his career.
Also strong on the mound last week were relievers Kyle Farnsworth and Matt Lindstrom, both of whom held opponents scoreless in their relief appearances. Farnsworth struck out three over a total of 2 innings while giving up just one hit. Lindstrom struck out four over 1 2/3rds innings while giving up 3 hits and bringing down his era to 2.89. Neither pitcher walked a man.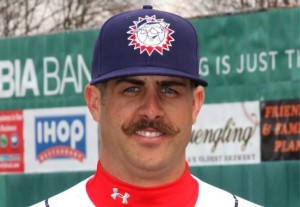 Playoff games tend to have clutch moments. In a 3-game series every game is a clutch situation. And even up a game, the Hagerstown Suns must have felt it in a clutch when the 9th inning of the second ended in a tie. And then in the 11th, after Justin Thomas put on two base runners and got just one out, they called up Bryan Harper in the clutch situation.
Unfortunately, Harper couldn't stop the West Virginia Power from scoring. He gave up a double to Josh Bell, which scored the two runners left on base by Thomas, and then a single that scored Bell, before inducing a strike out that ended the inning. But the damage done was too much for the Suns to make up, and the Power tied the series at 1 game all. The Suns and Power play the deciding game tonight.
Ok, that is not really the question at hand. A panel at Post Sports Live from The Washington Post took at look at whether Bryce Harper with the Washington Nationals was getting hit by pitches because he is hated. Take a look at the video here.
At the Henrichsen home, we really like Bryce Harper. He is one Shem's heroes. The fact that Harper is from Las Vegas is the first thing Shem (11) mentioned when Lyndee got the offer to come and teach here in Las Vegas.
Are players like Harper being targeted by pitchers? Maybe this is just part of the game of baseball.
Bryce Harper is young superstar. I can easily see how he might be viewed as cocky. Heck, he deserves to be cocky!
Oh, and asking if Bryce is hated because he is a Mormon is clearly a clown question. I know. I know.
Author's Note: I originally posted this at my blog Approaching Justice. For other sports posts (mostly baseball) follow this link.