Posts Tagged 'Adam Rosales'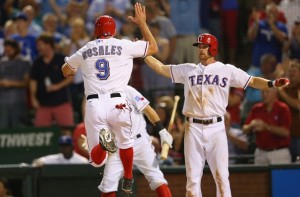 After a few weeks of getting to the plate in dribs and drabs, the Texas Rangers' backup infielder Adam Rosales finally saw some regular plate appearances, and responded with an exceptional week. Rosales was 7 for 14 (.500) last week, with 5 runs scored and 5 rbis on 2 home runs and 4 walks. And this past week's performance boosted Rosales' season average to .350, although on a mere 40 at bats.
Rosales was far from the only Mormon player who performed well last week. Jacoby Ellsbury was hot, going 10 for 24 (.417) while the backup shortstop for the As, Eric Sogard, was 7 for 16 (.438) with 4 runs scored, 3 rbis and 7 walks.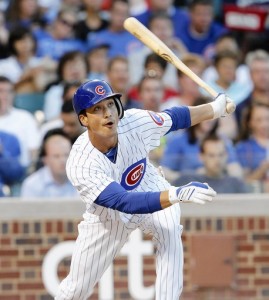 Cubs second baseman Darwin Barney was great last week — better than any other Mormon in the majors. Barney held his own fireworks show, with his bat this time, on July 2nd and was short of hitting for the cycle by a home run. Barney was 8 for 21 last week (.381) scoring 3 runs and earning an rbi, and in the process raised his average for the season by nearly 25 points to .219—closer to his career norm.
Close on Barney's heels last week was Adam Rosales, brought up from the minors as a backup infielders for the Rangers. Rosales was 3 for 10 last week with 3 rbis. But given Rosales past performance in the majors, it doesn't seem likely that he will be able to keep up that average.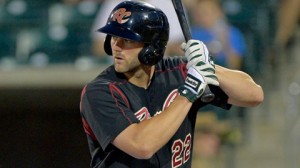 I'm sure it feels great. You've figured out the pitchers and you find your groove, and you are hitting near .500. This past week Shane Peterson and Adam Rosales were there. Peterson was 13 for 27 (.481) and Rosales was 14 for 29 (.483). For Peterson that meant 4 runs scored, 8 rbis, a home run and a stolen base. For Rosales it was 5 runs, 11 rbis, 3 walks and 2 stolen bases. It was like they could do no wrong.
Both Rosales and Peterson are in the Pacific Coast League (AAA), and a week like last week really makes a difference in their numbers — Peterson is now hitting .314 for the season and is all over the statistic leader boards and Rosales' average is up to a very respectable .290. Both have experience in the majors last year, so it wouldn't be surprising to see them back, given their current performance.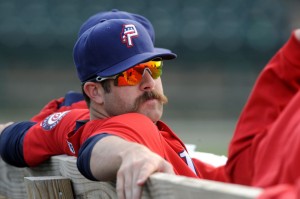 Harper has been hot so far this season. No, not Bryce Harper — he's on the DL in the majors. His older brother Bryan Harper, currently a relief pitcher for the Potomac Nationals in the Carolina League (A+). Bryan has a 1.62 era in 16.2 innings of work–which would lead the league if he had pitched the number of innings needed to qualify (32 innings so far). Although he is a reliever, he has appeared in just 10 of Potomac's 40 games this season. Read the rest of this entry »

Last week it was Adam Miller's turn to lead the Mormon pitchers in the minor leagues. He pitched 5 innings of shut-out ball, earning his 3rd win for the season and brought his season era down to 2.67. The performance leaves Miller 12th in the Midwest League in era, with 10 earned runs over the 33.2 innings pitched (25th in the league). He has turned in a solid performance, one that may lead to promotion.
And Miller wasn't alone in shutting out opponents last week. The Binghamton Mets' Tyler Pill (Eastern League — AA) also earned a 0.00 era and a win for the week, but Pill is trying to work off some  poor outings, and his work last week only brought his era down to 5.16, while giving him a win to accompany his 5 losses this season. For Pill, last week was great, but he will need several more great weeks to bring his stats in line.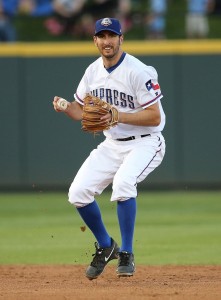 The Round Rock Express' Adam Rosales started to make the case for a return to the majors last week, going 8 for 18 (.444) at the plate with 7 walks. The walks alone are quite stunning—he nearly doubled the number of times he walked for the season, and jumped to 6th in walks in the AAA Pacific Coast League. For the season, he is batting .254 with 4 home runs, 13 runs scored and 10 rbis in 71 at bats—perhaps not enough to get him back to the majors immediately, but certainly the beginning of an argument for his return (should there be an opening).
Rosales isn't the only Mormon in the minors who excelled at the plate last week. He was followed closely by the Beloit Snappers' Jaycob Brugman, who was 9 for 23 (.391) with a home run and 4 walks, and by Rancho Cucamonga's Adam Law (California League – A+), who was 11 for 30 (.367) with 7 runs scored and 3 rbis. For the season Law's .325 average is close behind that of Marcus Littlewood, who continues to dominate the Midwest League (A) with a .395 average (1st in the league).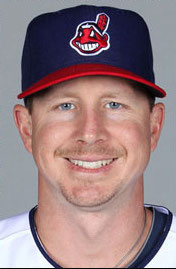 If it is possible to "win" spring training, then Elliot Johnson has pulled it off this year. Johnson, who has built a career as a utility infielder, did what he needed to. He was .345/.387/.586 during the spring—numbers that would attract the attention of any manager. But Johnson has managed similar numbers in previous years in spring training—in 2008 and 2011—but his performance during the year has fallen far short. His best year in the majors was 2012, when he hit .242/.304/.350. Still, his performance has won him a spot in the opening day roster. Without doubt, he will be trying to do still better this year.
Johnson was particularly strong during the last week of spring training, when he led all the other Mormon players except the Rangers' Adam Rosales. Rosales was 5 for 11 last week (.455) with a run scored. But Rosales hasn't done nearly as well as Johnson, recording a weak .191 spring batting average. And also unlike Johnson, Rosales has been designated for assignment to AAA.
We are a week away from the first Spring Training baseball games, and most players have already reported. And as always happens during the off-season, many players have moved from one team to another as managers search for just the right combination of players, and players look for more money or better opportunities.
Of course, the Mormons in professional are no exception. Here is a rundown of the Mormons who played at least one game in the majors last year and where they are at the moment. Tomorrow I'll give a rundown of those who only played in the minors last year.
Adam Rosales chance to appear in a post-season game this year ended last night as his team, the Texas Rangers, lost to the Tampa Bay Rays in their playoff game to see which team would earn the second AL wild card spot. Rosales did not appear in the game.
Meanwhile, tonight two Mormon players could appear in the first NL wild card game as the Pittsburgh Pirates face the Cincinnati Reds. Both Buck and Farnsworth would only appear late in the game, and Farnsworth is the more likely to make an appearance.
With the end of the regular major league season yesterday, the post-season lineup has become clear, leaving 7 of the 14 Mormon players we follow on teams that have made the post-season in some form. The 7 players are:
John Buck (Pirates)
Jacoby Ellsbury (Red Sox)
Kyle Farnsworth (Pirates)
Doug Fister (Tigers)
Elliot Johnson (Braves)
Adam Rosales (Rangers)
Eric Sogard (A's)
Of these, Rosales has perhaps the most tenuous position. He hasn't seen much playing time as the Rangers have fought hard to make the post season, ending up with a tie for the second wild card spot in the American League. As a result the Rangers face a one-game playoff tonight against the Tampa Bay Rays to see who will get the wild card spot. If they win, the Rangers will then face another one-game playoff on Wednesday against the other wild card team, the Cleveland Indians, to see who will face the Red Sox in a 5-game series starting Friday.