Posts Tagged 'Cole Miles'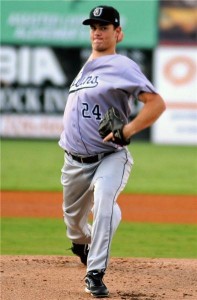 Most of the minor leagues completed their seasons this past week, and the majors expanded their rosters to 40, leading to shuffling among the minor leagues. Two Mormons in the minors were promoted as a result, one went back to the majors, and a total of 7 Mormons may play in the various minor league post-season games.
Among the best last week was Matt Neil, who was one of those promoted. Leaving the Jacksonville Suns (Southern, AA), Neil started this past week for the New Orleans Zephyrs (Pacific Coast, AAA) and turned in a strong performance, blanking the Albuquerque Isotopes over 6 innings, striking out 6 and walking just 1. Neil also pitched for the Zephyrs earlier in the season, but this was probably his strongest performance there. With luck, he will start the year next year in New Orleans.