Posts Tagged 'ryce Harper'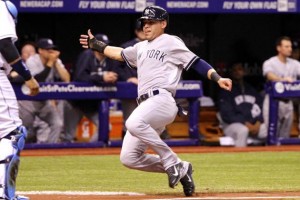 After falling into a slump that lasted most of the month of May, Jacoby Ellsbury stole his way back toward his customary performance last week, going 8 for 23 (.348) with 5 rbis and 4 stolen bases, despite an overall mediocre performance by his team, the Yankees. The stolen bases are particularly noteworthy, since they raised him from 11th in the majors last week to 6th overall. During his career Ellsbury has 3 times led the American League in stolen bases.
He isn't the only Mormon to do well at the plate last week. The As Eric Sogard also cracked .300 — going 5 for 13 (.385) with a run scored. But Sogard's part-time role means he gets fewer plate appearances, and his record reflects that. And while Sogard is popular with fans, its hard to justify his presence in the lineup when he is hitting just .207 for the season.