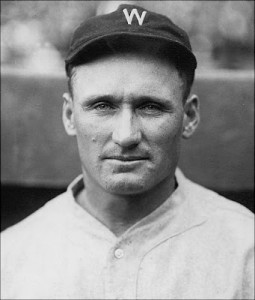 If Mariano Rivera wrote an article for the Ensign, would you be surprised? Would you read the article?
The idea seems crazy—the Ensign doesn't publish articles like that, does it? I suppose not. But its predecessor, the Improvement Era, published from 1897 to 1970, did publish articles by non-Mormons occasionally, and those articles even included some without a religious message.
And for baseball fans, he best of these articles might be the following article by Walter "Big Train" Johnson, published just two years before he was inducted into the inaugural class of the National Baseball Hall of Fame.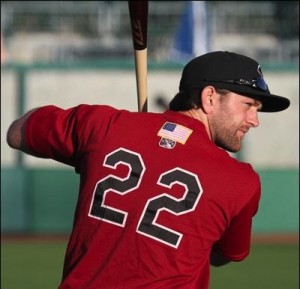 The Sacramento River Cats' Shane Peterson has been persistent in his performance at the plate this year. Peterson is among the Pacific Coast League (AAA) leaders in most of the major statistical categories, and this past week was no exception. Peterson was 10 for 26 (.385) for the week, with 7 rbis and 6 runs scored, and he leads the league in hits with 104. His numbers in AAA are strong enought that it seems unlikely that he will stay there, but both last year and earlier this year Peterson's stints in the majors haven't lasted.
Also notable last week were Jeff Gelalich and Jacob Hannemann. Gelalich was outstanding for the week, hitting 13 in 27 at bats (.481) and scoring 5 runs. He was promoted from the Midwest League (A) to the California League (A+). And Hannemann, who was 9 for 25 (.360) last week and scored 8 runs with 3 rbis, is near the top in the Midwest League in stolen bases and runs and is currently 16th on the Chicago Cubs top prospects list.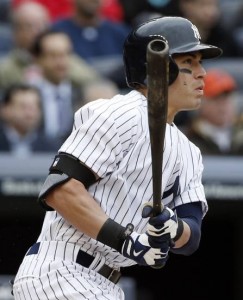 The standout Mormon in major league baseball last week was clearly Jacoby Ellsbury, who once again showed the best of what he brings to the diamond. Ellsbury was 8 for 23 at the plate (.348), scoring 2 runs and earning 3 rbis with 2 walks. He improved his average for the season to .348 and still maintained 5th place in stolen bases in the majors.
On the mound the standout last week was Jeremy Guthrie, who notched a win in two outings (totalling 14.1 innings) while giving up just 4 earned runs (2.51 era) and striking out 9. The win puts Guthrie one shy of even and gives him a 3.69 era for the season. Last week's numbers were good, but while Guthrie's season numbers maybe mediocre, his advantage is his ability to put in a lot of innings — Guthrie is tied for 10th most innings pitched in the majors. Even if the Royals could find a better pitcher to replace him (a questionable  idea), they might be worse off if they needed to use the bullpen more as a result.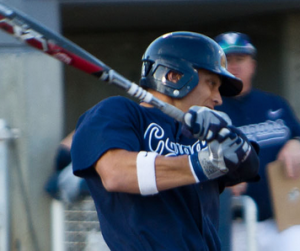 Coming back from the mid-season break in the minor leagues, a couple of Mormon pitchers and one Mormon batter had outstanding weeks. The batter was Jacob Hannemann, who started the second half going 7 for 15 (.467). His production for the week included 4 runs scored, 4 walks, 2 stolen bases, 2 home runs and 6 rbis. His season average is up to .250 and he is 8th in the Midwest League in stolen bases.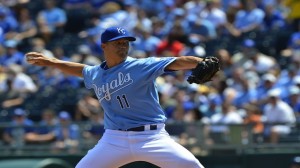 Yes, Mormon outfielders like Jacoby Ellsbury and Bryce Harper are well-known and exciting to watch, but given last week, maybe fans should give some love to the Mormon pitchers active in the majors. Kyle Farnsworth, Doug Fister and Jeremy Guthrie were all stellar in the games they pitched—Farnsworth and Fister didn't give up an runs while Guthrie gave up just one run in 6 and 2/3rds innings while striking out 9. And both Fister and Guthrie ended up with a 0.75 WHIP for the week. Fister now has a season era of 2.65.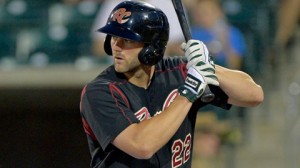 I'm sure it feels great. You've figured out the pitchers and you find your groove, and you are hitting near .500. This past week Shane Peterson and Adam Rosales were there. Peterson was 13 for 27 (.481) and Rosales was 14 for 29 (.483). For Peterson that meant 4 runs scored, 8 rbis, a home run and a stolen base. For Rosales it was 5 runs, 11 rbis, 3 walks and 2 stolen bases. It was like they could do no wrong.
Both Rosales and Peterson are in the Pacific Coast League (AAA), and a week like last week really makes a difference in their numbers — Peterson is now hitting .314 for the season and is all over the statistic leader boards and Rosales' average is up to a very respectable .290. Both have experience in the majors last year, so it wouldn't be surprising to see them back, given their current performance.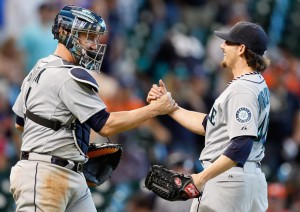 While it might not seem the case, playing well in a backup role is hard. Because the batter doesn't see as many pitches, its harder to do as well at the plate. So, when a backup player is doing well, that is noteworthy.
In that sense, John Buck's current performance is great. He was 4 for 10 last week (.400), and his season average is up to .271 (on 59 at bats). Buck has only hit better than that in one season of his 11 year career, so it seems unlikely that he will keep up that level for the rest of the year—especially as a backup catcher. But his performance so far is still great.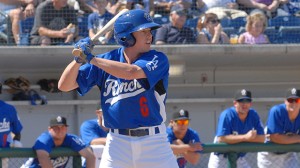 Adam Law's numbers should put him among the leaders in the A+ California League. His 11 for 29 (.379) and 6 rbi performance last week pushed his season average up to .322 over 146 at bats. But the strength of his numbers hasn't put him on the leader board yet. He is about 2 weeks short of the number of plate appearances needed to qualify—mainly because he was injured and out of the line up for several weeks earlier in the season. But Law's numbers are otherwise strong enough to place him among the top 10 batters in the California League. Watch here to see where he ends up once he qualifies.
Law wasn't the only Mormon in the minors who was hot at the plate last week. Jaycob Brugman continued to make his case in the Midwest League, where he was 9 for 23 (.391) with 4 rbis, 5 walks and a stolen base. Brugman does qualify for the leader board in his league, and appears there in OBP, SLG and OPS. And in AAA the Sacramento River Cats' Shane Peterson is also very strong, hitting .310 last week (9 for 29) with 5 rbis and a home run, bringing his season average up to .296. He is in the PCL's top ten in runs scored, hits and walks.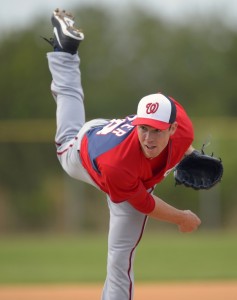 The National's Doug Fister has pitched 6 games since returning from the disabled list, and except for the first game they have all been fantastic. In those five games (32.1 innings) he is 4-0 with a 2.23 ERA and 0.84 WHIP. And even his season-to-date stats should put him among the league leaders, except that he hasn't pitched enough innings to qualify. In fact, Fister probably needs another 7 or more 7-inning starts to qualify for the averaged pitching stats leader listing. So, assuming Fister stays healthy and continues to pitch well, it will be another month and a half before his performance shows up among the ERA and WHIP leaders.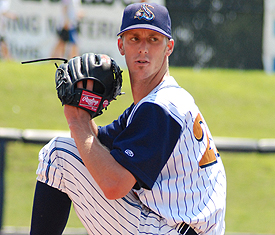 Returning from hip surgery, veteran pitcher Clayton Mortensen, who has spent parts of the last 5 seasons as a reliever in the majors, pitched two steller games last week. Over a total of 11 innings, Mortensen shut out his opponents while giving up just 6 hits and 3 walks and while striking out 10. He finished the week with a 1-0 record, a 0.00 era and a 0.82 WHIP. I'm sure he will be trying to keep up that level of play during the rest of the season.
Mortensen wasn't the only stellar Mormon pitcher in the minors. Taylor Cole (Dunedin Blue Jays of the Florida State League — A+) also shut out his opponents in a 7-inning start, giving up just 3 hits and no walks while striking out 9. He remains at the top of the league in strike outs (with 82) and 3rd in the league in WHIP. His numbers are so good that it seems likely the Blue Jays are just waiting for a spot in AA to open up.