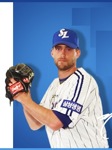 There is yet another Mormon playing in the post season, but most readers of this blog won't see him play. And, in addition, his first post-season game doesn't start until October 24th! Mitch Talbot plays for the Samsung Lions of the Korean Major League, and his team has the best record in the regular season. Under the Korean playoffs, the 3rd and 4th place teams have a 5-game playoff series. The winner then faces the 2nd place team in another 5-game series, and that winner then faces the Samsung Lions for the championship series. So Talbot waits.
But the wait is probably worth it. Not only does he go to the championship series well rested, the winner of that series gets to play in the 6-team Asia Series, which includes champions of the professional leagues in Japan, Australia, China, and Taiwan plus the host Lotte Giants of Busan, South Korea. The Asia series runs from November 8-11.
Back in the U.S. Bryce Harper has played in both of the National's two playoff games so far, but hasn't managed to do much against the St. Louis Cardinal's pitching. He is just 1 for 10 with 6 strike outs. Still, that's better than Adam Rosales, who, as a backup 2nd baseman, hasn't yet made it into a game.
.
MLB:
Bryce Harper — left field — Washington Nationals
1 for 10 (.100), 0 runs, 0 rbi, 0 hr, 0 bb, 0 sb, 6 so
Reg Season: .270, 98 runs, 59 rbi, 22 hr, 56 bb, 18 sb, 120 so in 533 at bats.
Adam Rosales — 2B — Oakland A's
Has not played.
Reg Season: .222, 12 run, 8 rbi, 11 bb, 0 sb, 24 k in 99 at bats.
Foreign Leagues:
Mitch Talbot — starting pitcher (right handed) — Samsung Lions (Korea)
Team doesn't play until October 24.
Reg Season: 13-3, 3.88 era, 124 h, 55 er, 7 hr, 65 k, 47 bb in 127.2 innings