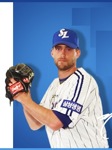 Perhaps its just timing. Someone has to lose–and Mitch Talbot's last few games hasn't been as strong as his performances earlier in the season. Then there is also the long wait that the Lions faced while the Korean playoffs approached the Korean Series. First the 3rd and 4th place teams played a five game series, then the winner of that series played the 2nd place team in another five game series. Finally, well rested–perhaps too well rested–the first place Lions, Talbot's team, played the winner of the series with the 2nd place team. And last night, Talbot took the mound for the Lions, lasted 6 innings and gave up 3 runs. And lost.
Despite the loss, Talbot pitched well. He struck out 9 and didn't walk anyone. What did him in was 2 home runs in the 5 hits he allowed.
While the Lions still may win the series, this could be Mitch's last appearance of the year, barring a relief appearance in a final game or an appearance in the Asia series game the Lions could play if they win the Korean series.
.
Foreign Leagues:
Mitch Talbot — starting pitcher (right handed) — Samsung Lions (Korea)
Game 4 of Korea Series: 0-1, 4.50 era, 5 h, 3 er, 2 hr, 9 k, 0 bb in 6 innings.
Reg Season: 13-3, 3.88 era, 124 h, 55 er, 7 hr, 65 k, 47 bb in 127.2 innings
One Response to "Talbot Loses, Lions Even: Korean Post Season Update 25 October"