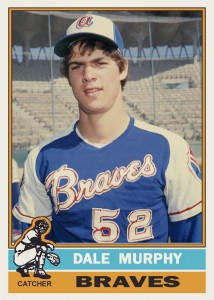 Despite a heartfelt campaign led by his children, LDS baseball star and former Massachusetts Boston Mission President Dale Murphy was not inducted into the baseball Hall of Fame, according to the results announced this afternoon. While that result was expected, the fact that fellow Mormon Jack Morris was also not selected was almost as suprising as the fact that the BBWAA selected none of the eligible players this year. The group last failed to add any players to the Hall of Fame in 1996.
While Morris' case for the Hall of Fame was much stronger, it was not without detractors. Still, the steady increase in the percentage of the vote that Morris received each year led many to think that he could well be selected this year. But this year's ballot was unusual for the number of big name players entering for the first time, including Barry Bonds, Sammy Sousa, Curt Schilling, and Roger Clemens, all of whom, by their numbers, seem destined to eventually make the Hall.
However, most of the big names suffered from the hangover of performance-enhancing drugs. Writers apparently couldn't bring themselves to vote for those who are widely considered to have cheated in order to enhance their abilities. With so many other names (a total of 37) on the ballot, no one managed to earn a consensus among the writers.
Despite the high level of competition, Morris still managed to increase the percentage of votes he received slightly, from 66.7% to 67.7%. He will remain on the ballot next year, for his final year of eligibility. Again, while it may seem like he has a good chance of making the Hall of Fame, the newly eligible next year also include some strong candidates, like Tom Glavine, Luis Gonzalez, Jeff Kent, Greg Maddux, Mike Mussina, and Frank Thomas. And readers of Mormon Baseball will quickly note that one of these, Jeff Kent, is LDS.
Fans of Murphy may be interested to note that Murphy did well compared to previous years, reaching his 3rd highest percentage of the ballots, higher than all previous years of eligibility except his first two. And, given his nice guy image he may be able to be inducted by the veterans committee (made up of all living members of the Hall of Fame).
Despite not making the Hall, Dale Murphy has nothing to be ashamed of. He is beloved by millions of fans and his legacy in and out of the Church is assured for many, many years.
3 Responses to "Sorry, Murphy!"