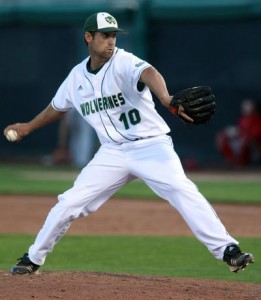 Good, consistent pitching is hard to find, and baseball organizations put a lot of effort into finding and training such pitchers. Is Taylor Mangum one? Mangum has moved up from the rookie leagues last year to the single A Midwest League, and so far the transition has gone well. He has appeared in 3 games, pitched 8 2/3rds innings and has a 1.04 era, courtesy of a single run he gave up in his first appearance (and only loss) of the season. He also pitched well last year, earning a 3.42 era over 26 1/3rd innings in the Arizona and Pioneer leagues. And so far this year he is putting up better pitching numbers than any other Mormon in the minors. Can he keep it up?
Of course everyone stumbles at some point, so I won't be surprised at a bad outing or two this year. Out of the 20 or so outings he should have this year (baring injury), that still would be very consistent pitching — exactly what the major league teams are looking for.
Mangum wasn't the only Mormon pitcher in the minors to do well this past week. Tyson Brummett pitched shutout ball with the AA New Hampshire Fisher Cats (Blue Jays), giving up just 2 hits in 5 innings. And Nik Turley gave up just one earned run in 5.2 innings with the AA Trenton Thunder (Yankees).
Among position players, Jeff Gelalich of the Dayton Dragons (A, Reds) was 7 for 21 (.333) for the week, with 4 runs and 4 rbis. He was nearly equaled by Adam Rosales, the Oakland A's infielder playing with the Sacramento River Cats (AAA) on a rehab assignment. Rosales hit .320 in 25 at bats, also scoring 4 times, but picking up just a single rbi, on a home run. Rosales should make it back to the major league team soon.
Marcus Littlewood's performance this week should also be mentioned. He hit .286 and scored a run, bringing his batting average up to .200. Littlewood is with the Clinton LumberKings (A, Mariners) and is struggling to get many opportunities–he's had just 10 at bats this year.
.
Tyson Brummett — relief pitcher (right handed) — New Hampshire Fisher Cats (AA Eastern League) — Toronto Blue Jays

0-0, 0.00 era, 2 hits, 0 er, 3 k, 1 bb in 5.0 innings
YTD: 0-2, 10.80 era, 10 hits, 10 er, 6 k, 7 bb in 8.1 innings

Taylor Cole — starting pitcher (right handed) — Lansing Lugnuts (Midwest League A) — Toronto Blue Jays
0-0, 3.60 era, 6 hits, 2 er, 3 k, 1 bb in 5.0 innings
YTD: 1-1, 4.61 era, 13 hits, 7 er, 12 k, 5 bb in 13.2 innings
Jeff Gelalich — outfielder — Dayton Dragons (Midwest League A) — Cincinnati Reds
7 for 21 (.333) 4 run, 4 rbi, 0 hr, 2 bb, 3 sb, 2 so
YTD: .267, 11 run, 5 rbi, 0 hr, 6 bb, 5 sb, 11 so in 60 at bats
Austin Hall — pitcher (right handed) — AZL Brewers (Arizona Leauge Rookie) — Milwaukee Brewers
(opening game June 20)
Bryan Harper — relief pitcher (left handed) — Hagerstown Suns (South Atlantic League – A) — Washington Nationals
7-day DL — did not play this past week
YTD: 1-0, 1.59 era, 5 hits, 1 er, 7 k, 3 bb in 5.2 innings
Blaine Howell — relief pitcher (left handed) — unassigned?? (was with Bakersfield Blaze of the California League – A+) — Cincinnati Reds
no information — did not play

Cale Iorg — Second base — Bowie Baysox (Eastern League AA) — Baltimore Orioles
3 for 20 (.150) 0 run, 0 rbi, 0 hr, 0 bb, 0 sb, 8 so
YTD: .179, 1 run, 0 rbi, 0 hr, 0 bb, 0 sb, 11 so in 28 at bats
Marcus Littlewood — catcher — Clinton LumberKings (Midwest League – A) — Seattle Mariners
2 for 7 (.286) 1 run, 0 rbi, 0 hr, 0 bb, 0 sb, 1 so
YTD: .200, 1 run, 0 rbi, 0 hr, 0 bb, 0 sb, 1 so in 10 at bats
Mitch Maier — outfielder —Pawtucket Red Sox (International League – AAA) — Boston Red Sox

4 for 17 (.235) 4 run, 3 rbi, 0 hr, 3 bb, 0 sb, 2 so
YTD: .321, 8 run, 7 rbi, 1 hr, 5 bb, 0 sb, 4 so in 28 at bats

Taylor Mangum — relief pitcher (right-handed) — Wisconsin Timber Rattlers (Midwest League – A) — Milwaukee Brewers

0-0, 0.00 era, 2 hits, 0 er, 3 k, 1 bb in 3.0 innings
YTD: 1-1, 1.04 era, 7 hits, 1 er, 8 k, 4 bb in 8.2 innings

Matthew Neil — starting pitcher (right handed) — Jacksonville Suns (Southern League – AA) — Miami Marlins
0-1, 5.40 era, 6 hits, 3 er, 3 k, 2 bb in 5.0 innings
YTD: 0-2, 5.74 era, 19 hits, 10 er, 11 k, 4 bb in 15.2 innings
Stephen Parker — 3rd base — Nashville Sounds (Pacific Coast League – AAA) — Milwaukee Brewers
3 for 14 (.214) 1 run, 1 rbi, 0 hr, 2 bb, 0 sb, 3 so
YTD: .241, 7 run, 3 rbi, 2 hr, 4 bb, 1 sb, 14 so in 58 at bats
Shane Peterson — outfielder — Sacramento River Cats (Pacific Coast League – AAA) — Oakland A's (40-man MLB roster)
2 for 20 (.100) 3 run, 2 rbi, 0 hr, 6 bb, 0 sb, 5 so
YTD: .305, 16 run, 9 rbi, 0 hr, 19 bb, 0 sb, 13 so in 59 at bats
Adam Rosales — second base — Sacramento River Cats (Pacific Coast League – AAA) — Oakland A's (Rehab assignment)
8 for 25 (.320) 4 run, 1 rbi, 1 hr, 2 bb, 1 sb, 2 so
YTD: .320, 4 run, 1 rbi, 1 hr, 2 bb, 1 sb, 2 so in 25 at bats
Mitch Talbot — starting pitcher (right handed) — New Orleans Zephyrs (Pacific Coast League – AAA)— Miami Marlins
On 7-day DL
YTD: 1-0, 0.00 era, 2 hits, 0 er, 3 k, 2 bb in 5.0 innings
Nik Turley — starting pitcher (right handed) — Trenton Thunder (Eastern League – AA) — New York Yankees (40-man MLB roster)
1-0, 1.59 era, 4 hits, 1 er, 5 k, 2 bb in 5.2 innings
YTD: 1-1, 5.89 era, 22 hits, 12 er, 18 k, 9 bb in 18.1 innings
Foreign Leagues:
Brandon Duckworth — starting pitcher (right handed) — Rakuten Golden Eagles (Japan)
0-1, 4.50 era, 6 hits, 3 er, 1 k, 2 bb in 6.0 innings
YTD: 1-2, 2.92 era, 27 hits, 8 er, 12 k, 9 bb in 24.2 innings
Last Year's players released: (could still be picked up by other teams)
Derek Cone — starting pitcher (right handed) — Los Angeles Dodgers organization Released.
Cone has returned to school at ASU pursuing a degree in Accounting
Willie Mays Eyre — starting pitcher (right handed) — Texas Rangers organization
Retired
Kyle Hurst — relief pitcher (right handed) — Independent
Released
Lance Pendleton — starting pitcher (right handed) — Tampa Bay Ray's organization
Released
Now a salesman with Baker Hughes
Jordan Whatcott — relief pitcher (right handed) — Philadelphia Phillies organization
Released
Other players who may be Mormon:
[We need to determine if these players are Mormon before publishing further information about them.]

Rick Anton, Jay Brossman, Brian Budrow, Tyler Chism, Dallas Christison, Stephen Fife, Tyler Hanks,Steve Hirschfeld, Zachary Jones, Ryan Khoury, Kam Mickolio (apparently not Mormon, but I don't have evidence either way), Cole Miles, A. J. Murray, Jordan Taylor Pratt, Tanner Robles, Braeden Schlehuber, Justin Smith, Matt Spring, Brad Thompson
Non-Mormons who may be confused for Mormons
Matt Carson (non-Mormon who went to BYU), Derek Christensen, Egan Smith, Jordan Smith