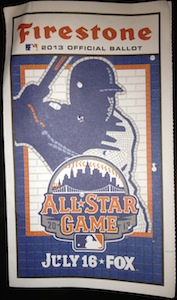 When I went to a recent ballgame, I discovered that the All Star ballots have been prepared and are available already.  So, I thought I should point out who the Mormon candidates on the ballots are.
Appearing on the ballot isn't terribly significant — each team's starters at each position(except for pitcher) appear on the ballot, backup players are ineligible. Of course who the starter is changes during the season, so those who appear on the ballot reflect what the team expects or has early in April, and apparently makes allowances for those on the DL — such as the Cubs' Mormon 2nd baseman, Darwin Barney, who spent most of April on the DL, but still appeared on the ballot.
Still, unless readers go through our listings and compare them to the All Star ballot, it might be possible to miss someone, so here is the list of the Mormons on the printed All Star ballot:
.
American League:
Outfield — Jacoby Ellsbury, Boston Red Sox
National League:
2nd Base — Darwin Barney, Chicago Cubs
Catcher — John Buck, New York Mets
Outfield — Bryce Harper, Washington Nationals
.
You can also vote up to 25 times online (at http://mlb.mlb.com/mlb/events/all_star/y2013/ballot.jsp ), and 10 additional times if you have subscribed to MLB.tv. I assume you can also vote using ballots that paying fans can get at the stadiums—there doesn't seem to be any way to prohibit fans from voting online AND with paper ballots.
Please don't think this means that I think you should vote for the Mormons on the ballot, although I don't think that is much different from voting only for the players on your favorite teams. Vote your conscience. Vote for the players you think are the best.
I must admit, however, that Harper, at least, is making a very good case for the All Star team.