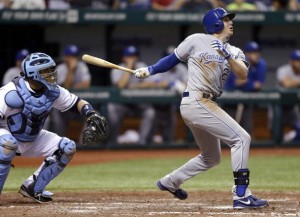 Lets be honest. The expectations of backup players are lower. You don't expect a better batting average. You don't expect a lot of home runs. You expect a solid player who can do the job when needed and perhaps hit in a clutch situation. And you are very pleased when the backup comes through. So the Royals are likely very pleased with Elliot Johnson this week. He was 7 for 18 (.389) with 5 runs, 4 rbis and 2 stolen bases. And, yes, he hit a 3-run home run against the Red Sox, his 2nd of the year.
It may not be quite right to call Johnson a backup player—he has played 2nd base about 40% of the time behind Chris Getz, whose numbers aren't much better than Johnson's — and, in fact, his performance at the plate isn't quite as good—Johnson is hitting .252/.286/.346 compared to Getz' .212/.273/.288. And Johnson has 10 stolen bases vs. Getz' 4 and his proportion of stolen bases to plate appearances would put him among the best in the majors on the base paths. If Johnson could keep hitting as well as he has, Getz may end up taking the backup role.
On the mound Kyle Farnsworth had a strong week, despite sorness in the elbow that kept him out of the game Tuesday. He came roaring back, and pitched 4 innings of no-hit ball in 4 appearances, but the strong performance only brought his era for the season down to a mediorce 5.49. Still, this performance is more like the Farnsworth expected. Also blanking opponents this past week was Matt Lindstrom, whose season era is now down to a very strong 2.83.
Jacoby Ellsbury is now the only Mormon player among the statistics leaders for the majors—Guthrie and Halladay's complete games no longer put them in the top 10 in baseball and Harper no longer has enough plate appearances to qualify. In Harper's case, this is because of his current, month-long, stint on the DL. He and Roy Halladay were joined on the DL this week by the Red Sox' reliever Clayton Mortensen (hip). In addition there was Farnsworth's elbow soreness last week, and Josh Johnson had his start last week postponed due to a blister on his middle finger.
.
Hitting Stats Leaders:
Jacoby Ellsbury — 31 stolen bases (tied 1st)
Pitching Stats Leaders:
Fielding Stats Leaders:
.
Current Roster Players:
Darwin Barney—second base—Chicago Cubs
7 for 31 (.226), 2 runs, 2 rbi, 0 hr, 0 bb, 0 sb, 2 so
YTD: .214, 21 runs, 11 rbi, 2 hr, 16 bb, 2 sb, 25 so in 192 at bats.
John Buck — starting catcher — New York Mets
5 for 19 (.263), 1 runs, 0 rbi, 0 hr, 1 bb, 0 sb, 2 so
YTD: .223, 26 runs, 35 rbi, 11 hr, 13 bb, 2 sb, 56 so in 211 at bats.
Jacoby Ellsbury — starting outfielder — Boston Red Sox
8 for 31 (.258), 5 runs, 1 rbi, 0 hr, 3 bb, 7 sb, 5 so
YTD: .276, 39 runs, 22 rbi, 1 hr, 27 bb, 31 sb, 39 so in 275 at bats.
Kyle Farnsworth — reliever (right handed) — Tampa Bay Rays
0-0, 0.00 era, 0 hits, 0 er, 0 bb, and 4 k in 4.0 innings
YTD: 2-0, era 5.49, 25 hits, 12 er, 4 bb and 11 k in 19.2 innings
Jeremy Guthrie — starting pitcher (right handed) — Kansas City Royals
1-1, 4.05 era, 14 hits, 6 er, 6 bb, and 0 k in 13.1 innings
YTD: 7-4, 3.72 era, 94 hits, 38 er, 31 bb and 44 k in 92.0 innings
Roy Halladay— starting pitcher (right handed) — Philadelphia Phillies
60-day DL – did not pitch – Last pitched May 5th, underwent surgery May 15th, will begin throwing in mid July
YTD: 2-4, era 8.65, 33 hits, 33 er, 17 bb, 35 k in 34.1 innings.
Bryce Harper — left field — Washington Nationals
15-day DL — last played May 26, expected to start rehab this week.
YTD: .287, 29 runs, 23 rbi, 12 hr, 25 bb, 2 sb, 30 so in 150 at bats.
Elliot Johnson — infielder — Kansas City Royals
7 for 18 (.389), 5 runs, 4 rbi, 1 hr, 0 bb, 2 sb, 5 so
YTD: .252, 15 runs, 8 rbi, 2 hr, 5 bb, 10 sb, 32 so in 107 at bats.
Josh Johnson — starting pitcher (right handed) – Toronto Blue Jays
Did not pitch this week
YTD: 0-2, 5.40 era, 39 hits, 19 er, 29 k, 13 bb in 31.2 innings.
Matt Lindstrom — right handed bullpen pitcher – Chicago White Sox
0-0, 0.00 era, 2 hits, 0 er, 1 k, 2 bb in 1.1 innings
YTD: 2-2, 2.83 era, 24 hits, 9 er, 20 k, 15 bb in 28.2 innings.
Brandon Lyon — right handed bullpen pitcher — New York Mets
0-0, 5.40 era, 2 hits, 1 er, 0 k, 2 bb in 1.2 innings
YTD: 2-2, 3.38 era, 28 hits, 10 er, 19 k, 8 bb in 26.2 innings.
Clayton Mortensen — right handed bullpen pitcher —Boston Red Sox
15-day DL
0-0, 0.00 era, 1 hits, 0 er, 1 k, 0 bb in 1.0 innings
YTD: 1-2, 5.34 era, 32 hits, 18 er, 21 k, 16 bb in 30.1 innings
Adam Rosales — 2B — Oakland A's
1 for 15 (.067), 2 runs, 0 rbi, 0 hr, 0 bb, 0 sb, 6 so
YTD: .200, 11 runs, 8 rbi, 4 hr, 9 bb, 0 sb, 27 so in 120 at bats.
Eric Sogard — infielder — Oakland A's
5 for 15 (.333) 2 run, 1 rbi, 0 hr, 2 bb, 3 sb, 3 so
YTD: .267, 20 run, 7 rbi, 0 hr, 11 bb, 6 sb, 21 so in 150 at bats