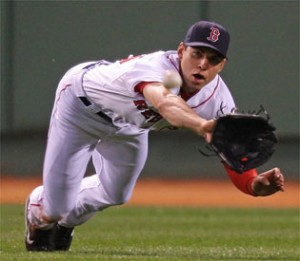 Mormon baseball fans should perhaps be looking to Boston at the moment, where Jacoby Ellsbury just had a great week. In addition to retaking sole posession of first place in stolen bases in the majors, Ellsbury hit .400 for the week, scoring 6 runs and earning 4 rbis and boosting his season batting average to .289—back in the range of what he has performed in the majors in previous years. And at his current rate of stealing bases, Ellsbury may have one of the best years of his career. He has stolen 32 bases so far, on track to come close to the 70 bases he stole in his best year so far (2009). He should be able to best his second best year (2008), when he stole 50 bases.
Among pitchers, Josh Johnson led the Mormons on the mound last week with a 2.70 era in two starts (13.1 innings). Johnson seems to have fully recovered from the injury that sidelined him until a couple of weeks ago. But even this past week his performance was variable, as he struggled in the second of the two games he pitched last week, giving up 4 earned runs in 6 innings.
Roy Halladay, Bryce Harper and Clayton Christensen remain on the DL, although the latter two are playing rehab games in the minors this week.
.
Hitting Stats Leaders:
Jacoby Ellsbury — 32 stolen bases (1st)
Pitching Stats Leaders:
Fielding Stats Leaders:
.
Current Roster Players:
Darwin Barney—second base—Chicago Cubs
9 for 25 (.360), 3 runs, 4 rbi, 2 hr, 1 bb, 0 sb, 2 so
YTD: .230, 24 runs, 15 rbi, 4 hr, 17 bb, 2 sb, 27 so in 217 at bats.
John Buck — starting catcher — New York Mets
2 for 20 (.100), 5 runs, 1 rbi, 1 hr, 3 bb, 0 sb, 6 so
YTD: .212, 31 runs, 36 rbi, 12 hr, 16 bb, 2 sb, 62 so in 231 at bats.
Jacoby Ellsbury — starting outfielder — Boston Red Sox
12 for 30 (.400), 6 runs, 4 rbi, 0 hr, 2 bb, 1 sb, 3 so
YTD: .289, 45 runs, 26 rbi, 1 hr, 29 bb, 32 sb, 42 so in 305 at bats.
Kyle Farnsworth — reliever (right handed) — Tampa Bay Rays
0-0, 0.00 era, 1 hits, 0 er, 1 bb, and 0 k in 1.0 innings
YTD: 2-0, era 5.23, 26 hits, 12 er, 5 bb and 11 k in 20.2 innings
Jeremy Guthrie — starting pitcher (right handed) — Kansas City Royals
0-1, 23.14 era, 5 hits, 6 er, 3 bb, and 1 k in 2.1 innings
YTD: 7-5, 4.20 era, 99 hits, 44 er, 34 bb and 45 k in 94.1 innings
Roy Halladay— starting pitcher (right handed) — Philadelphia Phillies
60-day DL – did not pitch – Last pitched May 5th, underwent surgery May 15th, will begin throwing in mid July
YTD: 2-4, era 8.65, 33 hits, 33 er, 17 bb, 35 k in 34.1 innings.
Bryce Harper — left field — Washington Nationals
15-day DL — last played May 26, expected to start rehab this week.
YTD: .287, 29 runs, 23 rbi, 12 hr, 25 bb, 2 sb, 30 so in 150 at bats.
Elliot Johnson — infielder — Kansas City Royals
1 for 10 (.100), 2 runs, 1 rbi, 0 hr, 0 bb, 1 sb, 1 so
YTD: .239, 17 runs, 9 rbi, 2 hr, 5 bb, 11 sb, 33 so in 117 at bats.
Josh Johnson — starting pitcher (right handed) – Toronto Blue Jays
1-0, 2.70 era, 12 hits, 4 er, 15 k, 3 bb in 13.1 innings
YTD: 1-2, 4.60 era, 51 hits, 23 er, 44 k, 16 bb in 45.0 innings.
Matt Lindstrom — right handed bullpen pitcher – Chicago White Sox
0-0, 0.00 era, 3 hits, 0 er, 2 k, 1 bb in 2.2 innings
YTD: 2-2, 2.59 era, 27 hits, 9 er, 22 k, 16 bb in 31.1 innings.
Brandon Lyon — right handed bullpen pitcher — New York Mets
0-0, 1.93 era, 5 hits, 1 er, 3 k, 2 bb in 4.2 innings
YTD: 2-2, 3.16 era, 33 hits, 11 er, 22 k, 10 bb in 31.1 innings.
Clayton Mortensen — right handed bullpen pitcher —Boston Red Sox
15-day DL — last pitched June 10th
0-0, 0.00 era, 1 hits, 0 er, 1 k, 0 bb in 1.0 innings
YTD: 1-2, 5.34 era, 32 hits, 18 er, 21 k, 16 bb in 30.1 innings
Adam Rosales — 2B — Oakland A's
0 for 3 (.000), 0 runs, 0 rbi, 0 hr, 0 bb, 0 sb, 3 so
YTD: .195, 11 runs, 8 rbi, 4 hr, 9 bb, 0 sb, 30 so in 123 at bats.
Eric Sogard — infielder — Oakland A's
6 for 19 (.316) 3 run, 2 rbi, 0 hr, 2 bb, 0 sb, 2 so
YTD: .272, 23 run, 9 rbi, 0 hr, 13 bb, 6 sb, 23 so in 169 at bats