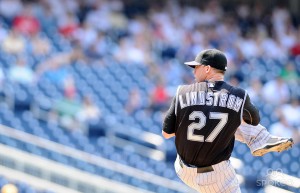 Managing pitchers is, more than perhaps anything, a search for consistency, and I tend to think that pitching staffs are actually constructed as a series of backups for when consistency proves elusive. This year, if I were to chose the Mormon pitcher who seems most consistent, I think I'd have to choose Matt Lindstrom. And this past week Lindstrom showed the quality of his relief, appearing 5 times for a total of 4 innings without giving up a single run and just 2 hits. While Lindstrom isn't exactly lights out (WHIP is 1.38), his era is down to 2.87 for the season, the lowest among the Mormon pitchers in the majors.
Among position players, Jacoby Ellsbury continued his hot streak last week, hitting .381 with a home run, 3 rbis and 4 runs scored. Until July 11th he owned a 19-game hitting streak (despite missing two games last week with a sore left wrist). His season batting average is now up to .305. In addition to Ellsbury, John Buck and Darwin Barney had strong weeks, Buck hitting .353 (raising his season average to .218) while Barney hit .296 (.222 for the season). The plate performance is none-too-soon for both, as the trade deadline nears and weaker teams like Barney's Cubs and Bucks' Mets jettison players or bring up prospects to finish the year.
Roy Halladay remains on the 60-day DL. Brandon Lyon went the required week on assignment and was released, so where he will end up remains up in the air. With the trade deadline approaching, it seems likely he will be picked up. Adam Rosales was also designated for assignment, and when his week expired, he was assigned to the Sacramento River Cats (AAA).
.
Hitting Stats Leaders:
Jacoby Ellsbury — 36 stolen bases (1st)
Pitching Stats Leaders:
Fielding Stats Leaders:
.
Current Roster Players:
Darwin Barney—second base—Chicago Cubs
8 for 27 (.296), 4 runs, 7 rbi, 2 hr, 0 bb, 0 sb, 4 so
YTD: .222, 31 runs, 26 rbi, 6 hr, 18 bb, 3 sb, 34 so in 288 at bats.
John Buck — starting catcher — New York Mets
6 for 17 (.353), 1 runs, 5 rbi, 0 hr, 1 bb, 0 sb, 4 so
YTD: .218, 35 runs, 48 rbi, 14 hr, 21 bb, 2 sb, 80 so in 284 at bats.
Jacoby Ellsbury — starting outfielder — Boston Red Sox
8 for 21 (.381), 4 runs, 3 rbi, 1 hr, 2 bb, 0 sb, 4 so
YTD: .305, 59 runs, 33 rbi, 3 hr, 34 bb, 36 sb, 51so in 377 at bats.
Kyle Farnsworth — reliever (right handed) — Tampa Bay Rays
0-0, 0.00 era, 1 hits, 0 er, 0 bb, and 2 k in 1.1 innings
YTD: 2-0, era 4.44, 29 hits, 13 er, 6bb and 16 k in 26.1 innings
Jeremy Guthrie — starting pitcher (right handed) — Kansas City Royals
1-1, 3.95 era, 14 hits, 6 er, 4 bb, and 6 k in 13.2 innings
YTD: 8-7, 4.25 era, 124 hits, 57 er, 43 bb and 58 k in 120.2 innings
Roy Halladay— starting pitcher (right handed) — Philadelphia Phillies
60-day DL – did not pitch – Last pitched May 5th, underwent surgery May 15th, will begin throwing in mid July
YTD: 2-4, era 8.65, 33 hits, 33 er, 17 bb, 35 k in 34.1 innings.
Bryce Harper — left field — Washington Nationals
5 for 26 (.192), 5 runs, 0 rbi, 0 hr, 6 bb, 1 sb, 7 so
YTD: .264, 38 runs, 29 rbi, 13 hr, 36 bb, 6 sb, 44 so in 201 at bats.
Elliot Johnson — infielder — Kansas City Royals
0 for 3 (.000), 0 runs, 0 rbi, 0 hr, 1 bb, 1 sb, 1 so
YTD: .210, 19 runs, 9 rbi, 2 hr, 7 bb, 12 sb, 40 so in 138 at bats.
Josh Johnson — starting pitcher (right handed) – Toronto Blue Jays
0-2, 6.23 era, 10 hits, 9 er, 13 k, 3 bb in 13.0 innings
YTD: 1-5, 5.16 era, 76 hits, 38 er, 67 k, 23 bb in 66.1 innings.
Matt Lindstrom — right handed bullpen pitcher – Chicago White Sox
0-0, 0.00 era, 2 hits, 0 er, 3 k, 1 bb in 4.0 innings
YTD: 2-3, 2.87 era, 35 hits, 12 er, 28 k, 17 bb in 37.2 innings.
Brandon Lyon — right handed bullpen pitcher — New York Mets
(Released)
0-0, 3.86 era, 4 hits, 1 er, 1 k, 1 bb in 2.1 innings
YTD: 2-2, 4.98 era, 43 hits, 19 er, 23 k, 13 bb in 34.1 innings.
Clayton Mortensen — right handed bullpen pitcher —Boston Red Sox
Did not pitch — Designated for assignment
YTD: 1-2, 5.34 era, 32 hits, 18 er, 21 k, 16 bb in 30.1 innings
Adam Rosales — 2B — Oakland A's
Did not play — Designated for assignment
YTD: .200, 11 runs, 8 rbi, 4 hr, 9 bb, 0 sb, 30 so in 130 at bats.
Eric Sogard — infielder — Oakland A's
0 for 9 (.000) 0 run, 0 rbi, 0 hr, 0 bb, 0 sb, 0 so
YTD: .255, 28 run, 13 rbi, 1 hr, 19 bb, 7 sb, 29 so in 208 at bats