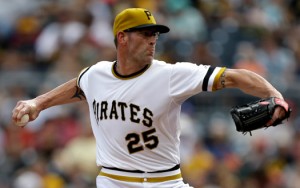 Never underestimate what changing teams can do. In the case of Kyle Farnsworth, at least, the change made a huge difference. Since joining the Pittsburgh Pirates on September 1st, Farnsworth has pitched 6 innings of relief, and has yet to give up a run. He has also struck out seven while walking one and giving up just two hits. In the process he not only has won a game and earned his first save for the year, but brought his season era down by nearly a full point, from 5.76 to 4.79. The change has been great for him.
Farnsworth isn't the only pitcher who did well last week, but he was the only one who's efforts translated into wins instead of losses. Doug Fister and Jeremy Guthrie also pitched well last week, but Guthrie took the loss in one of his starts, and Fister's only mistake, an RBI triple in the first inning, was enough to give him a loss also. Yet Fister's era for the week was 1.17 and Guthrie's era was 2.57. Such is the sometimes fickle nature of pitching.
At the plate, Bryce Harper once again showed his talent. The 20-year-old was 8 for 20 (.400) coming off fears that a hip injury would put him on the DL for the rest of the season. But MRIs showed merely inflamation, and Harper came roaring back to help the Nationals in their quest to win a wild card spot (they are 4.5 games out, with 13 to play). Beyond Harper, Elliot Johnson was also notable, adding 3 stolen bases to his total, now 19. Given that the utility infielder hasn't had much playing time, his 19 bases stolen (over 223 at bats) are outstanding — a rate just behind that of majors-leading Jacoby Ellsbury.
Blue Jay's pitcher Josh Johnson remains on the DL, and Jacoby Ellsbury, while not listed as on the DL, is out with a compression fracture in his foot. His agent said this past week that he expects Ellsbury to return before the post-season, where he will play with the Red Sox, who have the best win-loss record in the majors this year.
.
Hitting Stats Leaders:
Jacoby Ellsbury — 52 stolen bases (1st)
Pitching Stats Leaders:
Jeremy Guthrie — 14 wins (tied 10th); 3 complete games (tied 3rd)
Fielding Stats Leaders:
.
Current Roster Players:
Darwin Barney—second base—Chicago Cubs
4 for 21 (.190), 2 runs, 2 rbi, 0 hr, 4 bb, 0 sb, 3 so
YTD: .212, 47 runs, 41 rbi, 7 hr, 35 bb, 4 sb, 60 so in 467 at bats.
John Buck — backup catcher — Pittsburgh Pirates
0 for 1 (.000), 0 runs, 0 rbi, 0 hr, 0 bb, 0 sb, 0 so
YTD: .222, 39 runs, 61 rbi, 15 hr, 29 bb, 2 sb, 101 so in 383 at bats.
Jacoby Ellsbury — starting outfielder — Boston Red Sox
Did not play
YTD: .299, 89 runs, 52 rbi, 8 hr, 46 bb, 52 sb, 91 so in 566 at bats.
Kyle Farnsworth — reliever (right handed) — Pittsburg Pirates
1-0, 0.00 era, 1 hits, 0 er, 1 bb, and 2 k in 3.0 innings
YTD: 3-0, era 4.79, 39 hits, 19 er, 8 bb and 26 k in 35.2 innings
Doug Fister — starting pitcher (right handed) — Detroit Tigers
0-1, 1.17 era, 8 hits, 1 er, 4 bb, and 6 k in 7.2 innings
YTD: 12-9, era 3.67, 211 hits, 79 er, 42 bb and 141 k in 193.2 innings
Jeremy Guthrie — starting pitcher (right handed) — Kansas City Royals
1-1, 2.57 era, 22 hits, 4 er, 1 bb, and 6 k in 14.0 innings
YTD: 14-11, 4.08 era, 225 hits, 90 er, 56 bb and 106 k in 198.2 innings
Roy Halladay— starting pitcher (right handed) — Philadelphia Phillies
0-0, 8.31 era, 4 hits, 4 er, 5 bb, and 6 k in 4.1 innings
YTD: 3-4, era 7.28, 51 hits, 45 er, 31 bb, 49 k in 55.2 innings.
Bryce Harper — left field — Washington Nationals
8 for 20 (.400), 4 runs, 1 rbi, 0 hr, 2 bb, 2 sb, 3 so
YTD: .280, 66 runs, 50 rbi, 19 hr, 59 bb, 10 sb, 87 so in 379 at bats.
Elliot Johnson — infielder — Atlanta Braves
6 for 26 (.231), 1 runs, 2 rbi, 0 hr, 2 bb, 3 sb, 4 so
YTD: .197, 22 runs, 14 rbi, 2 hr, 11 bb, 19 sb, 61 so in 223 at bats.
Josh Johnson — starting pitcher (right handed) – Toronto Blue Jays
Did not pitch – 60-day DL
YTD: 2-8, 6.20 era, 105 hits, 64 er, 83 k, 30 bb in 81.1 innings.
Matt Lindstrom — right handed bullpen pitcher – Chicago White Sox
0-1, 13.50 era, 3 hits, 1 er, 0 k, 0 bb in 0.2 innings
YTD: 2-4, 3.02 era, 58 hits, 19 er, 43 k, 23 bb in 56.2 innings.
Brandon Lyon — right handed bullpen pitcher — New York Mets
Did not pitch — Released
YTD: 2-2, 4.98 era, 43 hits, 19 er, 23 k, 13 bb in 34.1 innings.
Adam Rosales — 2B — Texas Rangers
0 for 1 (.000) 0 run, 0 rbi, 0 hr, 0 bb, 0 sb, 0 so
YTD: .192, 14 runs, 12 rbi, 5 hr, 10 bb, 0 sb, 34 so in 146 at bats.
Eric Sogard — infielder — Oakland A's
3 for 11 (.273) 1 run, 1 rbi, 0 hr, 0 bb, 0 sb, 1 so
YTD: .265, 43 run, 32 rbi, 2 hr, 25 bb, 8 sb, 49 so in 344 at bats