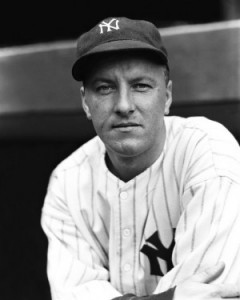 Last week I covered the recent Hall of Fame balloting, which for the second time denied a Mormon player entrance after that player had been on the ballot for a full 15 years. And I included in that post a trivia question: "Who was the first Mormon to appear on a Hall of Fame ballot?"
As I mentioned last week, Jeff Kent this year became the 10th Mormon to appear on a Hall of Fame ballot. Since he is a stronger candidate than either Jack Morris or Dale Murphy (the Mormons who appeared on 15 ballots without making the Hall), we may see him elected in the next few years. Or, he may become the third Mormon to last 15 ballots without being selected. Time will tell.
So then, who was the first Mormon on the Hall of Fame ballot? And for that matter who were the others who have appeared on the ballots over the years?
The answer for the first Mormon to appear on the Hall of Fame ballot is Monte Pearson, who played for the Indians, Yankees and Reds for a decade in the 1930s. Pearson is best known for throwing the first no-hitter in Yankee Stadium on August 27, 1938. While generally mediocre in the regular season (4.00 era, 1.491 WHIP), Pearson was exceptional in the post-season, winning all four of his World Series starts and still maintaining the MLB record for the lowest post-season WHIP (0.729).
After Pearson's single year on the ballot, it took another 15 years before the next Mormon player appeared. Here is the list, from what I've been able to put together:
Player — years appeared on the ballot
Monte Pearson — 1958
Vernon Law — 1973-1979
Harmon Killebrew — 1981-1984
Ray Knight — 1994
Dale Murphy — 1999-2013
Bruce Hurst — 2000
Jack Morris — 2000-2014
Dennis Eckersley — 2004 (elected on first ballot)
Wally Joyner — 2007Jeff Kent — 2014 (will appear next year also)
So far, it appears that in 2000, 2004 and 2007 the most Mormons appeared on the ballot at one time: 3 Mormons appeared in each of those years.
As always, this is based on the best information that I have so far. Please see our page on Defining Who is Mormon for information on non-baseball qualifications.
2 Responses to "Mormons on the Baseball Hall of Fame Ballot"