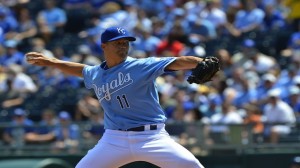 Somewhere someone has named the things that major leaguers do these days during the off-season — perhaps something that is the equivalent of "stupid human tricks." Its not that there is anything wrong with what they do. Its just that sometimes it reveals something unusual about them, such as odd musical tastes from someone in a testosterone-laden profession, like the Royal's Jeremy Guthrie.
There is nothing wrong with liking music, and no doubt that is what led Guthrie to talk to Mix 93.3 DJ Dave O. at a Dunkin' Donuts store where he was doing a remote broadcast. Before long Guthrie was slotted to be a guest DJ on the station.
Cool, huh? Apparently Guthrie likes the station and what it plays, learned about the remote broadcast when he was listening and came because of a promotion. And when he got behind the mike, by all accounts he did a decent job—"like he'd been doing it for years" according to Fox 4 KC. He handled the request line, chatted live with the regular DJ Dave O. and even read some commercials. Sounds great, no? That wasn't what seemed odd.
The odd part is Guthrie's musical taste."I like 90s boy bands, and 2000 boy bands, and 2010 boy bands I also like."
OK, whatever floats your boat, Jeremy. De gustibus non est disputandum.
.
Source:
Royals' Jeremy Guthrie moonlights as radio DJ
by Eric Burke; October 17, 2013; 9:26 pm