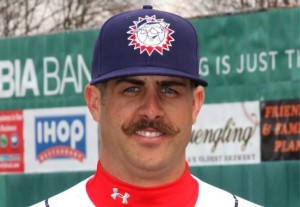 What's a ballplayer to do during the off-season? For many minor-league players, such as Bryan Harper, it helps if you can bring in some cash.
The minimum salary for minor league players NOT on the 40-man roster is just $7,500 a season, which means that earning something on the off-season is a must. And if you can give some kids a bit of a thrill in the process, so much the better. Harper does just that when he shows up in Las Vegas inner-city schools as a substitute teacher.
According to an article on MiLB.com this past week Harper has been working as a substitute teacher during the off-season for three years, earning $90 to $100 a day, depending on where he teaches.
"Las Vegas High School is in what the school district considers a 'hazard area,'" he said. "It has Section 8 housing and projects in the zoning area, so that's why the pay is a bit more. But it is a good area and I love going there. They have some of the nicest kids in the area." He has also taught at East Career and Technical Academy and Thurman White Middle School.
Using a cellphone app, Harper tells the schools when he is available, and gets an automated call in the evening telling him where he will teach the next day. He has taught math, PE, weight training and English and has worked with youngsters with special needs.
"It was awesome for me to have the opportunity to work with the special-ed kids," he said. "It reminds me how blessed I am personally. Seeing these kids that are less fortunate, it gives me the chance to give back to my high school and also to the kids in the area I grew up."
.
Source:
Pupils on the field, teachers in school: Trio of Nationals prospects spends offseason in the classroom
by Ashley Marshall / MiLB.com, 02/12/2014 10:00 AM ET