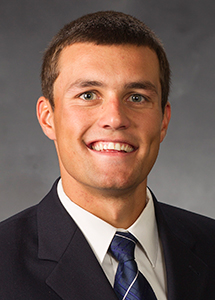 Last week BYU pitcher Kolton Mahoney, beginning his first season back after serving an LDS mission in Santa Rosa, California, threw a no-hitter against Nichols State in Thibodaux, Louisiana. The game was just the 7th no-hitter in the BYU baseball team's 58-year history.
"Everything was working," Mahoney said. "I could command my fast ball and my curve was filthy tonight, it was moving a lot, I could throw it for strikes, but my slider was my out pitch tonight. I started to feel it in the sixth or seventh inning. I knew it (the no-hitter) was definitely there going into the ninth inning and I wasn't going to go for anything less."
In his freshman year with BYU (in 2011, pre-mission), Mahoney was 3-2 with a 2.42 era in 22.1 innings over 18 appearances as a reliever. This year he is 2-2 with a 2.17 era in 29 innings over 4 appearances — perhaps the kind of numbers that could attract attention from scouts.
Mahoney's no-hitter is the first in 25 years for BYU. Here is a list of the previous no-hitters at the school:
2014 Kolton Mahoney vs. Nicholls State, 9 innings
1989 John DeSilva vs. Colorado State, 7 innings
1981 Peter Kendrick vs. Chapman College,
1981 Peter Kendrick vs. Air Force Academy, 7 innings
1979 Greg Petersen vs. Southern Utah, 7 innings
1971 Steve Easton at Colorado State, 7 innings
1961 Bobby Noel vs. Montana, 7 innings (perfect game)
Greg Petersen, Peter Kendrick and John DeSilva all played in the minors, and DeSilva made it to the majors, where he pitched a total of 15 innings spread over 1993 and 1995.
2 Responses to "RM Pitcher for BYU throws a no-no"