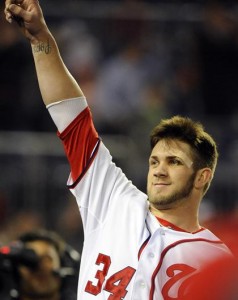 The Washington National's Bryce Harper has been named the 2012 National League Rookie of the Year. Harper was selected over fellow finalists Todd Frazier of the Cincinnati Reds and Wade Miley of the Arizona Diamondbacks, both of whom had strong seasons through most of the year but struggled in the final months. In contrast, Harper struggled in July and August and then finished very strong in September, helping his team make the playoffs.
The award is just the latest in what seems a charmed baseball life for Harper, from his appearance on the cover of Sports Illustrated at age 16 to gaining popularity for his off-hand "clown question" putdown of a Canadian reporter and becoming the youngest player named to an All Star team.
Of course, a rookie year is just a start. We'll see what happens to Harper in the long run. But, he somehow keeps producing and keeps making news. And, while struggling at times, he still manages to become a hero. What a charmed life.
5 Responses to "Harper named NL Rookie of the Year"