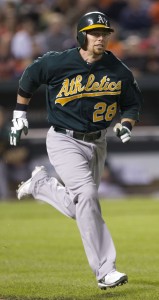 The week of the All-Star Game can be a boon to some players—those who don't play. First you get three days of rest. Then the shortened week can make you look good for the week. And among the Mormons in the Majors, the All-Star week worked best for Eric Sogard. After his three days of rest, Sogard, who is best known among the Oakland fans for his glasses, went 4 for 8 and hit his 2nd home run of the year. His batting average is back up to .264, and unlike fellow Mormon on the team Adam Rosales, Sogard has not been sent down to triple A ahead of the trade deadline.
Sogard isn't the only Mormon blasting away at the plate. Jacoby Ellsbury was still red hot after the All-Star Game, hitting .364, scoring twice and walking twice. His batting average is up to .307 and he has maintained a lead in stolen bases in the majors with 37.
Among pitchers, no one seems to be doing well, except for possibly Matt Lindstrom, who earned a 0.00 era in the shortened week, although he only pitched 1.2 innings. Kyle Farnsworth's numbers look ok, until you realize that he only faced one batter in the shortened week, and walked him. Jeremy Guthrie managed a win, but with a 7.50 era.
Roy Halladay remains on the DL, and is expected to be there through mid-August. And Brandon Lyon, who was released by the New York Mets, is still waiting to find a new team. With the trade deadline looming, it could happen anytime.
.
Hitting Stats Leaders:
Jacoby Ellsbury — 37 stolen bases (1st)
Pitching Stats Leaders:
Fielding Stats Leaders:
.
Current Roster Players:
Darwin Barney—second base—Chicago Cubs
3 for 11 (.273), 1 runs, 2 rbi, 0 hr, 1 bb, 0 sb, 1 so
YTD: .224, 32 runs, 28 rbi, 6 hr, 19 bb, 3 sb, 35 so in 299 at bats.
John Buck — starting catcher — New York Mets
2 for 8 (.250), 1 runs, 0 rbi, 0 hr, 0 bb, 0 sb, 1 so
YTD: .219, 36 runs, 48 rbi, 14 hr, 21 bb, 2 sb, 81 so in 292 at bats.
Jacoby Ellsbury — starting outfielder — Boston Red Sox
4 for 11 (.364), 2 runs, 1 rbi, 0 hr, 2 bb, 1 sb, 1 so
YTD: .307, 61 runs, 34 rbi, 3 hr, 36 bb, 37 sb, 52 so in 388 at bats.
Kyle Farnsworth — reliever (right handed) — Tampa Bay Rays
0-0, 0.00 era, 0 hits, 0 er, 1 bb, and 0 k in 0.0 innings
YTD: 2-0, era 4.44, 29 hits, 13 er, 7 bb and 16 k in 26.1 innings
Jeremy Guthrie — starting pitcher (right handed) — Kansas City Royals
1-0, 7.50 era, 10 hits, 5 er, 2 bb, and 6 k in 6.0 innings
YTD: 9-7, 4.41 era, 134 hits, 62 er, 45 bb and 64 k in 126.2 innings
Roy Halladay— starting pitcher (right handed) — Philadelphia Phillies
60-day DL – did not pitch – Last pitched May 5th, underwent surgery May 15th, will begin throwing in mid July
YTD: 2-4, era 8.65, 33 hits, 33 er, 17 bb, 35 k in 34.1 innings.
Bryce Harper — left field — Washington Nationals
3 for 12 (.250), 1 runs, 0 rbi, 0 hr, 1 bb, 0 sb, 7 so
YTD: .263, 39 runs, 29 rbi, 13 hr, 37 bb, 6 sb, 51 so in 213 at bats.
Elliot Johnson — infielder — Kansas City Royals
0 for 2 (.000), 0 runs, 0 rbi, 0 hr, 0 bb, 0 sb, 1 so
YTD: .207, 19 runs, 9 rbi, 2 hr, 7 bb, 12 sb, 41 so in 140 at bats.
Josh Johnson — starting pitcher (right handed) – Toronto Blue Jays
Did not pitch
YTD: 1-5, 5.16 era, 76 hits, 38 er, 67 k, 23 bb in 66.1 innings.
Matt Lindstrom — right handed bullpen pitcher – Chicago White Sox
0-0, 0.00 era, 1 hits, 0 er, 0 k, 2 bb in 1.2 innings
YTD: 2-3, 2.75 era, 36 hits, 12 er, 28 k, 19 bb in 39.1 innings.
Brandon Lyon — right handed bullpen pitcher — New York Mets
Did not pitch — Released
YTD: 2-2, 4.98 era, 43 hits, 19 er, 23 k, 13 bb in 34.1 innings.
Eric Sogard — infielder — Oakland A's
4 for 8 (.500) 2 run, 2 rbi, 1 hr, 0 bb, 0 sb, 2 so
YTD: .264, 30 run, 15 rbi, 2 hr, 19 bb, 7 sb, 31 so in 216 at bats