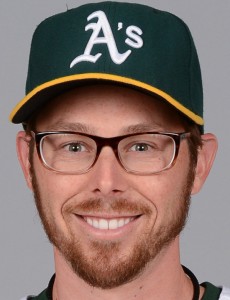 Oakland As 2nd baseman and LDS Church member Eric Sogard has reached the final in MLB's "Face of MLB" popularity contest. Sogard faces the Mets' David Wrigth in the twitter-based vote today, starting at 9am EST.
Fans can vote on twitter up to 25 times until 8am tomorrow.
The Face of MLB contest is basically an MLB promotional campaign to engage fans for the upcoming season. Each team nominates a player who then faces a player from another team in a day-long twitter vote. The winner advances to the next round in an elimination contest that ends with the final today.
To vote for Sogard simply send a tweet with the hash tags #EricSogard and #FaceOfMLB.
Sogard's opponent is long-time Met David Wright. As this post was being written, Wright is ahead, likely because of the difference in time zones. As a result, Sogard will need to be well ahead after midnight on the west coast of the U.S. to overcome the votes early tomorrow morning from New York City.
Sogard, who became a second baseman for the Oakland As last year (and who currently tops the As depth chart at that position), has gained a cult following as one of the few MLB players to wear glasses, which fans have picked up on, using their fingers to put glasses on their own faces (they are called "rally specs" at crucial moments in the game. The glasses even have their own blog.