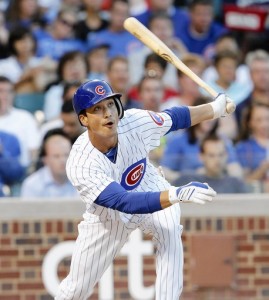 As spring training progresses, many news websites and blogs are wondering whether or not Darwin Barney will continue starting at second base for the Chicago Cubs, and even whether or not he will remain with the team. The problem focuses on Barney's poor performance at the plate last year, the worst of his major league career.
Barney's strength has been his fielding, where he won a gold glove in 2012 and committed just 2 errors at 2nd that year. And he tied the major league record for the number of consecutive errorless games at second base: 141.
But while his fielding remained strong last year (he had a total of 4 errors), Barney didn't perform well at the plate. He hit .208 / .266 / .303, down significantly from his 2012 slash line: .254 / .299 / .354, and below his career major league line: .246 / .293 / .336.
However, Barney started last year injured, and didn't seem to really get up to his normal performance. It could be that he will rebound this year, and so far his spring training performance is better than last year, but not up to the level of previous spring training results. His batting average is .263 so far this year, ahead of last year's .239, but far behind 2012's .404.
If the Cubs decide to start someone else at second, Barney could get moved to shortstop, or be regulated to a backup role. And he could easily be traded to another team that needs more defense than offense at second.
One Response to "Could Darwin Barney Get Pushed Off Second?"