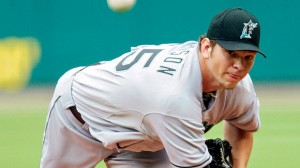 Two Mormon players are part of the massive trade between the Toronto Blue Jays and the Miami Marlins last week that involved a total of 10 players and gutted the highly-paid Marlins team. High performing pitcher Josh Johnson and struggling catcher John Buck were both traded to the Blue Jays as the Marlins reduced their payroll following a losing season. The deal is pending league approval.
Although Johnson signed a four-year $39 million deal and is considered a top notch pitcher, his performance this past year was average as he struggled with arm problems while recovering from an injury-shortened season in 2011. However, many analysts expect Johnson to return to previous form in 2013, which could make the Blue Jays the favorite to lead the American League East next season.
Buck, who performed poorly at the plate last year, wasn't expected to have much trade value, but his relatively large salary led the Marlins to want to dump him in favor of the prospects acquired from the Blue Jays.