Posts Tagged 'Toronto Blue Jays'
I've neglected following the transactions and changing status of the Mormon players for the past several months — a bit of a vacation, I suppose. But with spring training rapidly approaching, I thought I should get the status up to date and start following where everyone is. Today's update only includes the players who played in the Majors last year.
There are still a couple of players who have played in the majors in previous years whose status is uncertain—Kyle Farnsworth and Brandon Lyon both had strong enough years in 2012 that I think they are likely to be picked up by someone.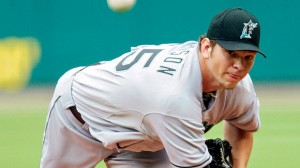 Two Mormon players are part of the massive trade between the Toronto Blue Jays and the Miami Marlins last week that involved a total of 10 players and gutted the highly-paid Marlins team. High performing pitcher Josh Johnson and struggling catcher John Buck were both traded to the Blue Jays as the Marlins reduced their payroll following a losing season. The deal is pending league approval.