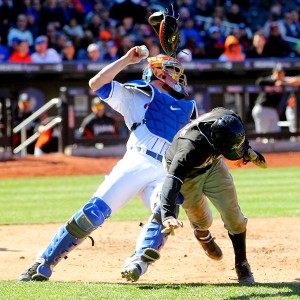 For fans of Mormon players in baseball, the place to be this past weekend was CitiField in Queens, New York, where 20-year-old phenom Bryce Harper and the Washington Nationals lost two games to John Buck and the New York Mets. Buck hit a home run and earned an rbi in each of the three games, giving him the major league lead in rbis and putting him in a multi-way tie for 2nd place (along with Bryce Harper) in home runs.
How much longer can Buck keep doing this?
That has to be the question on the minds of the Mets brass as they enjoy results of John Buck's surprising early performance. Buck, currently having the best start of his nearly decade long career will be looking to improve his contract prospects, since he is up for renewal this year. He is also making a case that at 32 he should keep his place as the Mets' every day catcher. His performance would delay the arrival of the Mets' heralded prospect Travis d'Arnaud, whose arrival in the majors was delayedthis past week anyway due to a foot fracture that will take 8 weeks to heal. In any case, the Mets, and fans of Mormons in baseball, should enjoy this performance while it lasts.
Bryce Harper has not been outdone by Buck's performance. He hit .421 for the week, including 2 home runs, bringing his total to 7, and putting him in a tie with Buck and 4 others. Also outstanding this week was Jacoby Ellsbury of the Red Sox, who hit .355 and the A's Eric Sogard, who hit .375 for the week. Among pitchers, Roy Halladay seems to be settling down, giving up just 2 earned runs in 7 innings in his outing last week, his second win. The standout relievers were Kyle Farnsworth and Clayton Mortensen, both with 0.00 eras last week, although Mortensen pitched 3 innings compared to 2/3rds of an inning for Farnsworth.
.
Current Roster Players:
Darwin Barney—second base—Chicago Cubs
1 for 17 (.059), 0 runs, 0 rbi, 0 hr, 2 bb, 0 sb, 5 so
YTD: .059, 0 runs, 0 rbi, 0 hr, 2 bb, 0 sb, 5 so in 17 at bats.
John Buck — starting catcher — New York Mets
5 for 21 (.238), 3 runs, 3 rbi, 1 hr, 1 bb, 0 sb, 5 so
YTD: .290, 12 runs, 22 rbi, 7 hr, 2 bb, 0 sb, 10 so in 62 at bats.
Jacoby Ellsbury — starting outfielder — Boston Red Sox
11 for 31 (.355), 8 runs, 1 rbi, 0 hr, 1 bb, 3 sb, 4 so
YTD: .293, 15 runs, 9 rbi, 1 hr, 3 bb, 8 sb, 10 so in 82 at bats.
Kyle Farnsworth — reliever (right handed) — Tampa Bay Rays
0-0, 0.00 era, 1 hits, 0 er, 1 bb, and 0 k in 0.2 innings
YTD: 0-0, era 4.50 5 hits, 2 er, 1 bb and 0 k in 4.0 innings
Jeremy Guthrie — starting pitcher (right handed) — Kansas City Royals
0-0, 4.15 era, 13 hits, 6 er, 5 bb, and 8 k in 13.0 innings
YTD: 2-0, era 3.86 24 hits, 11 er, 7 bb and 19 k in 25.2 innings
Roy Halladay— starting pitcher (right handed) — Philadelphia Phillies
1-0, era 2.57, 2 hits, 2 er, 2 bb, 6 k in 7.0 innings.
YTD: 2-2, era 6.04, 19 hits, 15 er, 9 bb, 20 k in 22.1 innings.
Bryce Harper — left field — Washington Nationals
8 for 19 (.421), 4 runs, 4 rbi, 2 hr, 3 bb, 0 sb, 2 so
YTD: .369, 13 runs, 14 rbi, 7 hr, 7 bb, 1 sb, 12 so in 65 at bats.
Elliot Johnson — infielder — Kansas City Royals
0 for 3 (.000), 0 runs, 0 rbi, 0 hr, 0 bb, 0 sb, 3 so
YTD: .154, 1 runs, 1 rbi, 0 hr, 0 bb, 1 sb, 4 so in 13 at bats.
Josh Johnson — starting pitcher (right handed) – Toronto Blue Jays
0-0, 4.38 era, 12 hits, 6 er, 12 k, 5 bb in 12.1 innings.
YTD: 0-1, 6.86 era, 28 hits, 15 er, 19 k, 9 bb in 19.2 innings.
Matt Lindstrom — right handed bullpen pitcher – Chicago White Sox
1-1, 10.12 era, 2 hits, 3 er, 1 k, 2 bb in 2.2 innings
YTD: 1-1, 3.12 era, 5 hits, 3 er, 7 k, 2 bb in 8.2 innings.
Brandon Lyon — right handed bullpen pitcher — New York Mets
0-0, 2.45 era, 2 hits, 1 er, 3 k, 0 bb in 3.2 innings
YTD: 1-0, 1.29 era, 3 hits, 1 er, 7 k, 0 bb in 7.0 innings.
Clayton Mortensen — right handed bullpen pitcher —Boston Red Sox
0-0, 0.00 era, 1 hits, 0 er, 3 k, 1 bb in 3.0 innings
YTD: 0-1, 2.08 era, 6 hits, 2 er, 9 k, 1 bb in 8.2 innings
Shane Peterson — first base — Oakland A's (up from Sacramento River Cats AAA)
1 for 7 (.143) 1 run, 1 rbi, 0 hr, 1 bb, 0 sb, 3 so
YTD: .143, 1 run, 1 rbi, 0 hr, 1 bb, 0 sb, 3 so in 7 at bats
Adam Rosales — 2B — Oakland A's
On 15-day DL. Eligible to return April 11
YTD: — no stats
Eric Sogard — infielder — Oakland A's
6 for 16 (.375) 1 run, 1 rbi, 0 hr, 1 bb, 1 sb, 0 so
YTD: .280, 5 run, 2 rbi, 0 hr, 3 bb, 2 sb, 6 so in 50 at bats
One Response to "Majors Update: 21 April 2013"