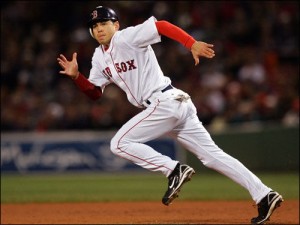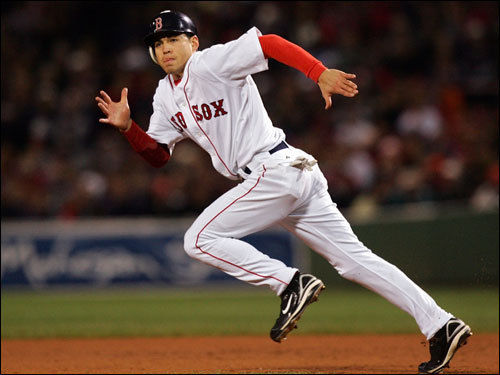 The Red Sox's Jacoby Ellsbury wowed fans last week at the plate, and more importantly on the base paths. In four games against the Phils Ellsbury was 9 for 18 with four runs scored and 2 rbis. His heroics for the week culminated in last Thursday's game, in which he set a new team record: 5 stolen bases in a single game. But Ellsbury's fantastic performance came to a screeching halt that same game: his groin tightened up. He was benched for the next three games last week, against the Yankees, but not put on the DL.
Unlike Ellsbury, Bryce Harper was finally put on the DL, more than a week after he collided with the outfield wall in Los Angeles. He joins pitchers Roy Halladay and Josh Johnson on the DL, although Johnson was scheduled to return to the Blue Jays on Tuesday, despite a bad outing in AAA on Thursday.
Among Pitchers starter Jeremy Guthrie finally worked through whatever led to three bad performances in a row, and pitched fairly well, giving up just two earned runs over six innings of work (3.00 era) last week. And, for a change, all four relievers on our list, Kyle Farnsworth, Matt Lindstrom, Brandon Lyon and Clayton Mortensen, were reasonably strong—at the same time!
.
Hitting Stats Leaders:
Bryce Harper — .973 OPS (7th); .587 Slugging (6th)
Jacoby Ellsbury — 11 stolen bases (tied 1st)
Pitching Stats Leaders:
Jeremy Guthrie — 1 complete game (tied 7th)
Roy Halladay — 1 complete game (tied 7th)
Fielding Stats Leaders:
.
Current Roster Players:
Darwin Barney—second base—Chicago Cubs
5 for 19 (.263), 3 runs, 1 rbi, 0 hr, 2 bb, 0 sb, 4 so
YTD: .214, 16 runs, 8 rbi, 2 hr, 15 bb, 2 sb, 18 so in 140 at bats.
John Buck — starting catcher — New York Mets
5 for 26 (.192), 1 runs, 2 rbi, 0 hr, 0 bb, 1 sb, 8 so
YTD: .222, 25 runs, 35 rbi, 11 hr, 12 bb, 2 sb, 51 so in 180 at bats.
Jacoby Ellsbury — starting outfielder — Boston Red Sox
9 for 18 (.500), 4 runs, 2 rbi, 0 hr, 1 bb, 6 sb, 2 so
YTD: .268, 30 runs, 20 rbi, 1 hr, 22 bb, 21 sb, 33 so in 231 at bats.
Kyle Farnsworth — reliever (right handed) — Tampa Bay Rays
0-0, 0.00 era, 1 hits, 0 er, 0 bb, and 1 k in 1.0 innings
YTD: 2-0, era 7.11 22 hits, 10 er, 4 bb and 6 k in 12.2 innings
Jeremy Guthrie — starting pitcher (right handed) — Kansas City Royals
0-0, 3.00 era, 8 hits, 2 er, 1 bb, and 6 k in 6.0 innings
YTD: 5-3, era 3.84 74 hits, 31 er, 22 bb and 40 k in 72.2 innings
Roy Halladay— starting pitcher (right handed) — Philadelphia Phillies
60-day DL – did not pitch – underwent surgery May 15th, will begin throwing in 6-8 weeks
YTD: 2-4, era 8.65, 33 hits, 33 er, 17 bb, 35 k in 34.1 innings.
Bryce Harper — left field — Washington Nationals
15-day DL — last played May 26, available June 11th.
YTD: .287, 29 runs, 23 rbi, 12 hr, 25 bb, 2 sb, 30 so in 150 at bats.
Elliot Johnson — infielder — Kansas City Royals
2 for 17 (.118), 0 runs, 1 rbi, 0 hr, 1 bb, 2 sb, 5 so
YTD: .247, 8 runs, 4 rbi, 1 hr, 3 bb, 8 sb, 25 so in 81 at bats.
Josh Johnson — starting pitcher (right handed) – Toronto Blue Jays
15-Day DL — Did not pitch, pitched rehab assignment in minors last week.
YTD: 0-1, 6.86 era, 28 hits, 15 er, 19 k, 9 bb in 19.2 innings.
Matt Lindstrom — right handed bullpen pitcher – Chicago White Sox
0-0, 0.00 era, 3 hits, 0 er, 1 k, 1 bb in 4.1 innings
YTD: 2-2, 3.38 era, 20 hits, 9 er, 16 k, 13 bb in 24.0 innings.
Brandon Lyon — right handed bullpen pitcher — New York Mets
1-0, 2.70 era, 5 hits, 1 er, 1 k, 0 bb in 3.1 innings
YTD: 2-2, 3.68 era, 22 hits, 9 er, 18 k, 5 bb in 22.0 innings.
Clayton Mortensen — right handed bullpen pitcher —Boston Red Sox
0-0, 3.00 era, 1 hits, 1 er, 1 k, 1 bb in 3.0 innings
YTD: 1-2, 5.00 era, 23 hits, 15 er, 18 k, 14 bb in 27.0 innings
Adam Rosales — 2B — Oakland A's
3 for 16 (.188), 1 runs, 1 rbi, 1 hr, 1 bb, 0 sb, 2 so
YTD: .217, 7 runs, 6 rbi, 3 hr, 8 bb, 0 sb, 18 so in 92 at bats.
Eric Sogard — infielder — Oakland A's
3 for 7 (.429) 1 run, 0 rbi, 0 hr, 1 bb, 0 sb, 1 so
YTD: .266, 17 run, 6 rbi, 0 hr, 8 bb, 2 sb, 17 so in 124 at bats