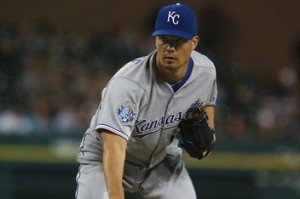 Royals' starter Jeremy Guthrie finally notched his 6th win of the season last week, after struggling through much of May and losing 3 games in a row. This game brought his season era down to a respectable 3.66, but still quite a bit above the phenomenal 2.28 era he held on May 9th after his 5th win.
Guthrie's pitching was perhaps bested among the Mormons pitching in the majors by both Matt Lindstrom and Brandon Lyon, relievers who each pitched 3 or more innings during the week without giving up a run. Lindstrom (White Sox) is perhaps slightly more impressive, with a season era of 2.96 over 27.1 innings, but Lyon (Mets) has a 19-6 strike out-to-walk ratio, much better than Lindstrom.
At the plate, Jacoby Ellsbury has returned red hot, after being sidelined with a pulled groin (he was not put on the DL, however). In 13 at bats since last Thursday, he has 6 hits (.462 for the week), 4 runs and 3 stolen bases. However, sitting for the week clearly cost him the lead in stolen bases in baseball—he is now in 2nd, 5 behind Everth Cabrera (San Diego).
Toronto starter Josh Johnson returned from the DL last week, first pitching great in one start and then struggling in his second at the end of the week. Still, the Blue Jay's management are happy that he doesn't show signs of the triceps issues that put him on the DL.
Meanwhile, the Philies' Roy Halladay remains on the DL, as does the Nats' Bryce Harper. The latter is eligible to return to active play tomorrow (June 11th), but doesn't seem likely to make it. He may end up playing some rehab games in the minors before returning.
.
Hitting Stats Leaders:
Jacoby Ellsbury — 24 stolen bases (2nd)
Pitching Stats Leaders:
Jeremy Guthrie — 1 complete game (tied 9th)
Roy Halladay — 1 complete game (tied 9th)
Fielding Stats Leaders:
.
Current Roster Players:
Darwin Barney—second base—Chicago Cubs
4 for 21 (.190), 3 runs, 1 rbi, 0 hr, 1 bb, 0 sb, 5 so
YTD: .211, 19 runs, 9 rbi, 2 hr, 16 bb, 2 sb, 23 so in 161 at bats.
John Buck — starting catcher — New York Mets
2 for 12 (.167), 0 runs, 0 rbi, 0 hr, 0 bb, 0 sb, 3 so
YTD: .219, 25 runs, 35 rbi, 11 hr, 12 bb, 2 sb, 54 so in 192 at bats.
Jacoby Ellsbury — starting outfielder — Boston Red Sox
6 for 13 (.462), 4 runs, 1 rbi, 0 hr, 2 bb, 3 sb, 1 so
YTD: .279, 34 runs, 21 rbi, 1 hr, 24 bb, 24 sb, 34 so in 244 at bats.
Kyle Farnsworth — reliever (right handed) — Tampa Bay Rays
0-0, 6.00 era, 3 hits, 2 er, 0 bb, and 1 k in 3.0 innings
YTD: 2-0, era 6.89 25 hits, 12 er, 4 bb and 7 k in 15.2 innings
Jeremy Guthrie — starting pitcher (right handed) — Kansas City Royals
1-0, 1.50 era, 6 hits, 1 er, 3 bb, and 4 k in 6.0 innings
YTD: 6-3, 3.66 era, 80 hits, 32 er, 25 bb and 44 k in 78.2 innings
Roy Halladay— starting pitcher (right handed) — Philadelphia Phillies
60-day DL – did not pitch – underwent surgery May 15th, will begin throwing in 6-8 weeks
YTD: 2-4, era 8.65, 33 hits, 33 er, 17 bb, 35 k in 34.1 innings.
Bryce Harper — left field — Washington Nationals
15-day DL — last played May 26, available June 11th.
YTD: .287, 29 runs, 23 rbi, 12 hr, 25 bb, 2 sb, 30 so in 150 at bats.
Elliot Johnson — infielder — Kansas City Royals
0 for 8 (.000), 2 runs, 0 rbi, 0 hr, 2 bb, 0 sb, 2 so
YTD: .225, 10 runs, 4 rbi, 1 hr, 5 bb, 8 sb, 27 so in 89 at bats.
Josh Johnson — starting pitcher (right handed) – Toronto Blue Jays
0-1, 3.00 era, 11 hits, 4 er, 10 k, 4 bb in 12.0 innings
YTD: 0-2, 5.40 era, 39 hits, 19 er, 29 k, 13 bb in 31.2 innings.
Matt Lindstrom — right handed bullpen pitcher – Chicago White Sox
0-0, 0.00 era, 2 hits, 0 er, 3 k, 0 bb in 3.1 innings
YTD: 2-2, 2.96 era, 22 hits, 9 er, 19 k, 13 bb in 27.1 innings.
Brandon Lyon — right handed bullpen pitcher — New York Mets
0-0, 0.00 era, 4 hits, 0 er, 1 k, 1 bb in 3.0 innings
YTD: 2-2, 3.24 era, 26 hits, 9 er, 19 k, 6 bb in 25.0 innings.
Clayton Mortensen — right handed bullpen pitcher —Boston Red Sox
0-0, 11.57 era, 8 hits, 3 er, 2 k, 1 bb in 2.1 innings
YTD: 1-2, 5.52 era, 31 hits, 18 er, 20 k, 16 bb in 29.1 innings
Adam Rosales — 2B — Oakland A's
3 for 13 (.231), 2 runs, 2 rbi, 1 hr, 1 bb, 0 sb, 3 so
YTD: .219, 9 runs, 8 rbi, 4 hr, 9 bb, 0 sb, 21 so in 105 at bats.
Eric Sogard — infielder — Oakland A's
2 for 11 (.182) 1 run, 0 rbi, 0 hr, 1 bb, 1 sb, 1 so
YTD: .259, 18 run, 6 rbi, 0 hr, 9 bb, 3 sb, 18 so in 135 at bats