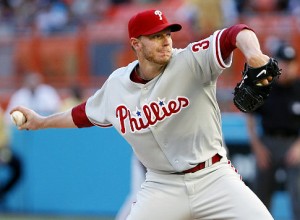 In a bit of a bind when forced to use Sunday's starter on Saturday, the Phillies activated Roy Halladay from the DL rather than have him pitch another rehab game in the minors. And Halladay pitched fairly well, giving up just 2 earned runs in 6 innings while striking out 2 and earning a win. Since the Phils have still 32 games to play, Halladay could still start 5 or 6 games, bring his win-loss record into positive territory and perhaps even bring his era down below 5.00. Of course, all that assumes that he is back in his best form—a big assumption.
While Halladay's pitching was encouraging, Bryce Harper was hot again, hitting 11 for 29 at bats (.379) last week with a homer, 6 rbis and 5 walks. Harper's batting average is now up to .274 for the season.
Besides Halladay's activation from the DL, Elliot Johnson was released by the Royals on Monday and by Thursday was playing for the Braves, who have made the speedy baserunner their staring 2nd baseman. And the move made a bit of a difference in his performance: he was 4 for 15 during the week, with a home run and a stolen base, raising his batting average to .186 for the season.
In contrast, the Mets' John Buck returned from paternity leave on Tuesday (son Bentley Ryan Buck born August 17th per twitter) to find that he had been moved, as expected, from starting catcher to backup catcher to Travis d'Arnaud. Buck took the move in stride, according to news coverage, and is using his strong relationship with d'Arnaud to mentor him. Buck is in the last year of his contract and, given his strong performance in April this year, should still be able to find a starting job next year.
.
Hitting Stats Leaders:
Jacoby Ellsbury — 47 stolen bases (1st)
Pitching Stats Leaders:
Jeremy Guthrie — 2 complete games (tied 8th)
Fielding Stats Leaders:
.
Current Roster Players:
Darwin Barney—second base—Chicago Cubs
6 for 24 (.250), 4 runs, 2 rbi, 1 hr, 4 bb, 0 sb, 2 so
YTD: .219, 42 runs, 38 rbi, 7 hr, 29 bb, 3 sb, 50 so in 407 at bats.
John Buck — starting catcher — New York Mets
0 for 7 (.000), 0 runs, 0 rbi, 0 hr, 1 bb, 0 sb, 2 so
YTD: .215, 38 runs, 60 rbi, 15 hr, 29 bb, 2 sb, 99 so in 368 at bats.
Jacoby Ellsbury — starting outfielder — Boston Red Sox
6 for 26 (.231), 5 runs, 0 rbi, 0 hr, 0 bb, 3 sb, 6 so
YTD: .293, 79 runs, 47 rbi, 7 hr, 43 bb, 47 sb, 85 so in 526 at bats.
Kyle Farnsworth — reliever (right handed) — Pittsburg Pirates
Did not pitch – in minors
YTD: 2-0, era 5.76, 37 hits, 19 er, 7 bb and 19 k in 29.2 innings
Jeremy Guthrie — starting pitcher (right handed) — Kansas City Royals
0-1, 7.50 era, 9 hits, 5 er, 0 bb, and 2 k in 6.0 innings
YTD: 12-10, 4.27 era, 182 hits, 79 er, 50 bb and 90 k in 166.2 innings
Roy Halladay— starting pitcher (right handed) — Philadelphia Phillies
1-0, 3.00 era, 4 hits, 2 er, 2 bb, and 2 k in 6.0 innings
YTD: 3-4, era 7.81, 37 hits, 35 er, 19 bb, 37 k in 40.1 innings.
Bryce Harper — left field — Washington Nationals
11 for 29 (.379), 6 runs, 6 rbi, 1 hr, 5 bb, 1 sb, 7 so
YTD: .274, 56 runs, 46 rbi, 18 hr, 50 bb, 7 sb, 75 so in 328 at bats.
Elliot Johnson — infielder — Atlanta Braves
4 for 15 (.267), 1 runs, 1 rbi, 0 hr, 0 bb, 1 sb, 1 so
YTD: .186, 20 runs, 10 rbi, 2 hr, 8 bb, 15 sb, 50 so in 177 at bats.
Josh Johnson — starting pitcher (right handed) – Toronto Blue Jays
Did not pitch – 15-day DL
YTD: 2-8, 6.20 era, 105 hits, 64 er, 83 k, 30 bb in 81.1 innings.
Matt Lindstrom — right handed bullpen pitcher – Chicago White Sox
0-0, 0.00 era, 3 hits, 0 er, 1 k, 0 bb in 2.2 innings
YTD: 2-3, 3.10 era, 51 hits, 18 er, 38 k, 23 bb in 52.1 innings.
Brandon Lyon — right handed bullpen pitcher — New York Mets
Did not pitch — Released
YTD: 2-2, 4.98 era, 43 hits, 19 er, 23 k, 13 bb in 34.1 innings.
Adam Rosales — 2B — Texas Rangers
1 for 4 (.250) 2 run, 3 rbi, 1 hr, 0 bb, 0 sb, 2 so
YTD: .191, 13 runs, 12 rbi, 5 hr, 10 bb, 0 sb, 33 so in 141 at bats.
Eric Sogard — infielder — Oakland A's
5 for 20 (.250) 0 run, 2 rbi, 0 hr, 2 bb, 1 sb, 5 so
YTD: .263, 39 run, 27 rbi, 2 hr, 23 bb, 8 sb, 44 so in 308 at bats