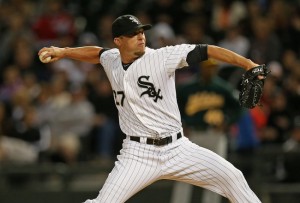 Despite his team's poor performance, Matt Lindstrom is still managing to perform well. This past week he gave up just 3 hits and one walk while striking out 5 over 4 2/3rds innings. And despite struggling a bit earlier this month, Lindstrom's season era is just 3.26.
But all this doesn't mean that Lindstrom will be able to stay with the White Sox, as he would like. The team is second from the bottom in the American League, and third from last overall, which has led it to make many of its players available for trade, including Lindstrom, who cleared waivers this week. But his relatively low salary should have let him be claimed off waivers if there was any interest, so perhaps he will stay with the White Sox.
Among position players the standout was Bryce Harper, who finally had a good week after hitting less than .200 in August before this week. He played well despite sitting out a game on the 13th with the flu, and on the 17th after being hit by pitches twice in Friday's game.
Perhaps most interesting were the various transactions during the week. John Buck finally went on paternity leave on August 17th (his wife was due August 1st!), which may mean that he will get less playing time in the future, as the Mets have permanently brought up prospect Travis D'Arnaud to replace him. In addition, the Royals' Elliot Johnson was designated for assignment last week after the Royals acquired Emilio Bonifacio. He was 0 for 4 in the only game he played last week, and committed a key error that contributed to the team's loss. And Kyle Farnsworth, who was released 2 weeks ago, signed a minor league deal with the Pittsburgh Pirates and will play for their AAA affiliate, the Indianapolis Indians.
Josh Johnson was put on the 15-day disabled list with a sore right forearm. An MRI showed the injury was muscular, so Johnson will rehab beginning this week in Florida. Whether he will make it back to the majors this year is an open question, perhaps fitting in a year that has been disastrous for Johnson. Roy Halladay began a rehab assignment in the Gulf Coast League this past week. He is expected to pitch at least one more rehab game before returning to the Phillies.
.
Hitting Stats Leaders:
Jacoby Ellsbury — 44 stolen bases (1st)
Pitching Stats Leaders:
Fielding Stats Leaders:
.
Current Roster Players:
Darwin Barney—second base—Chicago Cubs
4 for 16 (.250), 1 runs, 1 rbi, 0 hr, 2 bb, 0 sb, 2 so
YTD: .217, 38 runs, 36 rbi, 6 hr, 25 bb, 3 sb, 48 so in 383 at bats.
John Buck — starting catcher — New York Mets
4 for 15 (.267), 1 runs, 3 rbi, 1 hr, 2 bb, 0 sb, 2 so
YTD: .219, 38 runs, 60 rbi, 15 hr, 28 bb, 2 sb, 97 so in 361 at bats.
Jacoby Ellsbury — starting outfielder — Boston Red Sox
6 for 29 (.207), 3 runs, 4 rbi, 0 hr, 2 bb, 2 sb, 10 so
YTD: .296, 74 runs, 47 rbi, 7 hr, 43 bb, 44 sb, 79 so in 500 at bats.
Kyle Farnsworth — reliever (right handed) — Pittsburg Pirates
Did not pitch – Released
YTD: 2-0, era 5.76, 37 hits, 19 er, 7 bb and 19 k in 29.2 innings
Jeremy Guthrie — starting pitcher (right handed) — Kansas City Royals
0-1, 5.14 era, 13 hits, 4 er, 0 bb, and 2 k in 7.0 innings
YTD: 12-9, 4.15 era, 173 hits, 74 er, 50 bb and 88 k in 160.2 innings
Roy Halladay— starting pitcher (right handed) — Philadelphia Phillies
60-day DL – did not pitch – Last pitched May 5th, underwent surgery May 15th, began rehab assignment this week.
YTD: 2-4, era 8.65, 33 hits, 33 er, 17 bb, 35 k in 34.1 innings.
Bryce Harper — left field — Washington Nationals
5 for 17 (.294), 2 runs, 0 rbi, 0 hr, 3 bb, 0 sb, 6 so
YTD: .264, 50 runs, 40 rbi, 17 hr, 45 bb, 6 sb, 68 so in 299 at bats.
Elliot Johnson — infielder — Kansas City Royals
0 for 4 (.000), 0 runs, 0 rbi, 0 hr, 0 bb, 1 sb, 1 so
YTD: .179, 19 runs, 9 rbi, 2 hr, 8 bb, 14 sb, 49 so in 162 at bats.
Josh Johnson — starting pitcher (right handed) – Toronto Blue Jays
Did not pitch – 15-day DL
YTD: 2-8, 6.20 era, 105 hits, 64 er, 83 k, 30 bb in 81.1 innings.
Matt Lindstrom — right handed bullpen pitcher – Chicago White Sox
0-0, 0.00 era, 3 hits, 0 er, 5 k, 1 bb in 4.2 innings
YTD: 2-3, 3.26 era, 48 hits, 18 er, 37 k, 23 bb in 49.2 innings.
Brandon Lyon — right handed bullpen pitcher — New York Mets
Did not pitch — Released
YTD: 2-2, 4.98 era, 43 hits, 19 er, 23 k, 13 bb in 34.1 innings.
Adam Rosales — 2B — Oakland A's (reclaimed by Athletics on August 8th)
0 for 1 (.000) 0 run, 1 rbi, 0 hr, 0 bb, 0 sb, 0 so
YTD: .190, 11 runs, 9 rbi, 4 hr, 10 bb, 0 sb, 31 so in 137 at bats.
Eric Sogard — infielder — Oakland A's
3 for 24 (.125) 0 run, 2 rbi, 0 hr, 1 bb, 0 sb, 3 so
YTD: .264, 39 run, 25 rbi, 2 hr, 21 bb, 7 sb, 39 so in 288 at bats