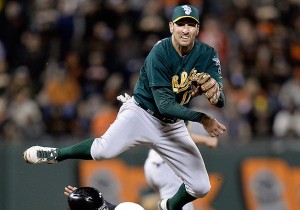 Adam Rosales hasn't had much fun during the past month. As the Oakland As have tried to improve their team and maintain a lead as the season winds down, Rosales has become more of a liability. But instead of simply going back to AAA, Rosales has ridden a roller coaster between the majors and AAA and halfway across the country as well.
To understand the roller coaster, it helps to understand MLB's rules for demoting players. As I understand it, teams must first "designate a player for assignment," which allows other major league teams an opportunity to claim the player first. If no one claims the player, on the 5th day the player can then be assigned to the minors.
Rosales' trouble started on July 8th, when the As designated him for assignment and then sent him to AAA Sacramento on the 12th to make way for Grant Green. But he was brought back to the majors just 11 days later when Green didn't work out. Then on the 31st, he was designated for assignment again when the As acquired Alberto Callaspo. But this time the Texas Rangers thought he might be useful, and claimed him on waivers August 2nd, though the As would have preferred to keep him in their AAA stable. But the Rangers didn't even give Rosales a chance to play, and designated him for assignment on August 5th. But in the mean time Alberto Callaspo was injured, and the As claimed Rosales back. He saw one at bat last week on August 9th, and the As designated him for assignment again on August 10th.
For Adam and for the As the question remains: Will he clear waviers and stay in the As system? Or will someone else claim him?
Rosales wasn't the only Mormon in the majors to be told goodbye. Tampa Bay Ray's reliever Kyle Farnsworth was designated for assignment earlier this week, and then released entirely. Whether or not Farnsworth will be acquired by another team remains to be seen. He joins Brandon Lyon in waiting for someone to take interest.
The best performances of the week came from Jeremy Guthrie, Jacoby Ellsbury and Eric Sogard. Guthrie pitched a complete game shut-out to begin the week, his second of the year, which lowered his season era below 4.00 for the first time since mid June. But Guthrie then had a poor outing against the Red Sox on Saturday, leaving his era back at 4.10. The Red Sox' Ellsbury was one of those who owned Guthrie on Saturday. He was 4 for 5 in the game. And Ellsbury is still hitting over .300 and leading the majors in stolen bases. Sogard has remained strong since early July, and began the week with a hitting streak that finally ended at 14 games on the 8th.
Roy Halladay remains on the DL, but continues to throw. Saturday he threw a simulated game against live batters, and may start a rehab assignment as early as this coming week.
.
Hitting Stats Leaders:
Jacoby Ellsbury — 42 stolen bases (1st)
Pitching Stats Leaders:
Jeremy Guthrie — 12 wins (tied 9th); 2 complete games (tied 8th)
Fielding Stats Leaders:
.
Current Roster Players:
Darwin Barney—second base—Chicago Cubs
4 for 20 (.200), 3 runs, 4 rbi, 0 hr, 2 bb, 0 sb, 3 so
YTD: .215, 37 runs, 35 rbi, 6 hr, 23 bb, 3 sb, 46 so in 367 at bats.
John Buck — starting catcher — New York Mets
3 for 12 (.250), 0 runs, 1 rbi, 0 hr, 3 bb, 0 sb, 3 so
YTD: .217, 37 runs, 57 rbi, 14 hr, 26 bb, 2 sb, 95 so in 346 at bats.
Jacoby Ellsbury — starting outfielder — Boston Red Sox
9 for 30 (.300), 4 runs, 5 rbi, 2 hr, 4 bb, 2 sb, 5 so
YTD: .301, 71 runs, 43 rbi, 7 hr, 41 bb, 42 sb, 69 so in 471 at bats.
Kyle Farnsworth — reliever (right handed) — Tampa Bay Rays
0-0, 13.50 era, 2 hits, 2 er, 0 bb, and 1 k in 1.1 innings
YTD: 2-0, era 5.76, 37 hits, 19 er, 7 bb and 19 k in 29.2 innings
Jeremy Guthrie — starting pitcher (right handed) — Kansas City Royals
1-1, 3.00 era, 14 hits, 5 er, 2 bb, and 12 k in 15.0 innings
YTD: 12-8, 4.10 era, 160 hits, 70 er, 50 bb and 86 k in 153.2 innings
Roy Halladay— starting pitcher (right handed) — Philadelphia Phillies
60-day DL – did not pitch – Last pitched May 5th, underwent surgery May 15th, will begin throwing in mid July
YTD: 2-4, era 8.65, 33 hits, 33 er, 17 bb, 35 k in 34.1 innings.
Bryce Harper — left field — Washington Nationals
4 for 23 (.174), 3 runs, 3 rbi, 1 hr, 4 bb, 0 sb, 6 so
YTD: .267, 48 runs, 40 rbi, 17 hr, 42 bb, 6 sb, 61 so in 277 at bats.
Elliot Johnson — infielder — Kansas City Royals
0 for 8 (.000), 0 runs, 0 rbi, 0 hr, 0 bb, 0 sb, 3 so
YTD: .184, 19 runs, 9 rbi, 2 hr, 8 bb, 13 sb, 48 so in 158 at bats.
Josh Johnson — starting pitcher (right handed) – Toronto Blue Jays
1-0, 0.00 era, 5 hits, 0 er, 5 k, 2 bb in 5.0 innings
YTD: 2-8, 6.20 era, 105 hits, 64 er, 83 k, 30 bb in 81.1 innings.
Matt Lindstrom — right handed bullpen pitcher – Chicago White Sox
0-0, 2.45 era, 3 hits, 1 er, 3 k, 2 bb in 3.2 innings
YTD: 2-3, 3.60 era, 45 hits, 18 er, 32 k, 22 bb in 45.0 innings.
Brandon Lyon — right handed bullpen pitcher — New York Mets
Did not pitch — Released
YTD: 2-2, 4.98 era, 43 hits, 19 er, 23 k, 13 bb in 34.1 innings.
Adam Rosales — 2B — Oakland A's (reclaimed by Athletics on August 8th)
0 for 1 (.000) 0 run, 0 rbi, 0 hr, 0 bb, 0 sb, 0 so
YTD: .191, 11 runs, 8 rbi, 4 hr, 10 bb, 0 sb, 31 so in 136 at bats.
Eric Sogard — infielder — Oakland A's
5 for 15 (.333) 2 run, 3 rbi, 0 hr, 1 bb, 0 sb, 1 so
YTD: .277, 39 run, 23 rbi, 2 hr, 20 bb, 7 sb, 36 so in 264 at bats