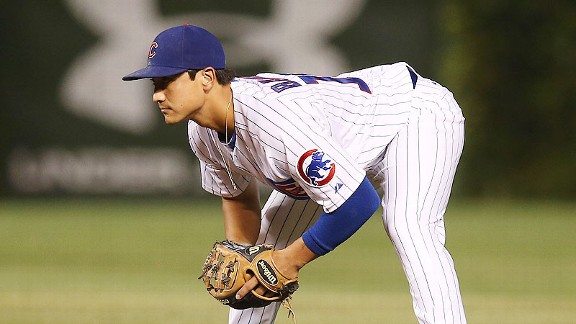 You may have missed this news from the regular season, and I've been wanting to write about it ever since I saw it. In the field, Darwin Barney, in just his second season in the majors, has been nearly perfect. During the entire season he committed just two errors, and that while playing 2nd base, one of the most error prone positions in baseball.
While two errors puts Barney in the running for a Gold Glove, what is more interesting is that he set a record in doing it. Not that it was just two errors, but that there were 141 games between the two errors. By lasting 141 games, Barney tied Placido Polanco's Major League Record for errorless games at second base.
Barney was just 3 outs away from breaking the record, too. The second error came in the eighth inning in a September 28th loss to the Diamondbacks. Barney snagged a two-hopper from Justin Upton in the middle of the diamond, but had to throw off balance to first, his momentum carrying him forward and away from first base. The throw was off-line and first baseman Anthony Rizzo couldn't snag it.
Errors are part of the game, of course. They are also part of life. We all make mistakes. In Barney's case, it takes a lot of consistency to keep up that level of errorless play. We Mormons have a name for it — enduring to the end — and Barney has given yet another example of what it takes.
Given this performance, it is no surprise that Barney is the favorite to win the NL Gold Glove for 2nd base — he's the best candidate by far. And we will no doubt see him in the Majors again next year, presumably with the Cubs. But Barney will have to work on getting better at the plate to secure his position for the long term. If he can apply the same consistency he has in the field to the plate, he'll be long remembered in baseball.
3 Responses to "An Errorless Record for Darwin Barney"