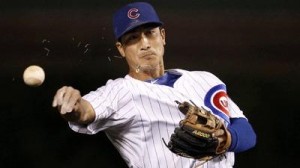 Next week baseball will announce its major awards, including the MVP, Rookie of the Year and Cy Young awards, next week after digesting the results of the 2012 season. And while most Mormons may focus on the possibility that Bryce Harper will be the National League's Rookie of the Year, the Chicago Cubs' Darwin Barney has already earned a Gold Glove at 2nd base, which could well leave him the only Mormon awarded for this year's play.
Statistically, Barney is the only Mormon to lead either league in any positive statistical category this year—and in fact he led the national league in Defensive WAR, Defensive games at 2nd base, putouts at 2nd base, Total Zone Runs as 2nd base and Fielding percentage at 2nd base. While his offensive output won't quite put him in the running for any of the other major awards, his performance madhe 2nd base Gold Glove.
One other Mormon player did lead in a league statistical category. Bryce Harper had the dubious distinction of being tied for the most errors by an outfielder, with 7. But Harper was in a four-way tie for that "dishonor," and actually 7 errors is the lowest level that I can see on the list—Justin Upton had the highest level in this category last year at 13, and the list of past year "leaders" in this statistic read like a baseball who's who, with names like Vladimir Guerrero (19 in 1999), Chili Davis (19 in 1988), Hank Aaron (13 in 1956) and Ted Williams (19 in 1939). At least, this isn't a very highly valued category.