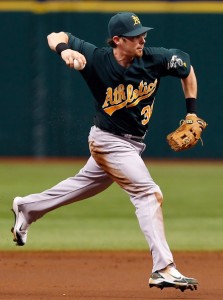 While everyone else seems to be cooling down (if they were ever hot this year), Eric Sogard managed to heat up this past week. The Oakland As backup infielder, lodged at second base since regular Scott Sizemore is out with a sprained left knee, went 5 for 15 last week, scoring 4 times and walking once, bringing his batting average up to a respectable .250 in the process.
Sogard was the only Mormon position player on the upswing this past week, but that doesn't mean that others weren't also doing well. Bryce Harper hit just as well (.333), but his average was coming down last week from the .400 he it the first week of the season. Harper also hit 2 home runs, earned 5 rbis, scored 4 times and walked 4 times—most of this before the Nationals ran into a stone wall and dropped three in a row to the Braves this past weekend. John Buck also managed to do well this week, hitting 4 home runs earning 10 rbis (!) and scoring 5 times. However, his batting average dropped to .238 for the week.
Among pitchers the best news is still in the relievers. Both the White Sox' Matt Lindstrom and the Mets' Brandon Lyon have yet to give up an earned run—or even a walk, although its hard to make much of this when they've pitched 6 and 3.1 innings respectively. Still, they are doing better than any other Mormon pitchers. Jeremy Guthrie led the starters, but his 5.40 era for his 6.2-inning win last week is hardly worth celebrating, except that it was stunningly better than the Blue Jay's Josh Johnson, whose 1.1-inning loss came with a 40.50 era. Perhaps the best news was that Roy Halladay's third start, on Sunday April 14th, was an 8-inning win in which he gave up just one run, one walk and five hits. Of course, it was against the Miami Marlins, so he might have expected to pitch that well.
Oh well. If this sounds bad—well, its still early.
.
Current Roster Players:
Darwin Barney—second base—Chicago Cubs
On 15-day DL. Eligible to return April 15
YTD: no stats
John Buck — starting catcher — New York Mets
5 for 21 (.238), 5 runs, 10 rbi, 4 hr, 0 bb, 0 sb, 2 so
YTD: .317, 9 runs, 19 rbi, 6 hr, 1 bb, 0 sb, 5 so in 41 at bats.
Jacoby Ellsbury — starting outfielder — Boston Red Sox
4 for 22 (.182), 3 runs, 1 rbi, 0 hr, 0 bb, 1 sb, 3 so
YTD: .255, 7 runs, 8 rbi, 1 hr, 2 bb, 5 sb, 6 so in 51 at bats.
Kyle Farnsworth — reliever (right handed) — Tampa Bay Rays
0-0, 0.00 era, 1 hits, 0 er, 1 bb, and 0 k in 1.2 innings
YTD: 0-0, era 5.40 4 hits, 2 er, 1 bb and 0 k in 3.1 innings
Jeremy Guthrie — starting pitcher (right handed) — Kansas City Royals
1-0, 5.40 era, 6 hits, 4 er, 1 bb, and 2 k in 6.2 innings
YTD: 2-0, era 3.55 11 hits, 5 er, 2 bb and 11 k in 12.2 innings
Roy Halladay— starting pitcher (right handed) — Philadelphia Phillies
1-1, era 6.00, 11 hits, 8 er, 4 bb, 5 k in 12.0 innings.
YTD: 1-2, era 7.63, 17 hits, 13 er, 7 bb, 14 k in 15.1 innings.
Bryce Harper — left field — Washington Nationals
7 for 21 (.333), 4 runs, 5 rbi, 2 hr, 4 bb, 1 sb, 5 so
YTD: .348, 9 runs, 10 rbi, 5 hr, 4 bb, 1 sb, 10 so in 46 at bats.
Elliot Johnson — infielder — Kansas City Royals
1 for 7 (.143), 1 runs, 0 rbi, 0 hr, 0 bb, 1 sb, 0 so
YTD: .200, 1 runs, 1 rbi, 0 hr, 0 bb, 1 sb, 1 so in 10 at bats.
Josh Johnson — starting pitcher (right handed) – Toronto Blue Jays
0-1, 40.50 era, 7 hits, 6 er, 1 k, 2 bb in 1.1 innings.
YTD: 0-1, 11.05 era, 16 hits, 9 er, 7 k, 4 bb in 7.1 innings.
Matt Lindstrom — right handed bullpen pitcher – Chicago White Sox
0-0, 0.00 era, 2 hits, 0 er, 2 k, 0 bb in 2.0 innings
YTD: 0-0, 0.00 era, 3 hits, 0 er, 6 k, 0 bb in 6.0 innings.
Brandon Lyon — right handed bullpen pitcher — New York Mets
0-0, 0.00 era, 0 hits, 0 er, 1 k, 0 bb in 1.0 innings
YTD: 1-0, 0.00 era, 1 hits, 0 er, 4 k, 0 bb in 3.1 innings.
Clayton Mortensen — right handed bullpen pitcher —Boston Red Sox
0-1, 5.40 era, 1 hits, 1 er, 1 k, 0 bb in 1.2 innings
YTD: 0-1, 3.18 era, 5 hits, 2 er, 6 k, 0 bb in 5.2 innings
Adam Rosales — 2B — Oakland A's
On 15-day DL. Eligible to return April 11
YTD: — no stats
Eric Sogard — infielder — Oakland A's
5 for 15 (.333) 4 run, 0 rbi, 0 hr, 1 bb, 1 sb, 3 so
YTD: .250, 4 run, 1 rbi, 0 hr, 2 bb, 2 sb, 6 so in 34 at bats