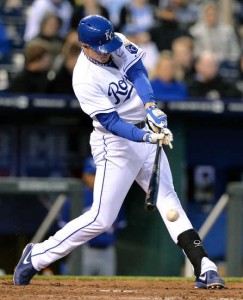 The utility infielder has to be one of the more difficult positions on a team. You don't now where you will play in the field on a given day, whether you will start or come in late in the game, whether or not you will even play on any given day. In a game where consistent performance is prized, such a position makes success difficult. So when Elliot Johnson manages to get his batting average up to .281, it is perhaps a bit more impressive.
This past week Elliot was particularly strong at the plate, going 5 for 15 (.333) with 2 stolen bases. His season batting average (.281) comes in just 64 at bats, about 1/3rd of what an every day player would have at this point. What remains to be seen is whether or not Johnson can keep up a .281 average, or whether or not he will slip back to last year's .242 or the .194 of the previous year.
Johnson isn't the only Mormon baseball player who had a good week. Both Darwin Barney and Jacoby Ellsbury hit about .270 last week, and may have helped their teams more than Johnson helped his. Others didn't do as well—Bryce Harper struggled, hitting .227 last week as he continued to recover from a collision with the wall in Los Angeles. Still, Harper has managed to keep his average at .287 and stay in the top 10 in the majors in home runs, OPS and slugging.
Among pitchers the "streaky" reliever Matt Lindstrom is back in a hot streak, allowing no runs and just 3 hits in 2 2/3rds last week. The lone active starter on our list of Mormon players, Jeremy Guthrie, had another disastrous week, loosing two more games and allowing six earned runs in each.
Meanwhile, starters Roy Halladay and Josh Johnson are working their way back from the DL. Johnson has pitched twice in the minors on rehab assignments and is expected back in the majors in early June. Halladay is recovering from surgery, and tentatively expects to make it to the majors in late August.
.
Hitting Stats Leaders:
Bryce Harper — 12 home runs (tied 7th); .973 OPS (7th); .587 Slugging (6th)
Jacoby Ellsbury — 15 stolen bases (tied 2nd)
Pitching Stats Leaders:
Jeremy Guthrie — 1 complete game (tied 7th)
Roy Halladay — 1 complete game (tied 7th)
Fielding Stats Leaders:
Jacoby Ellsbury — 50 games (tied 2nd); 50 games started (tied 2nd); 444.2 innings played (tied 9th)
.
Current Roster Players:
Darwin Barney—second base—Chicago Cubs
6 for 22 (.273), 2 runs, 2 rbi, 0 hr, 1 bb, 0 sb, 3 so
YTD: .207, 13 runs, 7 rbi, 2 hr, 13 bb, 2 sb, 14 so in 121 at bats.
John Buck — starting catcher — New York Mets
4 for 18 (.222), 3 runs, 2 rbi, 1 hr, 2 bb, 0 sb, 5 so
YTD: .227, 24 runs, 33 rbi, 11 hr, 12 bb, 1 sb, 43 so in 154 at bats.
Jacoby Ellsbury — starting outfielder — Boston Red Sox
7 for 26 (.269), 2 runs, 4 rbi, 0 hr, 5 bb, 2 sb, 6 so
YTD: .249, 26 runs, 18 rbi, 1 hr, 21 bb, 15 sb, 31 so in 213 at bats.
Kyle Farnsworth — reliever (right handed) — Tampa Bay Rays
0-0, 4.50 era, 3 hits, 1 er, 1 bb, and 0 k in 2.0 innings
YTD: 2-0, era 7.71 21 hits, 10 er, 4 bb and 5 k in 11.2 innings
Jeremy Guthrie — starting pitcher (right handed) — Kansas City Royals
0-2, 8.76 era, 13 hits, 12 er, 4 bb, and 4 k in 12.1 innings
YTD: 5-3, era 3.92 66 hits, 29 er, 21 bb and 34 k in 66.2 innings
Roy Halladay— starting pitcher (right handed) — Philadelphia Phillies
60-day DL – did not pitch – underwent surgery May 15th, will begin throwing in 6-8 weeks
YTD: 2-4, era 8.65, 33 hits, 33 er, 17 bb, 35 k in 34.1 innings.
Bryce Harper — left field — Washington Nationals
5 for 22 (.227), 3 runs, 1 rbi, 1 hr, 4 bb, 1 sb, 5 so
YTD: .287, 29 runs, 23 rbi, 12 hr, 25 bb, 2 sb, 30 so in 150 at bats.
Elliot Johnson — infielder — Kansas City Royals
5 for 15 (.333), 1 runs, 1 rbi, 0 hr, 1 bb, 2 sb, 2 so
YTD: .281, 8 runs, 3 rbi, 1 hr, 2 bb, 6 sb, 20 so in 64 at bats.
Josh Johnson — starting pitcher (right handed) – Toronto Blue Jays
15-Day DL — Did not pitch, began rehab assignment in minors last week.
YTD: 0-1, 6.86 era, 28 hits, 15 er, 19 k, 9 bb in 19.2 innings.
Matt Lindstrom — right handed bullpen pitcher – Chicago White Sox
0-0, 0.00 era, 3 hits, 0 er, 0 k, 2 bb in 2.2 innings
YTD: 2-2, 4.12 era, 17 hits, 9 er, 15 k, 12 bb in 19.2 innings.
Brandon Lyon — right handed bullpen pitcher — New York Mets
0-1, 6.00 era, 3 hits, 2 er, 5 k, 1 bb in 3.0 innings
YTD: 1-2, 3.86 era, 17 hits, 8 er, 17 k, 5 bb in 18.2 innings.
Clayton Mortensen — right handed bullpen pitcher —Boston Red Sox
0-0, 15.00 era, 5 hits, 5 er, 0 k, 3 bb in 3.0 innings
YTD: 1-2, 5.25 era, 22 hits, 14 er, 17 k, 13 bb in 24.0 innings
Adam Rosales — 2B — Oakland A's
0 for 18 (.000), 0 runs, 1 rbi, 0 hr, 1 bb, 0 sb, 3 so
YTD: .224, 6 runs, 5 rbi, 2 hr, 7 bb, 0 sb, 16 so in 76 at bats.
Eric Sogard — infielder — Oakland A's
5 for 20 (.250) 2 run, 2 rbi, 0 hr, 1 bb, 0 sb, 4 so
YTD: .256, 16 run, 6 rbi, 0 hr, 7 bb, 2 sb, 16 so in 117 at bats