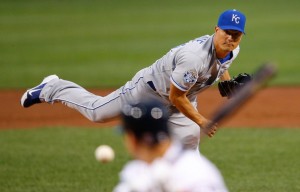 Surprisingly, the Mormon starting pitcher who is most successful this year is not Roy Halladay, the Phillies' starter who chalked up a perfect game and post-season no hitter in 2010, nor is it Josh Johnson, the Blue Jays' ace who was part of the teams off-season attempt to build a first-rate pitching staff.
No, its Jeremy Guthrie, who struggled in the first half of 2012 before joining the Royals to help them stay only 18 games below .500. This year's Guthrie is like the Guthrie of the last half of 2012, but still a bit better. And he is playing for a team that is (so far) remarkably better at 17-10, the 5th best record in the majors. Guthrie is now 4-0 with a 2.40 era in 6 starts. And on Saturday, Guthrie pitched a complete game shutout of the Chicago White Sox.
In contrast to Guthrie's strong pitching, Johnson has hit the 15-day DL with soreness in his right shoulder, apparently the cause of his 6.86 era so far this year. And Halladay has been a disaster, most recently giving up 9 earned runs in just 2 1/3rd innings Sunday, leaving him with an 8.65 era, while his team, the Phillies, languishes in the basement of the National League East, just 2 years after reaching the playoffs.
Among position players John Buck continues his strong performance with the Mets, perhaps the only good news the team has. Buck hit another couple of home runs last week, leaving him at 10, second in the majors. In the past he hasn't been a strong performer at the plate, this year Buck is already half way to his career high in home runs (20 in 2010) and with 29 rbis he is nearly halfway to his career high there (66 in 2010).
Behind Buck, Jacoby Ellsbury shouldn't be forgotten. Ellsbury still leads the majors in stolen bases. Meanwhile Bryce Harper has slid into a bit of a slump, going just 3 for 23 last week as he struggles with a bit of a slump. Despite the slump he is still hitting .316 for the year and is 3rd in home runs. Hopefully he'll break out of the slump soon.
.
Hitting Stats Leaders:
John Buck — 10 home runs (2nd); 29 RBIs (5th)
Bryce Harper — 9 home runs (tied 3rd); 1.033 OPS (7th); .633 Slugging (6th)
Jacoby Ellsbury — 12 stolen bases (1st)
Pitching Stats Leaders:
Jeremy Guthrie — 4 wins (tied 7th); 1 complete game (tied 3rd);
Fielding Stats Leaders:
(no Mormon players appear in the top 10 in any category)
.
Current Roster Players:
Darwin Barney—second base—Chicago Cubs
3 for 21 (.143), 2 runs, 2 rbi, 0 hr, 6 bb, 1 sb, 1 so
YTD: .159, 4 runs, 3 rbi, 1 hr, 8 bb, 1 sb, 7 so in 63 at bats.
John Buck — starting catcher — New York Mets
5 for 18 (.278), 2 runs, 6 rbi, 2 hr, 1 bb, 0 sb, 5 so
YTD: .255, 16 runs, 29 rbi, 10 hr, 5 bb, 0 sb, 22 so in 98 at bats.
Jacoby Ellsbury — starting outfielder — Boston Red Sox
8 for 26 (.308), 1 runs, 1 rbi, 0 hr, 3 bb, 1 sb, 4 so
YTD: .279, 19 runs, 12 rbi, 1 hr, 10 bb, 12 sb, 19 so in 136 at bats.
Kyle Farnsworth — reliever (right handed) — Tampa Bay Rays
1-0, 0.00 era, 1 hits, 0 er, 0 bb, and 2 k in 1.1 innings
YTD: 1-0, era 6.75 9 hits, 5 er, 3 bb and 2 k in 6.2 innings
Jeremy Guthrie — starting pitcher (right handed) — Kansas City Royals
1-0, 0.00 era, 4 hits, 0 er, 1 bb, and 3 k in 9.0 innings
YTD: 4-0, era 2.40 35 hits, 11 er, 11 bb and 27 k in 41.1 innings
Roy Halladay— starting pitcher (right handed) — Philadelphia Phillies
0-2, era 25.50, 13 hits, 17 er, 6 bb, 7 k in 6.0 innings.
YTD: 2-4, era 8.65, 33 hits, 33 er, 17 bb, 35 k in 34.1 innings.
Bryce Harper — left field — Washington Nationals
3 for 23 (.087), 2 runs, 0 rbi, 0 hr, 3 bb, 0 sb, 5 so
YTD: .312, 20 runs, 18 rbi, 9 hr, 16 bb, 1 sb, 20 so in 109 at bats.
Elliot Johnson — infielder — Kansas City Royals
3 for 8 (.375), 2 runs, 1 rbi, 1 hr, 1 bb, 1 sb, 2 so
YTD: .208, 4 runs, 2 rbi, 1 hr, 1 bb, 2 sb, 9 so in 24 at bats.
Josh Johnson — starting pitcher (right handed) – Toronto Blue Jays
15-Day DL — Did not pitch, available May 10th
YTD: 0-1, 6.86 era, 28 hits, 15 er, 19 k, 9 bb in 19.2 innings.
Matt Lindstrom — right handed bullpen pitcher – Chicago White Sox
0-1, 5.40 era, 0 hits, 1 er, 0 k, 3 bb in 1.2 innings
YTD: 1-2, 4.38 era, 8 hits, 6 er, 10 k, 6 bb in 12.1 innings.
Brandon Lyon — right handed bullpen pitcher — New York Mets
0-0, 3.00 era, 5 hits, 1 er, 2 k, 1 bb in 3.0 innings
YTD: 1-1, 4.38 era, 12 hits, 6 er, 10 k, 2 bb in 12.1 innings.
Clayton Mortensen — right handed bullpen pitcher —Boston Red Sox
0-1, 2.45 era, 3 hits, 1 er, 4 k, 3 bb in 3.2 innings
YTD: 0-2, 4.40 era, 12 hits, 7 er, 15 k, 5 bb in 14.1 innings
Adam Rosales — 2B — Oakland A's
7 for 26 (.269), 3 runs, 3 rbi, 1 hr, 2 bb, 0 sb, 5 so
YTD: .278, 4 runs, 3 rbi, 1 hr, 2 bb, 0 sb, 7 so in 36 at bats.
Eric Sogard — infielder — Oakland A's
2 for 10 (.200) 2 run, 0 rbi, 0 hr, 0 bb, 0 sb, 1 so
YTD: .233, 10 run, 2 rbi, 0 hr, 5 bb, 2 sb, 10 so in 73 at bats